BenQ PD2720U Review: The Ultimate 4K Mac Monitor for Creators
The BenQ PD2720U is a 27-inch 4K HDR monitor with Thunderbolt 3 that connects to your Mac with a single cable to charge and connect to accessories. The display is amazing to look at all day, putting my previous monitor to shame and removing the need for a separate Thunderbolt 3 dock. The screen is 100% RGBs and covers 96% P3 color space with the IPS panel.
This 27-inch 4K display is perfect for the MacBook Pro and is a huge help for editing photos and videos as well as working in my home office thanks to the ability to quickly switch between three display modes using the included puck. While you'd need to dive into the settings to toggle color profiles on most displays, the BenQ PD2720U lets you change with the push of a button on your desk. This can also control other options as well as the volume of connected speakers.
You can even use the controls as a built-in KVM to switch between two computers using the display with the same mouse and keyboard. This is very handy for jumping between tasks and you control it with the easy to use puck.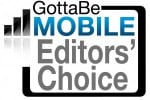 The BenQ PD2720U earns a Gotta Be Mobile Editor's Choice Award for the astounding quality, excellent features and the value it offers at the price. There are tons of benefits for professionals, and you get a full set of ports to connect peripherals, plus it includes eye-friendly features.
You can buy the BenQ PD2720U Designer Monitor with Thunderbolt 3 for $1,099.99 at Amazon, B&H Photo and direct from BenQ.
[letsreview]
Display Performance
The BenQ PD2720U is a monitor for professionals with accurate colors, a matte finish, and an impressive overall display quality. I tested this monitor with a 15-inch MacBook Pro to edit photos and videos for the Gotta Be Mobile YouTube channel and found the multiple color modes very useful. While I am not professionally color grading for broadcast, I do like being able to quickly toggle into sRGB to check colors and then easily toggle back into a brighter mode when I am writing.
There are a lot of additional options that you can choose including low blue light modes for multimedia, web surfing, office, and reading which are handy to use when working late at night. These are the options I used most and the performance in each was great. There is also a handy HDR mode when watching HDR content.
BenQ also adds in several modes for specific tasks. The CAD/CAM mode enhances the details and contrast to make working in popular CAD apps easier. There is a Darkroom mode that works great in low light rooms and an Animation mode that amps up the brightness of dark areas on the screen so that it is easy to see details. The monitor includes a factory calibration report.
The monitor offers a 60 hz refresh rate which is low compared to some gaming monitors, but it fits this creative monitor perfectly. The monitor features flicker-free technology so that it won't flicker at the super-fast rate that a normal LCD does. After putting in long days with this monitor I have less eye fatigue than with my budget widescreen Samsung monitor that is several years old.
Features
In addition to the great display, this monitor is all about the features. It uses a Thunderbolt 3 connection so that you only need to plug one cord into your MacBook Pro. The included cord is a little short for my setup, but it works well if you plan to close your MacBook Pro and place it closer to the monitor. This connection charges your MacBook Pro or other laptops at 65W.
With this single connection, my laptop connects to external drives, a voice-over microphone, external speakers, other accessories and to another monitor. There are 2 HDMI ports, 1 DisplayPort, 2 USB out and 1 USP in as well as two Thunderbolt 3 ports. This takes the place of an expensive Thunderbolt 3 dock in my setup. My current favorite dock is $300, so once you factor that in you're essentially paying $800 for this monitor. I do wish there was a built-in SD card reader or at least an easily accessible USB port to plug an adapter into on the bottom edge, but when it comes to plugging in media I just use an adapter plugged right into my MacBook Pro. You get all the cables you need to connect included with the monitor. n
Another handy feature is the ability to toggle between two computers using the same monitor, keyboard, and mouse. There is a KVM switch built-into the BenQ DesignVue monitor so I can toggle between my MacBook Pro and a Windows computer. This works easily and removes the need for a dedicated KVM.
The built-in speakers aren't amazing, but if you are using this to work on video, you'll want to use headphones or studio monitors anyway. One thing you need to be aware of on a Mac is that once you choose the monitor as your audio output, you cannot use the volume controls on your MacBook Pro keyboard. Thankfully the Hotkey Puck G2 lets me turn a dial to control the volume.
This handy accessory comes with the monitor and it's the easiest way to toggle between settings. There are three hotkeys that you can use to change between your favorite modes, a KVM toggle, and a back button. This puck also lets you control all of the on-screen menu and monitor options without reaching behind to use the joystick and buttons. This is a feature I wish every monitor came with.
Design and Quality
The BenQ PD2720U DesignVue monitor design is understated professional with slim bezels on three sides. This will fit into any home office or office space and look good. It comes with a huge steel base that is incredibly sturdy. This base and the connection to the monitor remove all of the wobbles when I type on my standing desk. The base of the stand is very wide and features a small BenQ logo on the front left.
This stand lets you move the monitor down to 3.5 inches off the desk or just over 8.5-inches above the desk. There is a wide range of rotation, so you can quickly share a screen with someone else or angle two or three of these in an ultimate setup. BenQ makes it easy to change into portrait mode with a quick rotation and the base is still sturdy.
There is a cover for the ports and a small hook on the back of the monitor so you can keep your setup clean without a hassle. If you plan to rotate your monitor often just make sure you keep all the cords on one side of the monitor stand.
No products found.
Last update on 2023-09-30. This post may contain affiliate links. Click here to read our disclosure policy for more details. Images via Amazon API

As an Amazon Associate I earn from qualifying purchases.