Best Android Black Friday 2015 Deals
While some carriers like T-Mobile and select retail stores have kicked off the Black Friday 2015 sales today, tomorrow night and Friday are the big days. Those looking to get a new Android smartphone, tablet, accessory or gadget this year will want to read on to see our continuously updated list of the best Android Black Friday deals of 2015.
Every year Black Friday is a crazy day full of amazing deals, low prices, long lines and tons of gadgets worth buying. Cyber Monday will also have some impressive deals from Best Buy, Motorola, Newegg and more, but Black Friday is the best shot at huge savings.
Read: How to Get Black Friday Deal Text Notifications
While there are countless websites dedicated to showing the best deals around for Black Friday, there are so many sales going on its hard to keep track. Especially for those looking for something specific like an Android smartphone, tablet, or accessory. As a result we've scoured the internet for the Best Android Black Friday deals this year, and some of our favorites are outlined below.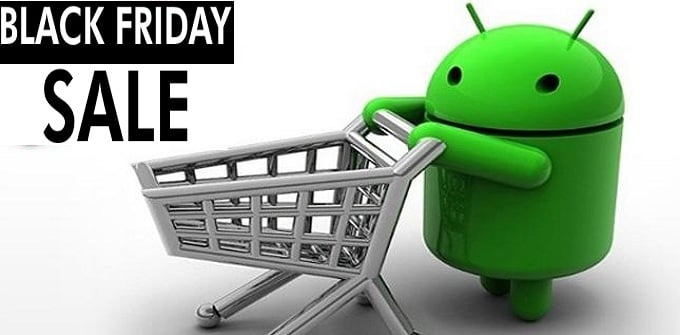 If you're looking to get a new Android device this year you'll want to keep reading for everything you need to know. And while we already detailed the best Android tablet Black Friday deals this year, below is about more than just tablets. How about a 128GB micro-SD card for your LG G4 or Samsung tablet? We have those for the lowest price we've ever seen, $39.99.
There are savings from $20 to a few hundred and over 40% off multiple smartphones, tablets, accessories, storage, speakers and more. There's so much available that it's hard to list them all. Instead, these are some of our favorites.
We've left off some of those junk deals like the $23 Emerson Android tablet, cheap Bluetooth speakers or other things that aren't worth the low prices. And instead, focused on deals that are worth it, and ones you'll actually want to spend money on.
Android Phones
Samsung Galaxy S6 – $250 Gift Card from Best Buy, and $200 off at Verizon when switching from another carrier (S6, S6 Edge), $400 Gift card from Staples
Galaxy S6 & Note 5 – $0.01 in-store at Target
LG V10, Galaxy Note 5, Galaxy S6 Edge+ – $100 off at Verizon
Moto G 2nd Gen (2014) – $99 on Cyber Monday
OnePlus 2 – Available to buy without an invite
LG G4, LG V10 – $100 Gift Card when bought from Verizon (combine with $100 off at Verizon stores)
HTC One M9 – $399 at HTC instead of $649
ASUS ZenFone 2 Laser – $199 (regularly $249) at Newegg
DROID Turbo 2 – $5 a month at Verizon ($500 off)
ZTE Axon Pro 64GB – $329 with coupon code CYBER64 (Nov 23-30th)
There are countless other smartphones deals for the older Galaxy S5, Moto E, Huawei Honor 7 and more. Google's also teasing Nexus 5x, Nexus 6P, and Nexus 9 deals on Black Friday, but we won't know until they announce it on Friday. We'll update with more as they're announced, as long as we consider them good deals.
Android Tablets
Above we linked to an entire best Android tablets for Black Friday deals, but here are a few of our favorites just for good measure, and to help buyers find what they want.
Android Wearables
Huawei Watch – $50 to $100 off depending on model (as low as $299) ($100 off at Amazon)
Pebble Time Smartwatch – $129 at Best Buy
Moto 360 2nd Gen – $349 with $50 Gift card at Best Buy
Moto 360 – $149 on Monday from Motorola
Android Wear Watches – Google Store Deals TBA
HTC Re Camera – $79 from HTC (regularly $179 or more)
There are also a ton of deals on fitness trackers from FitBit, Misfit, Jawbone, Garmin and more at Amazon, Best Buy and others. That said, the ones above are the best choices.
Android Accessories
HTC Accessories – 40% off everything (Nov 27th 9PM to Nov 29th 9PM)
Nest Cam – $169 from Verizon (regularly $199)
Parrot AR Drone 2.0 Elite – $50 off at Verizon, priced at $249
SanDisk 128GB Micro-SD Ultra – $39 at Best Buy (or Amazon) Wow!
Speck CandyShell Cases – $9 at Walmart (usually over $19 each)
Zagg Screen Protectors – 50% off at Staples
NVIDIA SHIELD TV – $50 off and free $50 remote at Best Buy, and NVIDIA
Amazon Fire TV –$79 at Amazon (usually $99.99)
$100 Google Play Gift Card – Only $78 at Staples
SlickWraps – 50% off Everything
Tronsmart & Aukey Quick Chargers – Varied discounts on almost all, up to 60% off
UE Boom Speaker – $99 at Best Buy (regularly $199) Amazing Bluetooth Speaker
JBL Flip 2 Portable Speaker – $59 at Microsoft (nearly half off)
LG Tone Pro Wireless Headphones – $29 at Best Buy (regularly $69)
There are too many to list, but these are some of the best. Get some great Bluetooth speakers, popular cases, fast chargers, Android TV set-top boxes and tons of storage for your Android devices. Walmart and Best Buy have tons of accessories on sale, but get brands you trust. These deals will likely surface again around Christmas.
Again, there are hundreds of deals from small retail stores, big outlets, Office Max, carriers, and more that aren't mentioned here. We'll add more to the list as they're announced, or check out our Black Friday 2015 Portal for any and all deals.

As an Amazon Associate I earn from qualifying purchases.