8 Best Android Antivirus Apps to Keep Your Phone Safe
These are the best Android antivirus apps in 2019 and why you should use one. Perfect for keeping your Galaxy, Pixel or other devices safe. Security and privacy is a growing concern these days, as is malware, which is why being prepared is the smart move.
While malware on Android phones and tablets isn't nearly as bad as some "experts" say, protection is still a good idea. Protection from trojans and viruses, malicious websites, or Android app malware.
Android is the number one operating system in the world, making it a big and obvious target for bad actors. As a result, Android antivirus apps are very popular, but only a few are worth using. Some are free, but for the best protection, you'll need to pay a monthly or yearly fee. Let's get started.
Best Android Antivirus Apps for 2019
AVG Antivirus Security Free
MalwareBytes Anti Malware
Lookout Mobile Security
Avast Mobile
ESET Mobile Security & Antivirus
Avira Mobile Antivirus
AhnLab V3 Mobile Security
DFNDR Security
As we mentioned above, malware and virus problems on Android aren't nearly as bad, or frequent, as some would have you believe. I've never had a virus and I've had Android since day one, but that doesn't mean you won't experience problems. As 2019 comes to close we've heard a lot about malware in the Google Play Store, so you'll want protection.
Android Antivirus apps can protect your smartphone and your apps. Plus, they have extra features worth paying for. Those include find my lost phone, real-time scanning, security as a whole, or even photo vaults to keep your personal data safe from prying eyes or theft. Lets's get started.
AVG AntiVirus Security Free
First up is AVG, simply because everyone's probably heard of them and they're that good. AVG is a staple in the PC antivirus space, and they have excellent options for Android. AVG has over 100 million downloads, tons of excellent reviews, and the free version offers enough protection for most users.
AVG Free offers the basics like antivirus, anti-phishing, and anti-malware scanning all in real-time. The Find My Phone feature is available for both free and paid users. AVG lets you remotely wipe out your phone or tablet if needed, on top of protecting it day in and day out.
AVG AntiVirus Security Free is a comprehensive app that's extremely thorough, and the paid version offers even more for those who need it. Get it now from the link below.
MalwareBytes
Next up is MalwareBytes, a program I've used on my desktop computer for over a dozen years. Previously, this spot was reserved for CM Security, as it's one of the most popular Android antivirus apps EVER released. However, recent reports made us remove them from our roundup.
Honestly, though, Malwarebytes absolutely deserves a spot on this list. If you're having issues, try scanning Malwarebytes and see what it finds. I don't use it as an everyday AV, but that is an option. Instead, it quickly scans your entire phone and all the files and checks for things that don't belong. Then, quarantines and deletes any bad stuff.
This powerful app scans for viruses and malware, and aggressively detects ransomware, PUPs, and phishing scams. It can even do real-time scanning, protection, and spam call blocking. Not to mention detecting suspicious links, and offers a safer browsing experience.
What's nice about MalwareBytes is the real-time instant scan. If you feel like something is wrong, check real quick by running a scan to feel better. Most other programs are slow to scan and don't detect everything. Plus, Malwarebytes works on ALL Android devices, Chromebooks, PC and Mac.
It's completely free for the traditional scanning, cleaning and protection, but the extra features will cost ya.
Lookout
Lookout Security & Antivirus is another good option, and it comes pre-installed on a wide array of smartphones already, mainly Samsung devices. The free option is pretty basic, but once you pay the $2.99 a month or $30 a year price for Lookout it's a great package.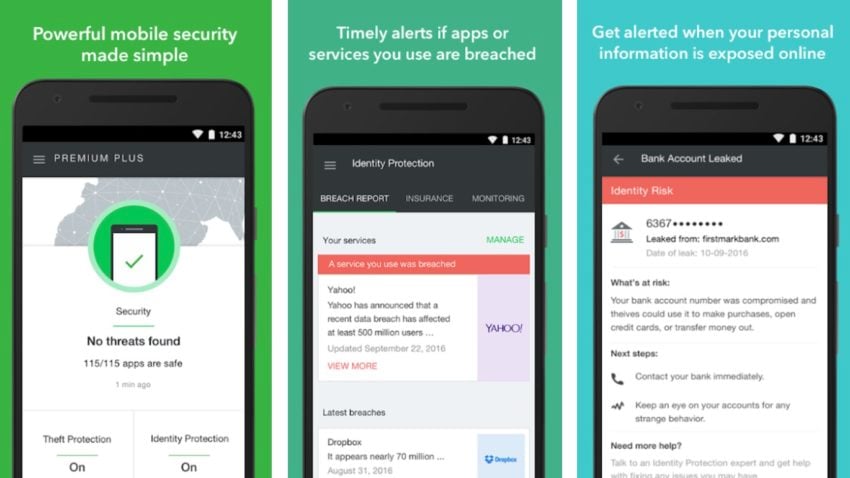 Lookout offers antivirus, anti-malware, anti-theft, and backup capabilities in the free version. All of those features are even better once you're a paying customer. Lookout even has a feature that will remember your devices last known location as the battery is about to die, which could be helpful if it gets lost. This is also a free feature.
Read: Best Android VPN Apps & Services 
Many consider it bloatware since it comes on some devices out of the box, but it's an overall decent Android antivirus option that's priced competitively and gets the job done.
Avast Mobile Security
If I had to recommend one free antivirus for your computer at home, I'd choose Avast. So, naturally, one of my top recommendations for Android antivirus protection is Avast too. Their mobile suite has plenty of features for both free and paid users.
Really, Avast probably could top this list, but we're not going in any particular order here. Avast offers all the same antivirus, anti-malware, phishing, and scanning features of the others. You get a virus scanner, virus removal, protector, network meter, app manager, app lock, and even firewall (on rooted phones) which give you total control for staying clean. It really is as feature-complete as they come.
Avast does anything and everything and does it well. And that includes all the theft and find my phone functions too. That said, the notifications and real-time scanning are a bit aggressive. However, the pricing is also aggressive and is half that of the competition. Costing $1.99 a month or only $19.99 per year.
You can't go wrong with Avast for Mobile. It scores high on AV-test's leaderboard, a popular site for ranking and testing AV protection.
Download AVAST Mobile for Android
ESET Mobile Security & Antivirus
While Avast is one of the best free options, ESET might be the best paid AV. I've used ESET and its all-seeing eye on my own PC for years, so we had to give them a nod. ESET's NOD32 Security Suite is just as good on mobile as you'll find on a desktop.
ESET is only $14.99 a year and boasts a 99.7% detection rate of malware and harmful activities. ESET scans all files immediately, as well as randomly scans your device. However, you'll need to pay to get everything it has to offer. There is a discount if you secure multiple devices, like a PC or Mac, and another discount if you subscribe for more than one year.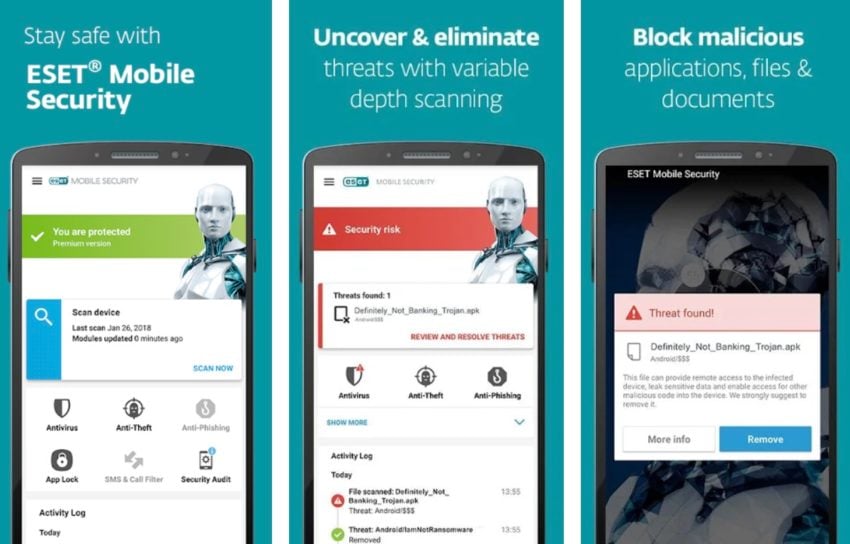 ESET has everything the others offer and more. They even support Find My Phone (from another device or your PC) call and SMS blocking, and there's even a built-in training course for mobile security and good practices. We recommend parents, kids, or anyone worried takes the training course.
If you're on the fence we recommend trying the free 30-day trial first.
Avira Mobile Antivirus
Next up is the Avira antivirus software, which is new to this list and recently won several awards for total protection. Not only that, but Avira scored in the top 5 for the AV-test.org summer of 2019 results. Meaning it's a capable full security and antivirus system for mobile in 2019.
And while Avira has a great mobile security system both free and paid, they also offer bundle tiers where you can get full protection on your PC, Mac, iOS and Android, perfect for those with several different devices.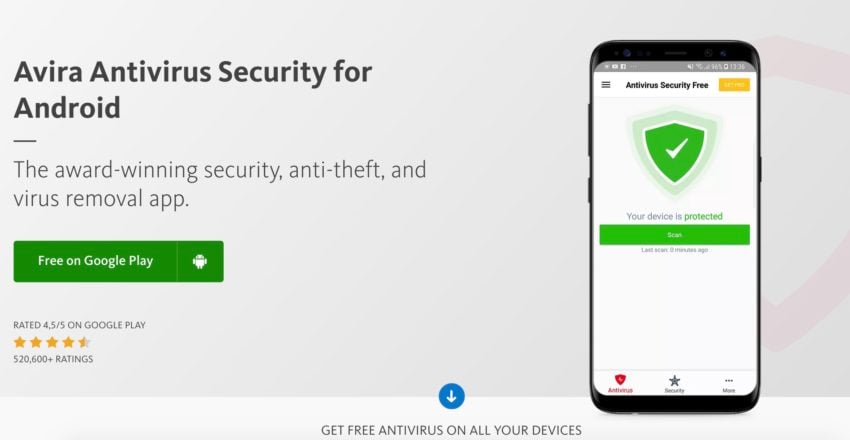 What makes Avira one of the best is that they let you control or manage (and scan) everything. You can scan files, apps, and anything on your phone, including your SD card. It offers a built-in identity protection system, theft monitoring, lost phone tracking, Applock with a pin, and a camera or microphone lock so no one, or no app, can access important parts of your phone or listen in on you.
We also really like the aspect of the app that scans, scores, and rates all your apps on a privacy scale on how much you should or shouldn't trust them. Give it a try today.
Download Avira Mobile Security
AhnLab V3 Mobile Security
Earlier we mentioned AV-Test, a site that rates antivirus programs and is a trusted name in this segment. One of the highest-rated apps and AV apps for Android ever is AhnLab V3. So, of course, it makes our list.
The company is from South Korea, and it's really popular outside the United States. So while you've probably never heard of them, the 99.6% detection rate makes it something worth paying attention to. Not to mention it runs great on older versions of Android. That's a big deal because malware typically targets older, less secure devices.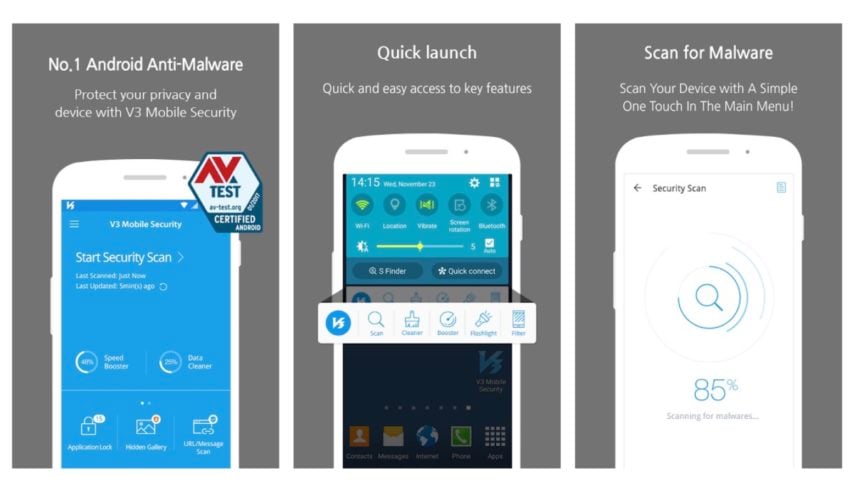 AhnLab is designed to be fast, effective, yet barely use battery life. Something really important on mobile devices. You'll enjoy high detection rates, plenty of features, an anti-theft alarm function, real-time monitoring, and a photo vault. Basically, it has every feature you could ever want.
Ahn consistently scores extremely high on most tests for being one of the best. You can try it free for 10 days with a trial, then protect your phone with just one tap.
DFNDR Security
Last but not least is a newer app to our list but one that certainly deserves a spot. DFNDR Security is growing rapidly, has over 100 million happy customers, and the latest version has more features than ever, better security, and faster scanning.
DFNDR is completely free, although you can pay $4.99 a year for the premium subscription and get total protection without ads. This app offers everything from an antivirus, performance booster, phone cleaner, anti-phishing protection and more.
Stay protected from phishing links in apps such as SMS, WhatsApp, Messenger, and Chrome. Anti-hacking alerts users about infected links before you click on them. Then, they have an intruder selfie feature that uses the front camera to snap photos of someone who stole your phone.
A popular aspect of DFNDR is the WhatsApp cleaner. One-click cleans the entire app and gets rid of spam, junk files, media, images and cache build-up.
The latest version 5.3 of DFNDR added machine learning and crowdsourcing to find and kill attacks faster than ever before, and now boasts one of the best phishing-attack detection rates on the market. Meaning this app will keep you safe from just about anything.
Download DFNDR Mobile Security 
Honorable Mentions and Wrap-Up
Next, we wanted to do a few honorable mentions. For starters, don't forget about Kaspersky, a popular PC service that's also on Android. Another choice is 360 Security Free but it comes with ads to make up for the fact that it costs nothing. AVL Pro is also a high-rated option. And finally, BitDefender is potentially another well-rounded and solid choice we can comfortably recommend.
In closing, keep in mind that Android has tons of built-in security measures already. From the OS blocking third-party app installs (unless you change the settings ) to Google's integration of scanning tools and Play Store malware detection. At the end of the day though, just be safe and only download and install apps from the Google Play Store, or Samsung Galaxy App Store — and nowhere else. Period!
There's an ongoing debate about whether malware is actually a problem on Android. Either way, it's something to consider and be mindful of in 2019, 2020 and beyond. So, try some of these apps today.