Best Buy Adds Galaxy Nexus Landing Page with Pricing Information
It looks like Best Buy is jumping the gun on getting a landing page for the highly anticipated Galaxy Nexus smartphone for Verizon Wireless, which will come with 4G LTE support and Android 4.0 Ice Cream Sandwich out of the box. The Best Buy page lists the full retail price of the handset at a whopping $799–that's without a contract–and a $299 sticker price with a two-year service agreement.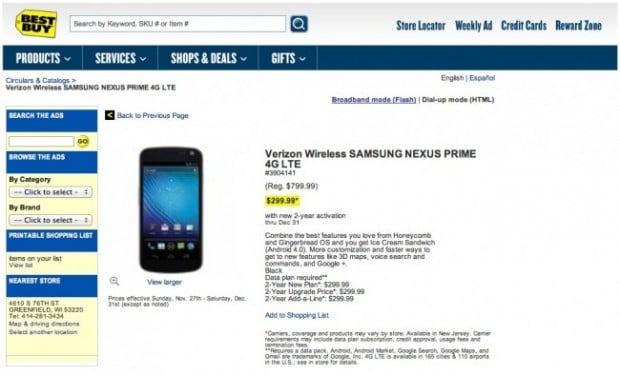 Best Buy's non-contract price for phones is typically higher than the non-contract price for devices found through the carriers, so the phone may cost less than the near-$800 price tag if you go through Verizon Wireless.
According to the landing page, the price is effective today, Sunday, November 27, 2011 and will last through December 31.
Specific hardware specs, such as the amount of on-board storage, is not revealed on the landing page. There has been some confusion lately if Verizon will offer a Galaxy Nexus with 16 GB or 32 GB of on-board storage. While this may not be important for many users, for those who carry a lot of music, photos, or videos with them, the amount of on-board storage is important as the device does not have a memory card so you'll be limited to whatever capacity your phone offers at purchase.
The phone is expected to be available starting December 8.
Additionally, the landing page lists the phone under its code name of Nexus Prime, rather than the Galaxy Nexus launch name.
Via: Droid-life