Best Cheap Android Smartphones [July, 2014]
Users in the market for a smartphone in 2014 have a wide array of options. From the iPhone 5s, Windows Phone devices, and of course Android. There are expensive flagship smartphones like the Samsung Galaxy S5 or all aluminum HTC One M8, and budget devices like the popular Moto G.
Consumers looking to pick up a new Android smartphone this summer without breaking the bank may be overwhelmed by the vast array of options available. And while carriers like T-Mobile now allow buyers to spend $25 or so a month as part of a payment plan for expensive devices, that isn't for everyone. If you're looking for some of the best cheap Android smartphones, ones that aren't junk, we'll detail some good options below.
Read: Best Android 4.4 KitKat Smartphones Under $200
As 2014 continues more and more options are on the table, especially devices from last year that are now starting to become lower in price for those signing new 2-year contracts with a carrier in the United States. Below are budget options for those who'd rather not spend $500, as well as cheap Android smartphones for buyers who don't want to sign a contract at all.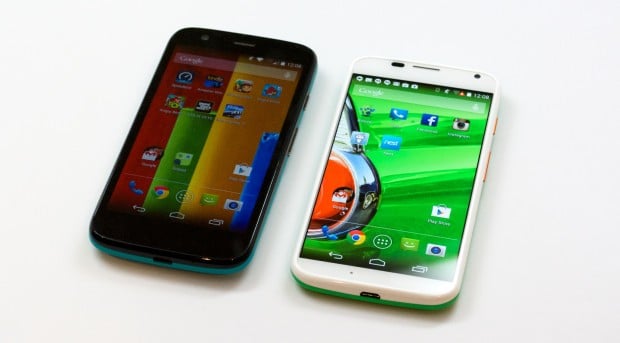 Even though the Samsung Galaxy S5, HTC One M8, and LG G3 are some of the most popular devices currently available to prospective buyers, there are tons of other options. Having multiple choices when it comes to smartphone size, features, and price is one of the strong points of Android.
Our list may differ from others, especially considering specs, carriers, and pricing, but these are a few the editors here at Gotta Be Mobile deemed acceptable enough to make the list. With that in mind here's a list of some of your best budget options as we clear the halfway mark of 2014.
Best Cheap Android Smartphones
Google Nexus 5
First on the list simply has to be the LG-made Google Nexus 5 smartphone. It features nearly everything top end smartphones have to offer, runs the absolute latest version of Android, employs a beautiful 5-inch 1080p full HD display, but won't break the bank. We wouldn't necessarily consider it "cheap" coming in at $349, but when most devices retail for over $599 this is the best budget Android smartphone on the market. That's $349 handcuff free, no contracts required. Grab one from the Google Play Store today.

As an Amazon Associate I earn from qualifying purchases.