5 Best Galaxy S6 Wallet Cases
When it comes to buying a case for your shiny new Samsung Galaxy S6 the options will be almost unlimited. Every case manufacturer around around will be offering an option for the popular flagship phone, even if a few haven't been released. However, here we want to focus on wallet cases for the Samsung Galaxy S6.
Picking a case for your new $600 smartphone or 2-year investment is no easy task, and you'll want to select something that will protect your device, but hopefully also offer some added functions or features. Cases with kickstands, flip covers, and even wallet cases are a few that come to mind.
Read: 9 Exciting Galaxy S6 Cases
The new Samsung Galaxy S6 hits US carriers on April 10th and looks to be one of the best Samsung Galaxy devices ever, and one of the better phones for 2015. We've already rundown some exciting cases above, but below we have a few more awesome wallet case alternatives.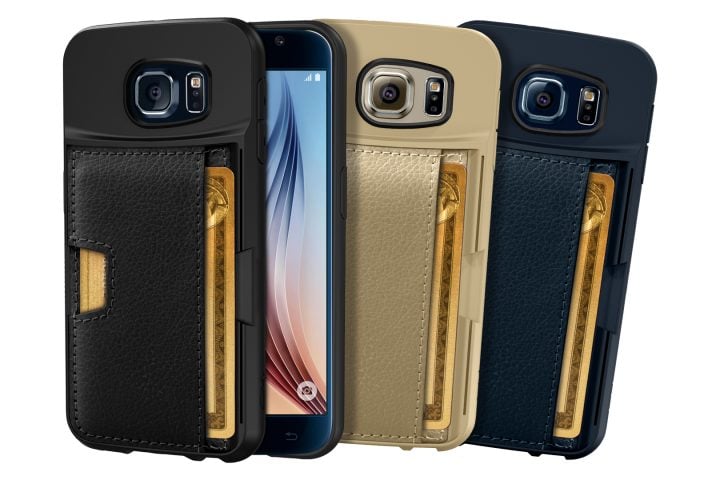 Samsung has partnered with many different case manufacturers in hopes to help owners protect their new devices, and surely once the phone is released in two days more cases will be announced, released, and available to buy online or in stores. And while not all of the cases below are available now, they are a few of the best Galaxy S6 wallet cases around.
The Galaxy S6 has a beautiful 5.1-inch Quad-HD display with glass covering both the front and the back, and while drop tests have shown it to be extremely durable, you'll still want to protect your investment. You'll also want to protect that 16 megapixel camera that bulges out from the body a bit. Here are some cases that will do exactly that, while also let you store your ID and credit cards at the same time. We'll start with my favorite, the CM4 Q-Card Wallet Case, as well as a few other worthy options.
CM4 Q-Card Case
Odd name aside, the Q-Card case will probably be our favorite case for the Galaxy S6. I used it on my Galaxy S4 and Galaxy S5, and they hold up extremely well. It isn't a flip case like almost everything else available, which is another huge plus. We're not fans of holding a flap open to use and enjoy our device, which makes the CM4 an attractive offer out of the gate. Secondly it's made of a durable lightweight plastic that protects the screen and camera, but then finished off with premium leather for the wallet aspect of the case.
The CM4 case is available for pre-order and ships on April 10th, just in time for the Galaxy S6 release date. It comfortably fits three credit cards plus some cash, it protects the entire screen yet is still thin and sleek. Then, new to this year is a rather novel idea. They've added a integrated covert kickstand with two standing positions. Using a slit in the plastic housing you can use a credit card or ID as a kickstand for hands-free viewing. It's a neat idea, and we'll be sure to try it out in a full review.
It's available for $39.99 and comes in Black, Gold or Blue.
Buy It Here or get one for the Galaxy S6 Edge