Best Google Pixel 4 XL Screen Protectors
Keeping your phone's screen safe and scratch-free is one of the most important things for owners. As a result, we've gathered a list of the best Google Pixel 4 XL screen protectors worth buying in 2019. That way your new phone can stay Pixel perfect.
While the Pixel 4 XL's display is resilient it is far from scratch-proof. Thankfully, the screen isn't curved like a Galaxy S10 so screen protectors fit great and work wonders to ensure your screen lasts. Here are some of your options.
Best Google Pixel 4 XL Screen Protectors
Thanks to the flat display on the Pixel 4 XL screen protectors are easy to install and won't come off or peel up on the sides, even if you use a case. Which is why we're able to recommend quality tempered glass instead of cheap film protectors. And while films are an option, tempered glass is chemically reinforced to be both scratch and shatter-resistant, and is what we recommend all owners use. Buy one today!
1. TopACE Tempered Glass 2-Pack for the Pixel 4 XL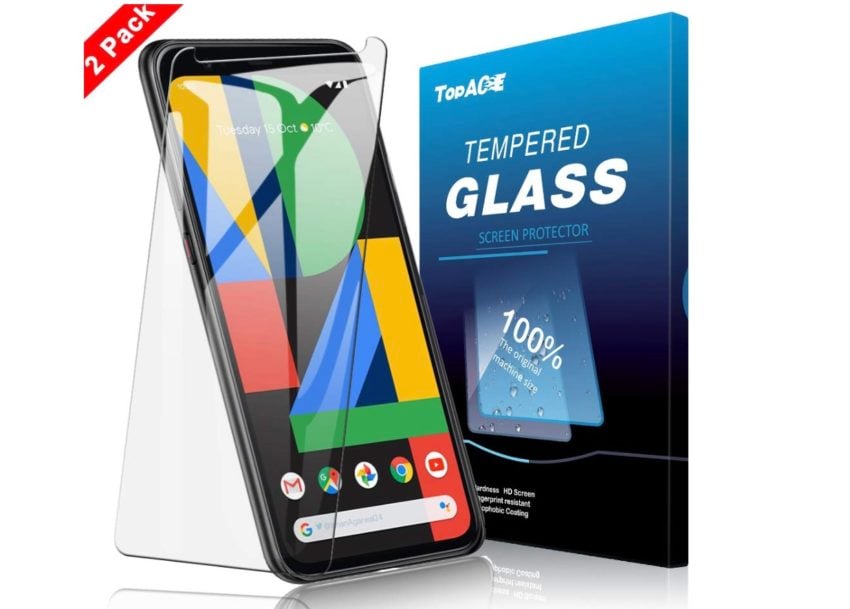 Buy it Now on Amazon for $7.99
TopACE isn't just a brand that makes good smartphone cases. They also offer some rugged screen protectors at an affordable price. This two-pack will keep your phone safe and you'll have a backup just in case. They're using a strong tempered and chemically strengthened glass that scores a 9H on hardness scales, and won't easy scratch. It's basically as strong as the glass on your phone already.
So, if you happen to drop your phone, typically the screen protector will crack or break, and not your actual screen. TopACE promises its protection is Pixel 4 motion sense face ID compatible, ultra-thin for excellent touchscreen responsiveness, and works with all gestures too. And if you ever scratch or break it, they offer hassle-free lifetime replacements.
2. SuperShieldz Tempered Glass Protection (2-Pack)
Buy it Now on Amazon for $6.99
SuperShieldz is a brand we know and trust when it comes to smartphone protection. Their 2-pack is perfect for you and your significant other if you both just got a Pixel 4 XL.
This company uses all the latest and greatest standards to ensure your phone's screen stays looking its best. Those include a rounded 2.5D edge of the glass to prevent chipping and make it comfortable to use. Supershieldz glass also has a 99.9% clarity rating while being ultra-thin for touchscreen responsiveness. We also like that they add a hydrophobic and oleo-phobic coating to reduce sweat and fingerprints. 
3. InvisibleShield Glass Elite
Buy it Now from ZAGG for $39.99
If you want a Pixel 4 XL screen protector from a brand everyone has heard of, consider the InvisibleShield Glass Elite. Their parent company ZAGG was a pioneer in smartphone screen protection, so you know you're getting something durable and that will last.
InvisibleShield's new Glass Elite line is one of their best screen protectors yet, too. It's using a special "ion exchange technology" to increase the overall strength, durability, and flexibility of the glass. Then, they've added a new oil-diffusion treatment to help magically erase fingerprints and smudges on your screen. They're not the cheapest, but it'll do the trick.
4. LK Tempered Glass with Easy Alignment Tray (3-Pack)
Buy it Now on Amazon for $10.99
If you're like me, you either have a hard time installing screen protectors or have OCD and want to get it perfectly aligned. If so, the LK tempered glass 3-pack is perfect. This kit comes with an easy alignment and installation tray making the job as easy as can be. And, if you happen to mess up, you have two more for backup.
Lightning Knight (LK) tempered glass comes with a 99.9% clarity rating, 9H hardness scale tested, and they're ultra-thin with rounded edges for a perfect and comfortable fit. These are easy to install, work great, and come with a hassle-free lifetime warranty if you somehow go through all three.
5. SPARIN Pixel 4 XL Tempered Glass Protector (4-Pack)
Buy it Now on Amazon for $9.99
Better yet, buy the SPARIN Google Pixel 4 XL tempered glass 4-pack. That way both you and your partner can protect your phone and have a backup screen protector in case of accidents or if you mess up while installing it.
SPARIN is another brand we've used in the past, recommend often, and know make great products. This kit comes with an easy installation tray too, making the process of covering up that screen with durable protection super easy. Here's how to install the Pixel 4 XL protector using the alignment tray. They're 99.9% clear, have rounded edges, score a 9H on hardness scales and have a lifetime warranty. All that good stuff plus they're easy to install.
Above, we've suggested five excellent options for keeping your Pixel 4 XL screen Pixel perfect. These are all tempered glass, which is what we recommend over the cheap films sold in carrier retail stores. Then, we'll continue to look for and test other screen protectors and update this list with the best options available.

As an Amazon Associate I earn from qualifying purchases.