20 Best Google Pixel Cases to Protect Your Phone
In this guide we'll share a list of the best cases for the Google Pixel and Pixel XL. Cases that will keep your Pixel looking nice and new. Even though Google's original phone doesn't have an edge-to-edge screen, a case is still highly recommended.
Google Pixel cases come in a slew of different styles, materials, and durability levels. Luckily, you don't need to spend a fortune to get an amazing case. From the best protection to beautiful cases with unique artwork, we have something for everyone.
Read: Google Pixel Review: A New Type of Android
We have thin and cheap TPU cases, hand-made wood cases, wallet cases and the best leather cases for the Google Pixel and Pixel XL. Some of these cases are under $10, which is better than spending $150 to fix a broken screen. Others cost a few dollars more but have more durable materials, extra features, or come from reputable brands we know and trust. 
While spending a few bucks on a cheap thin case is better than nothing, if you can afford it we recommend one from Google themselves or other reputable companies. Even a TPU case on Amazon will get the job done. Google offers neat live cases, places cases, and other custom designs that use images from Google Maps for the design. Alternatively, Google has some fun colorful choices or durable polycarbonate hard shell covers.
Then, popular brands like Spigen and Speck offer cases as well. These are typically less expensive than Google's own but offer just as much protection, if not more. Everything from Speck has a military-grade rating approved for 10-foot drops. These cases won't protect your Google Pixel from everything, but they will protect it from a lot more than you'd think. They'll keep your phone safe from life's daily hazards.
We've also detailed cases from companies that focus on offering premium designs. These cases use genuine leather, hand-carved wood or other unique materials that are a little more expensive. There are many Google Pixel cases to choose from, but these are the best cases to spend your money on. Buy one today from the Google Store, Amazon, or from a link in our slideshow below.
Google Clear Case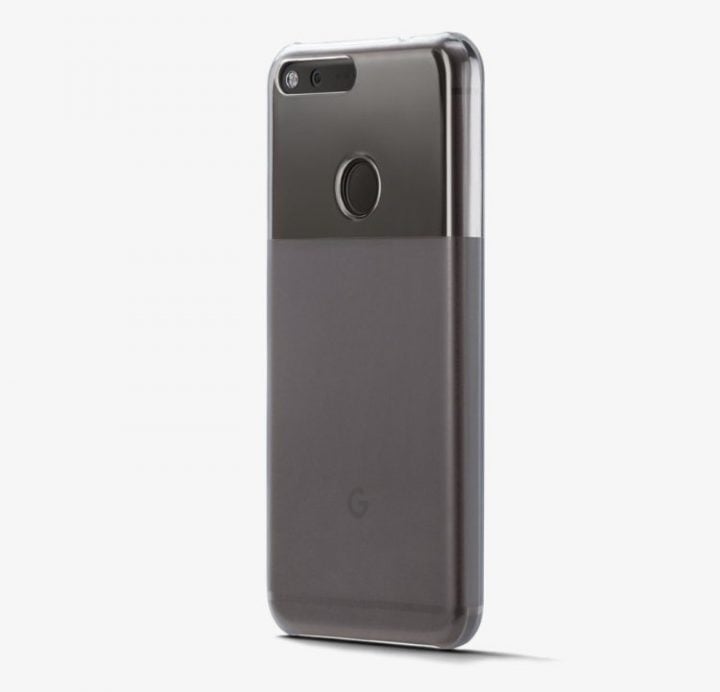 Getting a case from the phone maker themselves is often the best route to take. Google's clear cases show off the unique design, glass back, or that Really Blue Pixel model.
It looks like a standard cheap TPU case, but Google uses a hard durable polycarbonate plastic. There are precision cutouts for all of the ports, buttons, and sensors. This is a sleek and minimal way to protect the Pixel or XL. It's available now in the Google Store, but it's expensive.