10 Best Huawei P30 Pro Cases
These are the best Huawei P30 Pro cases available that will keep your phone and all those cameras safe. With a big 6.5-inch AMOLED display, a beautiful design, four rear cameras and glass on the back a case is highly recommended.
Huawei P30 Pro cases come in several different styles or durability levels, which is why our roundup has thin cases, heavy-duty cases, wallets or even kickstand cases. Get what's right for you.
Some cost just $8, which is a lot better than paying over $200 to repair a broken screen. The most durable cases from reputable brands cost around $15-$20 and offer even more protection. Here are your best options.
Best Huawei P30 Pro Cases & Covers
Spigen Rugged Armor – $13
EasyACC Slim TPU Shell – $8
Huawei Smart Flip Case – $22
Ringke Fusion-X Clear Bumper Shell – $13
VRS Design Hybrid Wallet – $20
Vinve Crystal Clear Cover – $8
Spigen Neo Hybrid Case – $16
UAG Plasma Series Case – $39
Olixar Faux Leather TPU Shell – $13
Spigen Wallet-S Leather Kickstand – $16
1. Spigen Rugged Armor for Huawei P30 Pro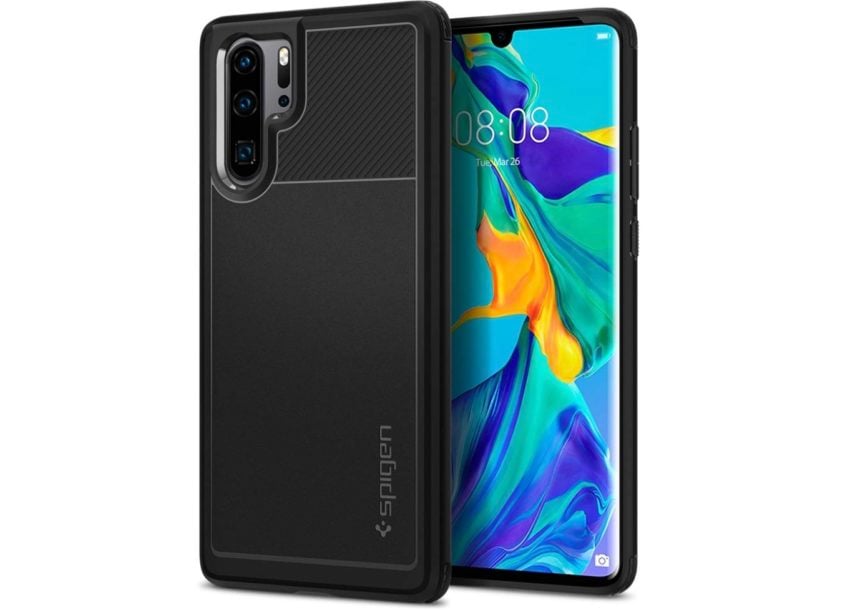 It should come as no surprise that our first recommendation is from Spigen. And while they have several great Huawei P30 cases, including slim or wallet options, the Rugged Armor is probably their best all-around case. It's not too thick, not too thin, yet strong and affordable.
Spigen's Rugged Armor is all matte black with an anti-slip coating so you'll never drop this big phone. The entire case is made from a flexible and impact-resistant TPU material, with air-cushion technology in the corners for added drop protection. Then, they squared off the edges, added a fancy faux carbon fiber design and glossy edges and accents so it looks as premium as it feels. This is a great case.
2. EasyACC Slim TPU Shell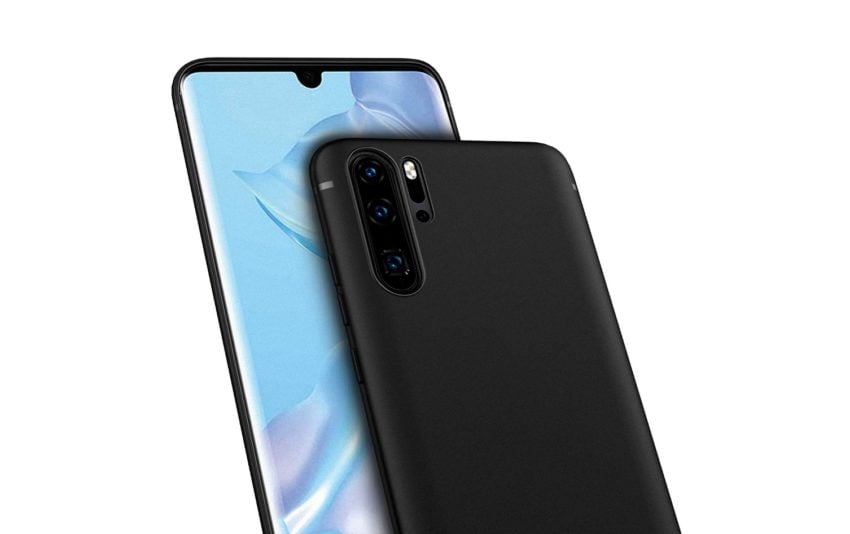 If our first recommendation looks a bit too industrial or bulky for you, consider the EasyACC Slim Matte TPU shell for the P30 Pro. EasyACC is using the same rugged, durable, impact-resistant TPU material in a slightly thinner application. That way you're getting some protection without all the added thickness.
Just keep in mind that this is a "slim and sleek" case that doesn't offer as much durability and protection as some of the others. It's a minimalist case.
3. Huawei Smart Flip Case
Buy it Now from MobileFun for $22
Similar to Samsung's popular Clearview flip covers, Huawei themselves offer a Smart Flip case for the P30 and P30 Pro. This durable TPU flip case folds shut to keep that 6.47-inch screen completely safe. Then, a small "Smart Window" allows important information like the time, date, weather info or incoming notifications to shine through.
It's a case that will keep your phone and its screen safe from life's daily hazards while still giving you at-a-glance information. Even when its shut you still get the info through the window on the case. Give it a try today.
4. Ringke Fusion-X Clear Bumper Case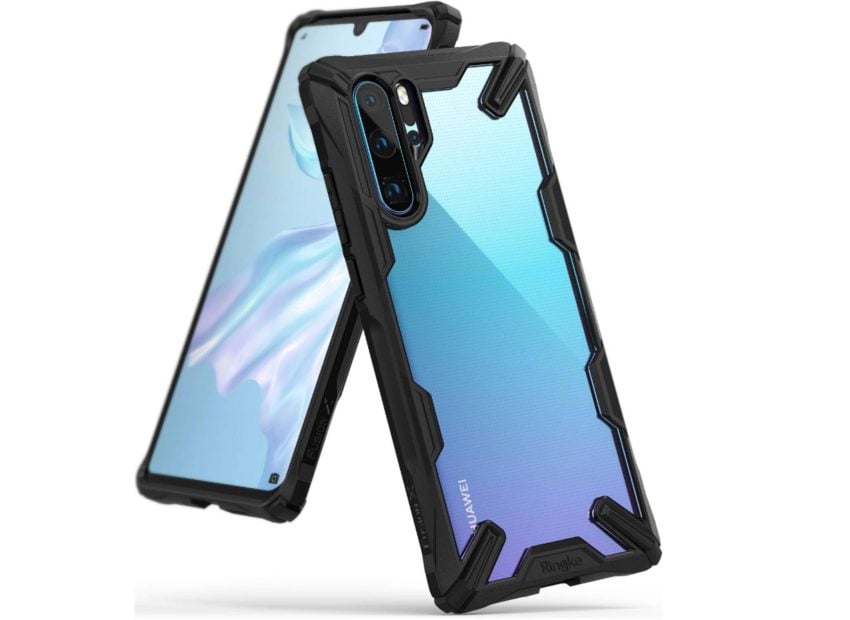 We like the Ringke Fusion-X series because it combines two case styles people like into one. You're getting a durable clear case that'll show off the beautiful color options of the Huawei P30 Pro, yet tough protection on the sides of the phone.
They're using a hard polycarbonate clear plastic on the back, then a Black or Blue TPU rubber bumper around the outer edge for additional drop protection. Giving you the best of both worlds and a 10ft military-grade drop protection rating.
5. VRS Design Hybrid Wallet Case
The VRS Design hybrid wallet case isn't your typical wallet case and will give you one less thing to worry about when you leave the house. Grab your keys, find your phone and hit the road. Don't worry about your wallet.
This case has a dual-layer durable TPU frame for extra impact protection, raised edges on the corners, and tactile oversized buttons that are easy to press. The best part is the hidden "sliding door" that opens up a small compartment that houses two credit or ID cards plus a little cash. It's a wallet case without telling the world you have a wallet case, so thieves won't eye your phone.
6. Vinve Crystal Clear Shell
Want to let one of the many stylish colors of the Huawei P30 Pro shine through your case? If you got that Pearl Blue or Amber Sunshine color, this is the case for you. The Vinve is crystal clear, so any color will bleed through with style.
Just know that this case is using a hard polycarbonate clear back and a rugged TPU bumper on the sides that is black. So it's not completely 100% clear. This gives you tons of protection in a slim package so we think it's a good tradeoff.
7. Spigen Neo Hybrid Case
If I was buying a case for my Huawei P30 Pro, the Spigen Neo Hybrid would be my first choice. Unlike our first recommendation, Spigen's Rugged Armor, the Neo Hybrid has a textured design on the back and a reinforced hard polycarbonate skeleton frame for additional protection. It also costs a few more bucks.
The Chevron-style textured pattern on the back makes it easy to grip and helps disperse damage from accidental drops. Every Spigen case has air-gap cushion technology on the corners to keep the screen safe, raised edges around the screen and camera lenses, and easy to press buttons. Then, this one has a nice gunmetal grey polycarbonate bumper frame to make it a little tougher than most without adding any bulk.
8. Urban Armor Gear Plasma Series Case
Urban Armor Gear, known as UAG, makes some of the most unique looking tough and rugged cases for smartphones. They use a super-strong featherlight TPU composite frame that's soft and flexible to perfectly fit the case with ease while absorbing impacts from drops or accidents.
Then, they add an armor shell of hard polycarbonate plastic, raised edges, double-thick bumper stops on the corners and oversized easy to press buttons. They make very "industrial" looking cases and the style isn't for everyone. However, everyone that buys a UAG case loves it. The Plasma series passes military-grade drop tests and is super tough. And yes, wireless and reverse charging works through the case.
9. Olixar Faux Leather TPU Shell
Another case style that's popular is faux leather. This case from Olixar is made entirely out of a rugged, strong, dual-layer TPU frame that's shock absorbent and drop-resistant. However, they add a fake leather finish to the back with stitchwork and all. It looks and feels like leather, but doesn't cost as much as real leather.
This is a sleek and stylish case with raised edges to keep the screen and cameras safe. The faux leather on the back has a nice textured finish too, which makes it easier to hold and grip. It's a good all-around case for those on a budget.
10. Spigen Wallet S Leather Kickstand Case
Last but not least is the popular Spigen Wallet S series case for the Huawei P30 Pro. For just $16 you're getting a premium synthetic PU leather case that holds several credit or debit cards, your ID, some cash, and folds shut to keep the screen safe. The inside is TPU, which holds the phone in place.
Additionally, you can fold the wallet flap backward and it doubles as a kickstand for hands-free movies and TV. That way you can Netflix and chill with that gorgeous 6.5-inch screen on your lunch break. We like the full-length slot under the cards for cash, and the magnetic latch ensures you won't lose your wallet contents.
This is another solid case for the Huawei P30 Pro. Then, we'll update this list with other great options as they're released and we try them out.

This article may contain affiliate links. Click here for more details.