Best IFTTT Philips Hue Recipes
Philips Hue lights are an awesome accessory to equip your house or apartment with, but here are the best IFTTT Philips Hue recipes to take things to the next level with Philips Hue lights.
We've shown you how to set up your Philips Hue lights to work with IFTTT, which is an online service that's short for If This Then That, which allows you to hook up two different other services in order to work seamlessly with each other and make certain actions completely automatic.
For instance, I can set up IFTTT to send me an email every time I'm tagged in a Facebook photo, or I can receive a text message whenever my favorite football team scores (if I'm unable to watch the game).
Read: Philips Hue Review
With the Philips Hue app, you can do a small handful of things with your Hue lights, like set an alarm for them to turn on at a certain time and also set a timer to have them turn on or off after a countdown. You can also set up geofencing to have your lights turn on automatically when you get home or have them turn off when you leave.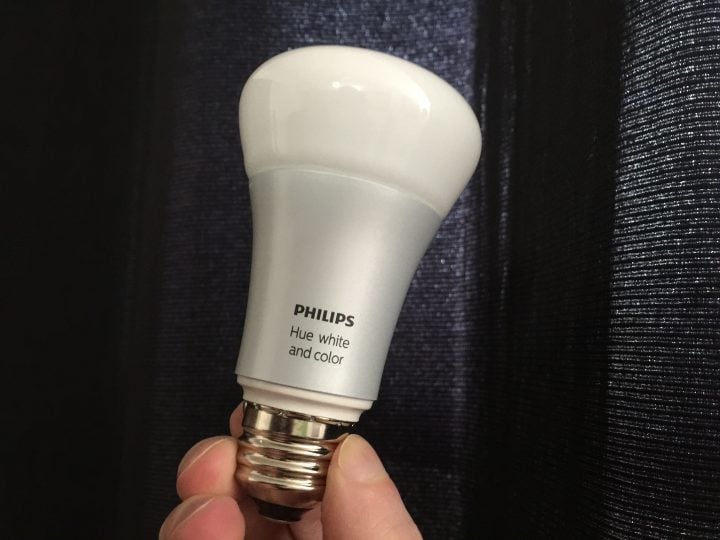 However, IFTTT adds a ton of added functionality to your Hue lights that the native Philips Hue app can't do. So if you're interested in taking your Philips Hue lights to the next level, here are some of the best IFTTT Philips Hue recipes to check out.
Read: The Best Smart Home Products
Best IFTTT Recipes for Philips Hue Lights
Hue lights are great simply because of the fact that you can control them wirelessly right from your smartphone, but they can do so much more than that. Here are the best IFTTT recipes for Philips Hue lights that you should consider trying out.
If you want to know when it's raining outside, but don't feel like opening up your currents and looking out, there's a recipe to have your Hue lights turn blue whenever it rains:
If you have the older Hue Bridge that doesn't come with Siri capabilities, here's an IFTTT recipe that essentially adds that capability to your older Hue Bridge, albeit with a weird workaround:
Sometimes you forget to turn off your lights before you go to bed, so to ensure that all of your lights don't stay on all night, there's a recipe available that will turn off all your lights at a specific time. Granted, Hue lights barely hog up electricity, but waste not want not, right?
While you can have your lights turn on automatically when you get home (thanks to your GPS location), if you'd rather have your lights turn on at a specific time, then you're in luck. Plus, you can set specific days that you want this recipe to only run on:
If you're someone who doesn't like receiving email notifications all the time, but are waiting for an important email from someone specific, there's a recipe that can flash your Hue lights whenever you receive an email from a specific contact:
If you're just feeling creative and spontaneous one day, here's a fun recipe that changes your Hue lights to a random color whenever you send "#hue" to the IFTTT number:
When it gets closer to bed time, you can have your Hue lights change their color temperature to something a bit more warm in order to help you sleep better that night, sort of like a F.lux in real life:
If you're hosting a party and want to add some ambience to your house, while also keeping it fresh the whole night, you can set up your lights to randomly change colors ever hour (or whatever duration you want):
If you have a Nest Protect smoke alarm, you can have it communicate with your Philips Hue lights through IFTTT. One great recipe is turning all of your Hue lights to red if your Nest Protect detects smoke or CO2:
The Ring Doorbell is a neat home security camera built into a doorbell, but if you sometimes don't hear the bell ring, you can set it up to also blink your lights for a visual cue that someone is at the door:

This article may contain affiliate links. Click here for more details.