Best iPhone Audiobook Apps
If reading isn't your cup of tea, perhaps listening to someone read is more up your alley. Here are the best iPhone audiobook apps.
Audiobooks, as you might have guessed, are audio versions of books, and they're perhaps even more convenient than physically reading a book, as you can listen to audiobooks in the car on your way to work or while traveling.
They're especially handy if you easily get carsick while reading in a car, plane, train, etc. No need to look down at blocks of words and read them. Instead, you can listen to calm voices of narrators reading books aloud to you.
However, if you're new to audiobooks or new to the iPhone, you may not know the best apps for listening to audiobooks, but there are a few winners out there that are great for listening to audiobooks on your iPhone, some of which have unique features that you may enjoy.
Without further ado, here are some of the best iPhone audiobook apps available.
Audible
Perhaps one of the most popular apps for audiobooks is Audible, and it offers a great selection of books to choose from.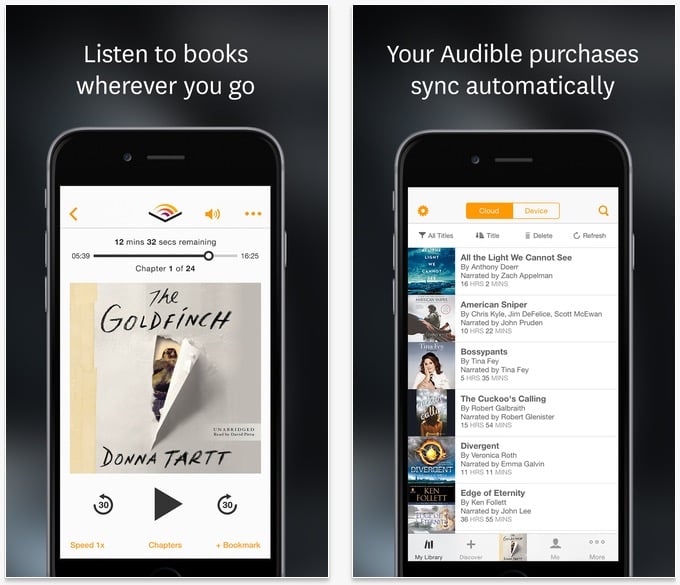 Audible is actually owned by Amazon, so if you already use Amazon for your shopping, buying audiobooks is just as easy. From within the app, you can do all sorts of stuff, like skip forward or backward within an audiobook and even adjust the quality of your audiobooks when they're downloading so that you don't go over your data cap if you're downloading while on the go.
Plus, you can email or call Audible customer support right from within the app, which is a huge plus, and if you're extra geeky, you can even view your listening stats that show how long you've "read" and it also shows daily and monthly stats.
iBooks
If you're one to stay within Apple's own ecosystem as much as possible, then iBooks has you covered when it comes to audiobooks, at least when iOS 8.4 releases soon.
Currently, the Music app on your iPhone or iPad handles audiobook duties, but that will change in the very near future, as iBooks will take over audiobook responsibilities when iOS 8.4 launches, which is rumored to arrive early next month.
When this happens, many new features will be available to users, including the ability to easily scrub through an audiobook chapter, as well as open a tracklist for each book. You'll also be able to set the speed of the audiobook and even share your discovery of the book with a friend.
Audiobooks
If you like the word "free" then you'll most likely enjoy the Audiobooks app, which offers free audiobooks and a simple interface to listen to them.
The app has "thousands" of free audiobooks that you can listen to, as well as a decent selection of "premium" audiobooks of best-selling titles.
The interface includes a wealth of useful features, including a sleep timer, a dark mode for when it's night time, offline playback, AirPlay support, and even the ability to continue listening to your audiobooks in the background while you do other things on your iPhone.
There's also Apple Watch support in case you ever want to control your audiobooks right from your wrist.
Roll Your Own Setup
If you'd rather have more freedom with your audiobooks, then there are some other options that you can go for.
There are many websites that let you download .MP3 versions of audiobooks. LoyalBooks is one of them, which allows you to download .MP3 audiobooks by chapters for easy listening. From there, you can listen to them on your computer or mobile device through the Music app.
There are even the less legitimate means of downloading audiobooks, such as using torrents. Admittedly, the selection is fantastic, but if you're feeling a bit more ethical than that, then perhaps going with an established service like Audible is more up your alley.

As an Amazon Associate I earn from qualifying purchases.