The brand new LG G4 smartphone comes designed with a beautiful handmade premium leather material on back, but that doesn't mean owners won't want to protect it with a case. Not to mention US carriers will also have three regular plastic models that aren't as pretty and may need additional protection. Here's a list of some great cases once the G4 hits the market.
The LG G4 cases outlined below will not only protect the smartphone from drops and damage thanks to the durable construction, but some offer additional battery life, fancy features like the Folio Flip Case, and clear cases so G4 owners can still see the good looking leather design.
Read: LG G4 vs Galaxy S6: Camera Comparison & Samples
We're still a couple of weeks away from the actual LG G4 release date, which is rumored for early June, but there's already some cool and attractive cases that will add protection and function to the smartphone. Below are a few worth considering or buying now so protection is ready once the G4 is released in the United States.
With the LG G4 users will have a choice between three regular plastic options in White, Titanium Silver, and Gold, then there are six genuine leather colors with varying textures that will be available. LG states that leather options and colors will all depend on what each carrier wants to offer.
LG's leather has a more durable design that some others on the market, like the Moto X, which should be more durable and handle the elements or daily wear and tear, but getting a case is still something many will consider. Be careful though, as many cases claim they won't fit the G4 in leather, although they probably will.
Read: LG G4 Review
That said, the phone is coming soon, and case manufacturers have been busy designing awesome options to protect the phone without limiting it at the same time. Here's a roundup of some great cases for the LG G4 you can buy right now, or will be available once it launches in a few weeks.
LG G4 Folio Flip Case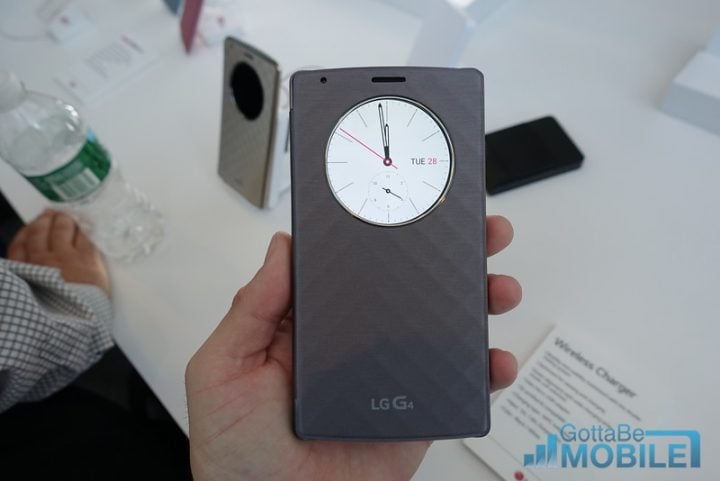 Similar to last year, LG is offering an official LG-made Folio Flip Circle Case that offers multiple levels of protection, additional neat features, and more. The G4 Folio case protects the entire device as usual, but then has a flip cover that protects the 5.5-inch screen. The trademark circle window cutout in the flip cover shows a clock, the weather, incoming call or text message information, quick access to the camera and more all without ever opening the case.
Then opening it instantly wakes up your device. This case makes your phone durable, offers additional features, and protects the screen all in one. Last but certainly not least, there's also a second version of the Folio Case that enables wireless charging, making it more than worth the more expensive price point.
LG hasn't announced pricing for the G4 Folio case, but last year the G3 Folio case was $49, and the wireless charging enabled case was $59.99.

As an Amazon Associate I earn from qualifying purchases.