Best LG G8 Screen Protectors
In this guide we've gathered a list of the best LG G8 screen protectors that will keep that fancy display safe from life's daily hazards. With a big bezel-free screen and multiple cameras and sensors up front, protection is a good idea. There are two main styles of screen protection and here's what you need to know about both.
First off, you should probably get a case for your LG G8. Once you do, the next step is a screen protector. The first style is a cheap film you'll find everywhere. Then, the other is a more durable reinforced and tempered glass. We've found some priced around $8, and others for a few dollars more, which is much cheaper than the $200+ it costs to replace a damaged screen.
Best LG G8 Screen Protectors
Supershieldz Full-Cover Tempered Glass 2-Pack
LK Rugged Clear Film 3-Pack
Pulen Full-Cover Tempered Glass 2-Pack
IQ Shield LiquidSkin Smart Film 2-Pack
Venoro Bezel-free Tempered Glass Protector
1. Supershieldz Full-Cover Tempered Glass 2-Pack
Supershieldz is a brand that's been around forever making quality screen and device protection. Their high-quality tempered glass promises an easy bubble-free installation with a durable adhesive. They're using strong 9H hardness tempered and reinforced glass with 2.5D curved edges. This helps the glass stay strong, prevents cracks or chips, and makes it more comfortable to use.
One benefit of the Supershieldz glass, aside from getting two for one low price, is the "full-coverage" design. They've added small black bezels to the sides and the top, and aside from a cutout at the top for the front-facing cameras this will 100% cover the entire screen on your LG G8. If one ever scratches or breaks, they have a no-hassle lifetime replacement warranty program.
2. LK Rugged Clear Film 3-Pack
Another option is this 3-pack from Lightning Knight for only $9. And while these aren't tempered glass, and a tough film instead, you'll have two backups in case anything should happen to your phone or the screen. LK it a brand we often recommend for tempered glass, so it's odd they're only offering a film for the LG G8.
That said, the LK option here is using a durable military-grade 3M film that's super strong, scratch-resistant, and won't discolor over time. They promise 99.9% clarity, an easy install, and each film has anti-fingerprint coatings to keep things clean. Give it a try today.
3. Pulen Full-Cover Tempered Glass 2-Pack
Buy it Now on Amazon for $9.99
For the same price as film protectors, you can get this 2-pack of durable tempered and reinforced glass from Pulen. It has rounded black edges to blend in with the design of the LG G8, while offering full-screen protection against life's usual wear and tear.
Each piece of glass scored a 9H on hardness scale tests, they're 99.9% clear, and the rounded edges ensure it won't crack or chip over time. This will perfectly cover the entire front of your phone, aside from the front-facing camera and those sensors up top.
4. IQ Shield LiquidSkin Smart Film 2-Pack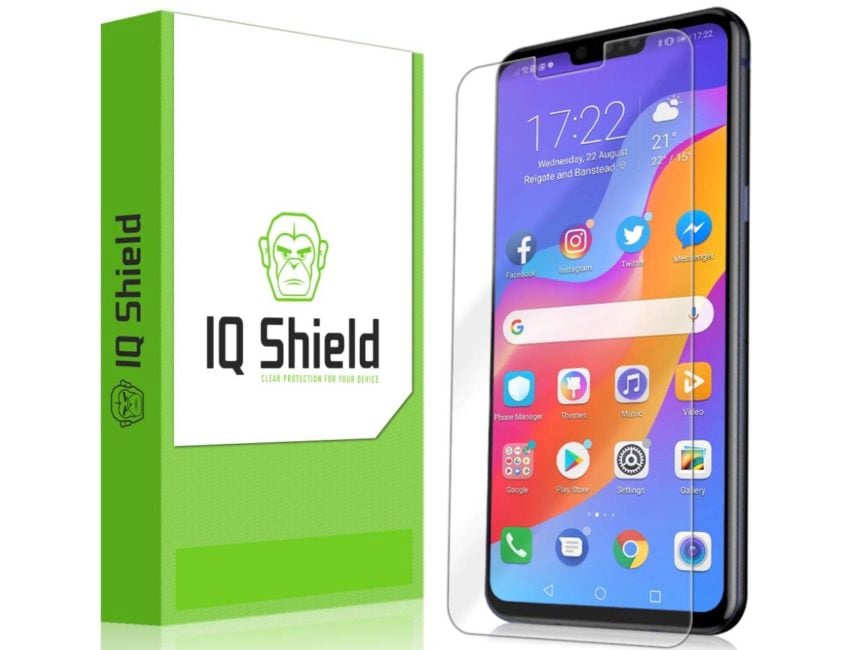 Buy it Now on Amazon for $7.85
Another option comes from IQShield, which is a brand we've used for years on our LG and Samsung Galaxy phones. They make both HD films and tempered glass. This one we're recommending is their durable "Smart Film".
IQShield Smart Film comes with a perfect alignment easy installation tray, a wet application method, and is super easy to put on your phone. Then, each piece of film is super tough meeting military-grade ratings, has self-healing properties, and won't discolor over time. Seriously, if you get a scratch on the film it will disappear over time, especially if you apply a little heat. It's really cool.
5. Venoro Bezel-free Tempered Glass Protector
Buy it Now on Amazon for $9.50
Last but not least, for now, is the Venoro tempered glass screen protector. What makes this different from ALL of the other tempered glass on our list is the lack of a bezel. There are no black lines around this piece of glass. Some people like protectors with a color-matched bezel, and some don't. If you're in that latter camp or want to use a case with your protector, this is likely your best option.
You're getting a 2-pack of tempered glass screen protectors for the LG G8 ThinQ all for one low price. They add a coating to the glass that's anti-scratch and fingerprint, curve the edges to prevent chips or cracking, and claim it's super easy to install.
Give any of these a try to keep your phone screen looking new.

As an Amazon Associate I earn from qualifying purchases.