Best Nexus 7 2013 Accessories
The original Nexus 7 was wildly successful and truly put Android tablets on the map, and this year the second-gen Nexus 7 (2013) is even better. With such popularity comes a guarantee that there will be several different cases and accessories for the device, so we've gathered a few of our favorites.
The new Nexus 7 improved over the original in multiple key areas. From a camera on the rear, an impressive 1080p full HD display, to a sleeker and thinner profile. As a result there's plenty of awesome cases, keyboard docks and stands work wonders, and Google even released an awesome wireless charging pad for the new Nexus 5 that works great with the Nexus 7.
Everything from cheap covers for someone on a budget to awesome and top-end flip cases will be detailed in our quick slideshow below. We have keyboard docks, speakers, and even a fancy carry sleeve that you'll want to take a peek at in case you're looking for new accessories for this awesome tablet. Get that Android 4.4 KitKat update and enjoy a new case. The Nexus 7 is one of the hottest and best-selling Android tablets, and as a result there's plenty of accessories everywhere you look and all over Amazon.
Read: Nexus 7 Review (2013)
Unlike previous devices this year Google is making a huge effort to offer accessories and cases themselves right from the Google Play Store. Instead of cheap 3rd party options being the only viable option, Google has some durable and well made options for those who'd rather have an official accessory, but they'll cost you. Below we'll cover both sides of the price spectrum, so lets get started.
Google Nexus 7 Folio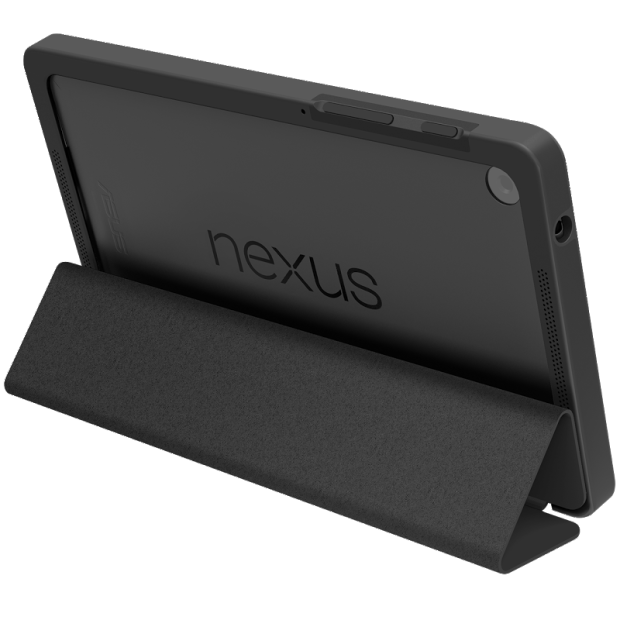 Starting with Google's own accessories first is the Folio case. The official premium Folio by Google features an open back bumper-style design with a trifold cover. The open back style allows for wireless charging without removing the case, and features a durable polycarbonate shell to protect your slate from drops. The trifold cover has two angles for reading or viewing content, as well as the wake feature with a built in magnet. This is the newest accessory custom made by Google, and comes in black or red.
$49.99 from Google Play
There are far too many cases, accessories, stands, and portable speakers to name and list but above is a quick round up of some of our favorites. Everyone wants or needs something different, and the price points mentioned will give you plenty of options. A few honorable mentions are the Jambox portable speaker, the Zagg Flex Keyboard, and tons of extremely cheap TPU sleeve cases over at Amazon.
The Nexus 7 is an excellent Android tablet that will be at the top of most peoples holiday and birthday shopping lists, so grab a neat accessory or case while you're at it.
Read: Nexus 7 vs iPad mini 2

As an Amazon Associate I earn from qualifying purchases.