Best Fantasy Football Apps for 2019: Dominate Your League
These are the best Fantasy Football apps that will help you dominate your league and get more wins in 2019. We have everything from mock drafts, team or player trackers and more that will help get you prepared and give you an edge over the competition.
Finally, the 2019-20 NFL season is here which means you probably have a Fantasy Football team or two to draft and track. So, get ready for game action, follow injuries, make trades and talk some trash amongst friends or co-workers.
Typically people use the Fantasy Football app from the league they join, like NFL.com or Yahoo. And while that's the easiest way to manage your team, it's not your only option. We have a few other apps that will improve your season, make your team better, and even help you win.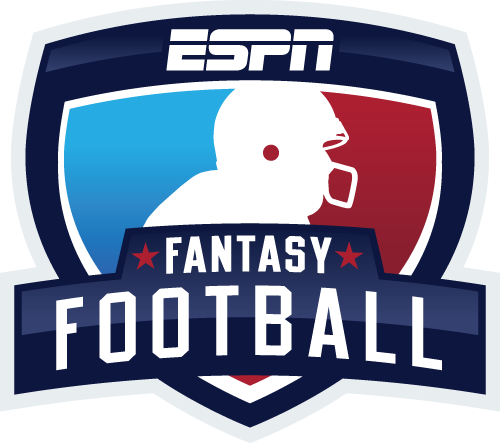 Use this Fantasy Football team name generator. Then, take advantage of all the info available with our apps below to win your league and get that cash, claim your league championship belt, or whatever else you and your friends do.
Best Fantasy Football Apps (2019)
Yahoo Fantasy Football
ESPN Fantasy App
CBS Sports Fantasy
NFL Fantasy Football
numberFire Cheat Fantasy Sports
Cheat Sheets by FantasyPros
Draft Dominator
1. Yahoo Fantasy Football
In my opinion, the best Fantasy Football app around is Yahoo. It's better than the official NFL app, CBS, or most of the others. They all have different designs, rules, and systems in place, but Yahoo keeps things simple and easy to understand. We really like the dedicated chat room for trash talk, and the easy bench/start system.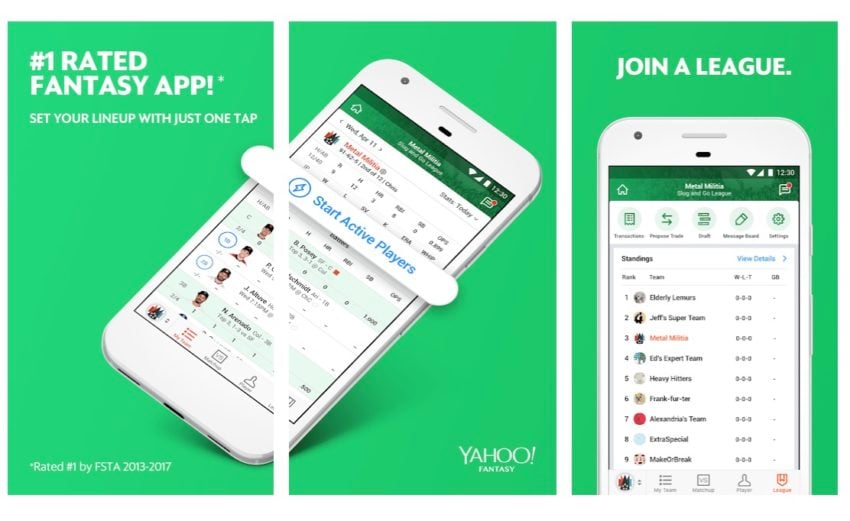 Inside of the app you can see your matchup, player news, injury reports or details, as well as manage your team. Whether that's grabbing someone off waivers or benching a bad matchup. They even have "expect advice" you can read. If you can't manage your team from a computer, download this.
Download: Yahoo Fantasy for Android or iPhone
Additionally, you can now watch tons of live NFL Football games completely free with Yahoo! Sports. So get that too.
2. ESPN Fantasy Football
Before Yahoo redesigned the app, my favorite and go-to program was ESPN. It's plain, clear, and simple, but in a good way. Everything is easy to understand, find, and navigate. The teams are all listed out, checking the scoreboard or standings is easy with the slide-out menu to the left, and clicking a players name gives you news, updates, injury reports, and a drop or add button all in one page.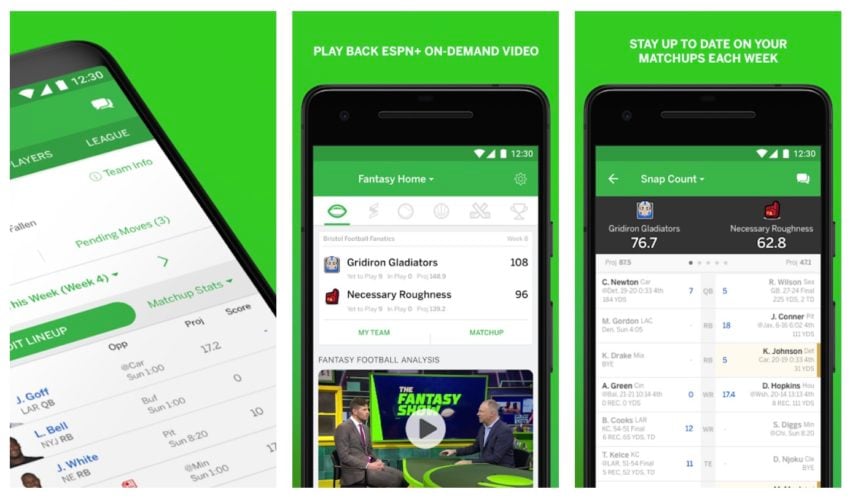 Essentially everything you need is on the screen, in the side menu, or on a players profile. Dropping and adding players is extremely easy too, and NFL.com could really learn a thing or two from ESPN.
It also offers tons of push notifications and real-time alerts, injury reports, scores, and alerts you if a player in the starting position is hurt, or on a bye week. It helps you manage a team with ease and looks good doing it too. There's even an area to tag each player on your fantasy team specifically to help streamline your research and info gathering for the season, or each matchup.
Download: ESPN Fantasy Football for Android or iPhone
3. CBS Sports Fantasy
One of the most popular sites and apps for Fantasy Football is CBS, not the NFL. Using the CBS Sports Fantasy app you can do live or mock drafts, get information, make changes, and get expert advice in seconds. They have a pretty simple team management system too.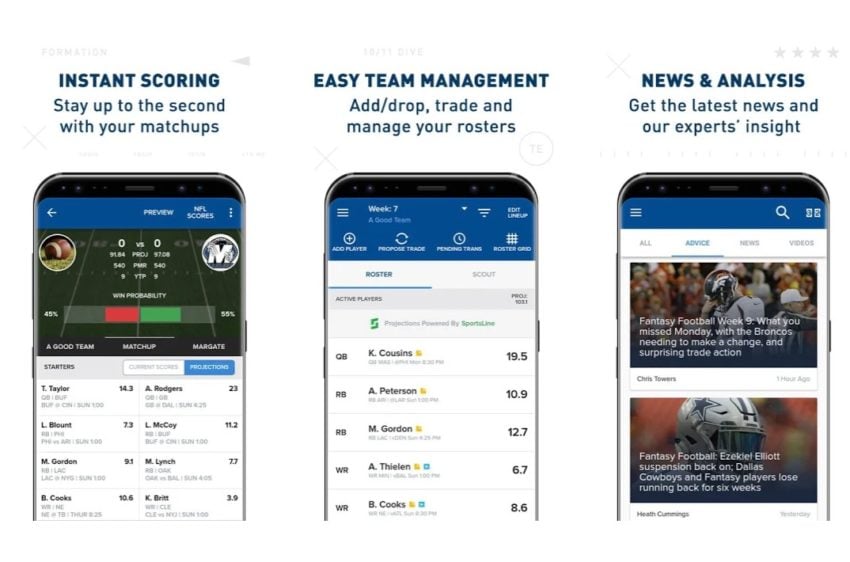 What makes CBS Sports Fantasy great though, is the effort they put into detailed news, analysis, and in-depth player information. Combine that with the option to control multiple fantasy teams inside one app, and you're all set. Unless something changed for 2019, you can import your Yahoo, ESPN, or NFL.com fantasy team to the CBS Sports Fantasy app. Making it an awesome all-in-one solution.
Then get the same sit/start advice for all your teams, not just CBS Fantasy. It's worth trying out no matter what site your team is from.
Download: CBS Fantasy for Android or iPhone
4. NFL Fantasy Football
Finally, the official NFL Fantasy Football app has an "all-new totally redesigned look for 2019." Here's to hoping it's no longer a terrible app, because they do have some smart and useful options. Some of those include the ability to set and change your roster for multiple weeks at a time, watch live video highlights of each player, and a neat player performance profile system.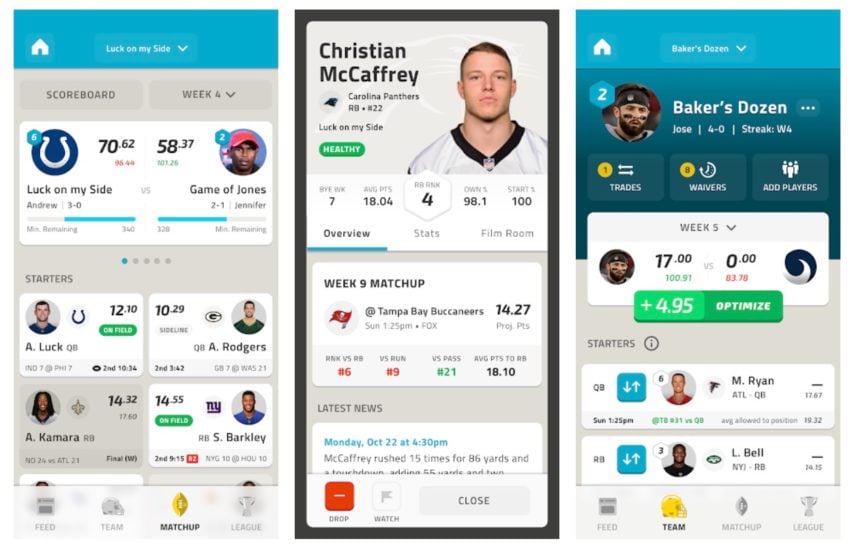 Basically, the NFL's own app is way better than it was a few years ago. So, give it a try again here in 2019. With this app you get tons of official live video, news and highlights, you can manage your team quickly, and it actually has a pretty good user interface. If they improved the stability in 2019 we'll be in business.
Download: NFL Fantasy Football for Android or iPhone
5. numberFire Cheat App
Everyone wants to have an advantage over other teams and players, just ask the Patriots. They'll do anything to win, and Fantasy players will too. The site numberFire has been around for a while and promises to boost your win percentage and total scores by nearly 15% each week. Or, up to 30% increases on your entire season. That's the claim, at least.
The app is a little old and outdated, but their website is great. That said, it's the information that's important, not how you read it. You'll enjoy impressively detailed analysis, stats, and information about who to sit and start each week. It's very thorough, changes often, and has up-to-the-minute info so you can even make tweaks and changes on Sunday morning.
You can ask the community, use the built-in sit/start tool, check updates and news for injury reports, and more. This app will even help with the draft process.
Download: numberFire on Android or iPhone
6. Cheat Sheets
From Fantasy Pros comes Cheat Sheets, an app that delivers some of the most helpful and important information for NFL Fantasy Football in 2019. This is my go-to app for expert analysis, and it's completely free.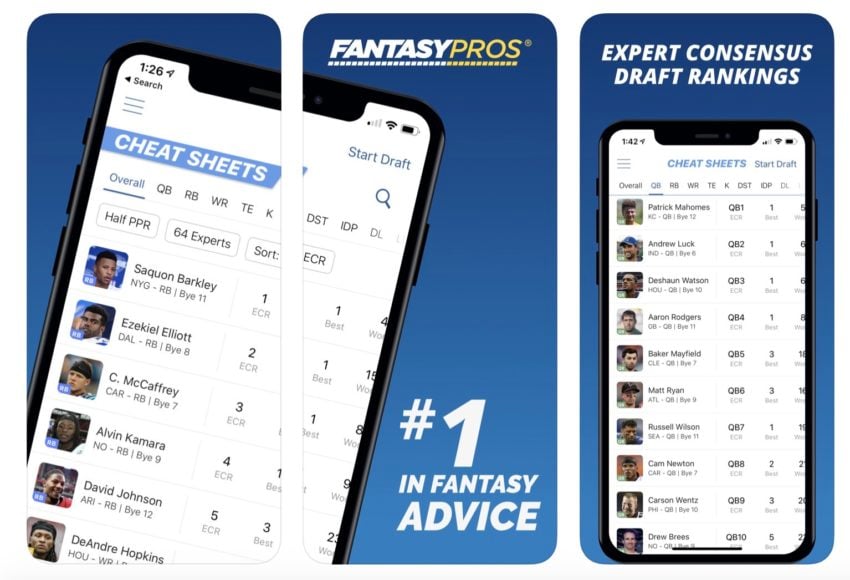 What makes Cheat Sheets special is that it starts with a consensus ranking for each player, and you get to choose which experts from around the league the app pulls info from. So if you trust one place more than the other, that's who you tell the app to gather information from. Then, it'll help you draft players, then track each one throughout the season.
FantasyPro's Cheat Sheet app is extremely useful, completely free, and an invaluable tool for Fantasy Football fans.
Download: Cheat Sheet for iPhone or Draft Wizard for Android
7. Footballguys Draft Dominator
Last but not least, for those playing for hard-earned cash in a big league with a buy-in, you'll want all the help you can get. Which is why you'll want to use Draft Dominator to get an edge, even if it costs money. This is my third year in a row using DD.
Imagine having a panel of experts watching everything you do, whispering in your ear, and helping you make the right choices during the draft process. It's like your own personal big-board for the most important aspect of Fantasy Football.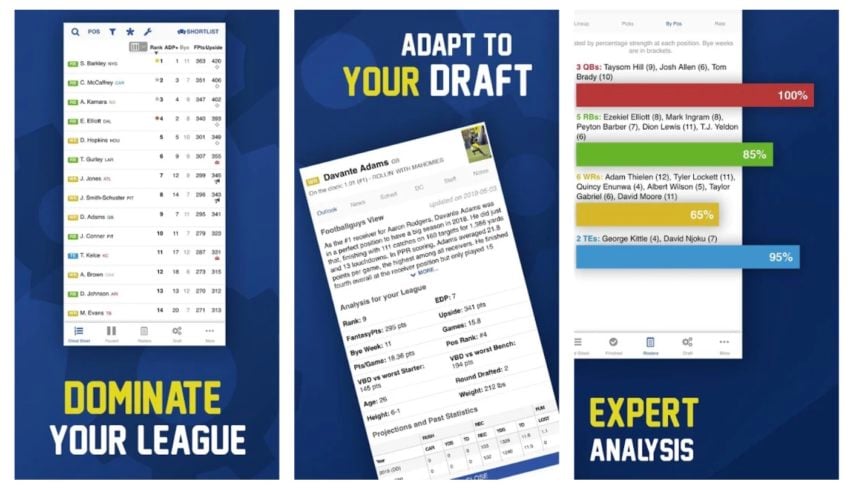 The most important part of any fantasy team is draft day. This app gives you all the tools, information, and insider details to select the best player, sleeper picks and more. They even break it down for PPR leagues and the many other variations so you'll still make the best picks. Give it a try today.
Download: Draft Dominator for Android or iPhone 
Honorable Mentions
In closing, we wanted to recommend a few more apps that can and will improve your Fantasy game. And while I haven't tested every one of them, I've used enough to know these can be extremely helpful. We recommend checking out RotoWire Draft Kit, Draft Kings, and of course, Sleeper to chat with your friends.
Get an app or two for managing your team, help with the draft, and as much stats and information as possible with these apps. Good luck, and may the best man win.