CES 2017 Excellence Awards: The Best New Tech
These are our picks for the best technology from CES 2017 in Las Vegas. We've seen tons of products and services but these are the standouts from the show. These are the devices that have been given Gotta Be Mobile's CES Excellence Awards for 2017.
We've spent this week digging through thousands of services and products in an effort to find the best tech from the new year. There were many candidates but the devices and services listed here are the best of the best from CES 2017.
These are the gadgets and services we would recommend to family, friends, and our readers without hesitation. These are the products that have the potential to be best sellers and they are the products that we think will provide you with the most value.
We've also selected one standout for the Most Outstanding of CES 2017 Excellence Award, our highest honor for this year's show.
The Gotta Be Mobile team and its editors recognize the recipients of these CES Excellence awards for 2017 and we extend our congratulations to the teams behind these outstanding products.
Dell XPS 13 2-in-1 – Most Outstanding of CES 2017
There have been Windows 2-in-1s with flipping screens for years now, but the Dell XPS 13 2-in-1 is the first that comes close to perfection. It's stuffed with the latest processors from Intel, USB Type-C ports and an amazing 4K display that has nearly no bezel on three sides.
It's the company's attention to heft and design that makes the Dell XPS 13 2-in-1 an outstanding device. It looks sharp from every angle. You'll want to show it off. Most importantly, it only measures 13.7mm at its thickest point. Lots of Windows 2-in-1s can emulate notebooks, but almost none of them are thin enough to actually feel like a tablet in your hand.
The Dell XPS 13 2-in-1 is already on sale for as little as $999.99.
Invisibleshield Screen Guarantee
The InvisibleShield Screen Guarantee combines a top of the line screen protector and case with the promise to pay you $100 towards fixing a broken screen if your iPhone screen breaks while using this protection.
The plan is $79 and is already available in beta. Read more about the InvisibleShield Screen Guarantee.
Samsung Chromebook Plus
The Samsung Chromebook Plus is the future of laptops and tablets. Featuring a great design with a unique 360° hinge for its HD touchscreen display. It runs Google's Chrome OS with access to millions of Android apps from the Play Store, and it has a stylus. Perfect for any occasion.
It's a great all around laptop that retails for only $449. There's even a more powerful "Pro" version coming this Spring.
Polaroid Pop
The Polaroid Pop is a fun re-envisioning of the classic Polaroid that is updated for the digital world as well. Take 3 x 4-inch photos with a 20MP camera and then share or print Polaroid photos wherever you are.
The Polaroid Pop arrives in late 2017. No pricing has been announced.
Henge Docks Tethered Dock
The Henge Docks Tethered Dock makes it easy to quickly connect your MacBook or MacBook Pro to your monitor and all of your accessories. Stay mobile thanks to the simplicity of charging and connecting when you are at your home base.
The Henge Docks Tethered Dock is $199 and available now. Here's more on the Henge Docks Tethered Dock.
Razer Project Ariana
Razer Project Ariana is only a concept, but it is the most visually impressive thing we've seen at CES 2017. A 4K projector with 3D cameras and Chroma integration cover your entire room in the game you are playing to deliver an incredibly immersive experience.
There is no price or release date at this time. Read more about Project Ariana.
Linksys Velop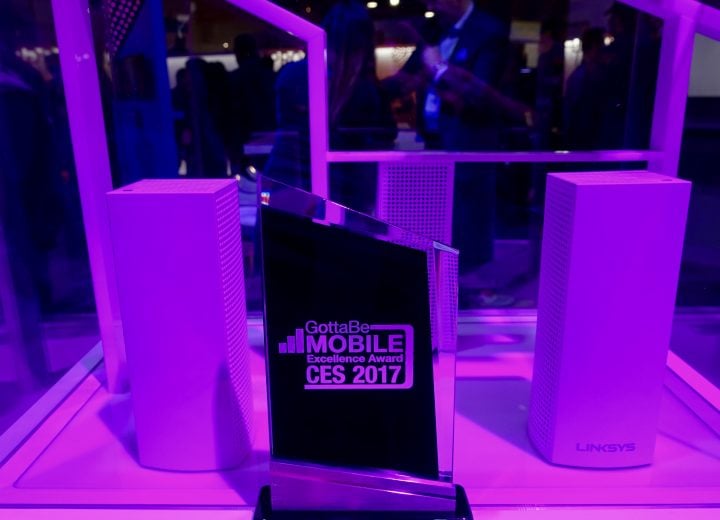 The Linksys Velop system is a whole home WiFi system that packs in the technology and smarts that you need to cover every corner of your home in fast and reliable WiFi. With Alexa integration, you can also ask for your WiFi Password and easily enable a guest network.
Velop is $499. Check out more on Velop.
Lego Boost
The Lego Boost is an innovative toy set designed to teach kids as young as seven how to code while having fun.
While there's no shortage of high-tech toys, the Lego Boost stands out because it's flexible, allowing kids to build countless robotic Lego creations using the blocks they're most familiar with. The Lego Boost set will go sale in August for $160.
You can read more about Lego Boost here and watch an intro video.
Huawei Honor 6X
The Huawei Honor 6X smartphone delivers a premium Android experience with an iPhone 7-like dual rear camera for only $249. Need we say more? Featuring a 5.5-inch HD display with a durable metal design, fingerprint scanner, and all-day battery life.
This could be the best budget Android smartphone of 2017.
uniVERSE Otterbox iPad Case
The OtterBox uniVERSE iPad case brings a world of amazing accessories to the iPad that expand what you can do with your device.
From the Brydge keyboard to mounts and more you can amp up your productivity anywhere you go. Pricing and release date are not official yet.
Ring Floodlight
The Ring Floodlight expands the Ring home security solutions by allowing you to place a motion activated light with a camera, speaker and loud siren to complete the circle of protection around your house. The Ring Floodlight pushes notifications when it detects motion so you can see what is happening and act.
The Ring Floodlight Cam is $249 and ships in April.
Dish AirTV Box
The Dish AirTV box is equipped to handle every possible need in your living room. With Android TV brains and 4K on board, it has options for picking up over-the-air channels with a built in antenna, in addition to internet-based streaming services. Whether that's a Sling TV subscription or Netflix, the AirTV Box has you covered. Both are one click away too with dedicated icons on the easy to use remote. Not to mention everything that comes along with Android TV.
This will complete your living room for only $130.
Lenovo Smart Assistant
The Lenovo Smart Assistant is a more affordable version of the Amazon Echo that can do all the same things. Lenovo also offers a higher-end model with upgraded audio.
The Lenovo Smart Assistant is available in multiple colors for $129 and $179.99 for the one with better sound.