Best of CES 2018: Hottest Tech We Can't Wait to Buy
These are our picks for the best technology from CES 2018 in Las Vegas. We've seen tons of new products and services, but these are the standouts from this year's showcase. These are the devices that have received Gotta Be Mobile's Best of CES Excellence Awards for 2018.
We've spent a full week in long lines and power outages digging through thousands of services and products to find the best tech from the new year. There were many candidates, but the devices and services listed here are the best of the best from CES 2018's showroom floor.
These are the gadgets and services we would recommend to family, friends, and our readers without hesitation. These are the products that have the potential to become best sellers and they are the products that we think will give you the most value.
In addition, we've also selected one standout for the Most Outstanding of CES 2018 Excellence Award, our highest honor for this year's show.
Best of CES 2018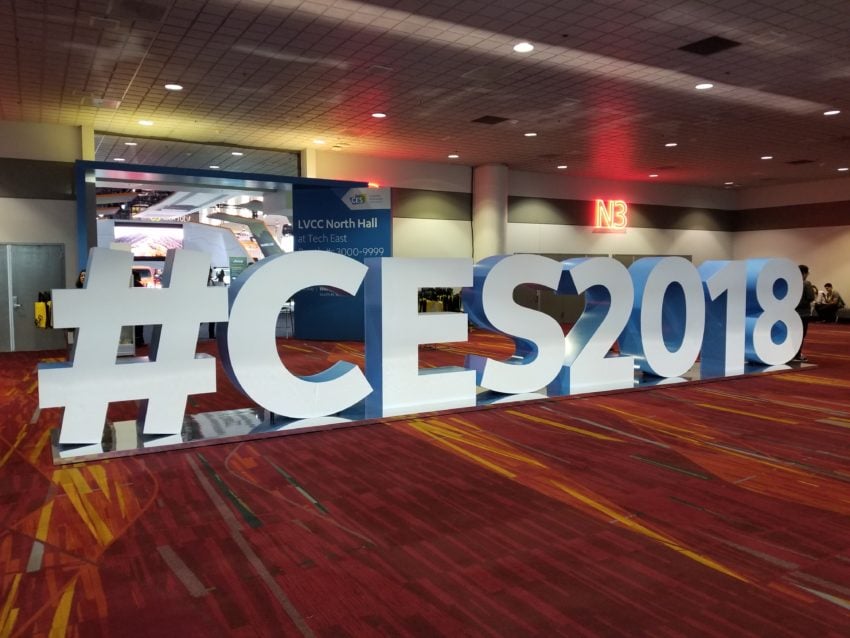 The Gotta Be Mobile team and its editors recognize the recipients of these CES Excellence awards for 2018 and we extend our congratulations to the teams behind these outstanding products.
Lenovo Smart Display – Best in Show 2018
Combine this with a beautiful design that fits into your home and a starting price of $199 and you end up with an envy worthy piece of tech.
The Lenovo Smart Display is an awesome upgrade to Google Home. Lenovo combines Google Assistant with an 8-inch or 10-inch display and Google provides a new experience that uses the screen in ways Echo could only dream about.
The Lenovo Smart Display arrives early Summer 2018.
Dell Mobile Connect Software
Connecting your Android or iPhone to a Windows PC is a pain, but Dell solves this with Dell Mobile Connect. An app on your Dell and an app on your phone puts your phone calls and texts on your laptop no matter which phone you use. Android users can do even more by running Android apps on their Dell computer.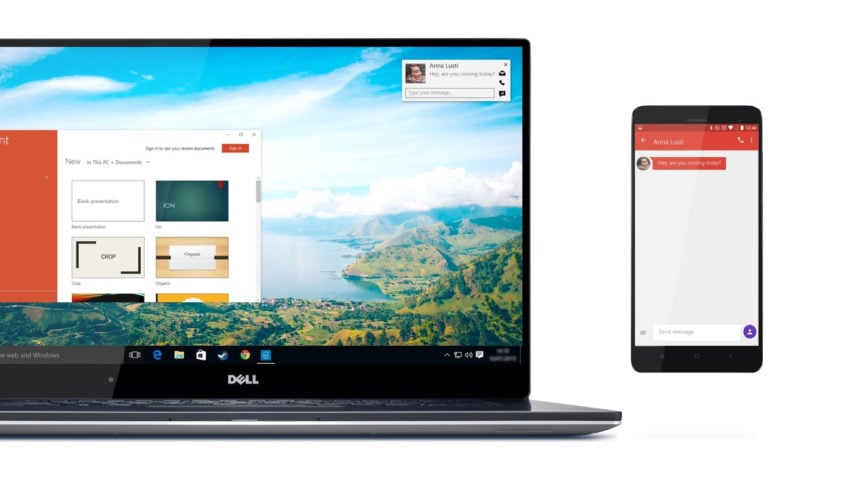 Dell Mobile Connect Software is available starting in January, 2018.
AliveCor KardiaBand
The AliveCor KardiaBand is a personal EKG that you can wear on your wrist. This is the first FDA certified Apple Watch band. It monitors your heart activity and suggests you take an EKG if it detects something out of the ordinary. You'll see an instant result with some information and then you can also send the EKG to a Dr to get analyzed.
AliveCor's KardiaBand is available right now for $199.
NVIDIA Big Format Gaming Display (BFGD)
The Nvidia Big Format Gaming Display or BFGD is a 65-inch gaming monitor that upgrades your gaming den from a 34-inch display to a massive 65-inch 4K 120Hz display with NVIDIA G-Sync HDR Technology and 1,000 nit peak brightness. You also get a Shield TV integrated and Google Assistant.
NVIDIA didn't confirm the exact response time, but said it will be better than traditional TVs and in line with gaming monitors. The BFGD is coming from three manufacturers later this year. There is no pricing yet.
Optoma UHD51A True 4K Projector
The Optoma UHD51A is a true 4K projector, with no tricks to hit the 4K resolution and support for HDR 10 that will make your 4K movies and games look amazing.
You can count on a bright image up to 140 inches and support to play 6K HDR at 60Hz. This projector supports Alexa, so you can easily control it with your voice and so can your family and friends. Best of all the Optoma UHD51A is only $1,699, which means it competes with big screen 4K TVs on price.
Samsung 8K TV
Samsung's debuted a huge 85-inch 8K QLED TV capable of converting any video into stunning 8K resolution content. Upscaling isn't new, but this TV makes 480p content look incredible.
You can get Samsung's new 8K QLED televisions with this technology in the second half of 2018. The TV's come in 65-inches and above.
GoPro Fusion App
Recording epic videos from multiple angles is easier than ever using one Go Pro thanks to Mobile OverCapture. When you record a 360 video with the Go Pro Fusion 360 camera you can now use an app to pan and follow the action around to create a traditional video that follows your action all around the camera. The removes the need to record with multiple cameras, edit in clips and re-shoot from each angle.
The app is free and the Fusion camera is $699.
Garmin Speak Plus
The Garmin SpeakPlus is an all-in-one Amazon Alexa-powered dash cam and navigation device for your car. While the main function is easy navigation with your voice, you can also ask Alexa to turn on the lights at home as you're pulling into the driveway.
What makes the Garmin SpeakPlus special though is that it automatically records as you drive and instantly saves the video clip if there's an accident so you can prove who was at fault.
You'll also get collision and lane departure warnings, traffic ahead alerts, and smart features like music streaming from an array of services all in one slim package.
It's $229 and available from February 2018.
DJI Osmo Mobile 2
The DJI Osmo Mobile 2 is an affordable smartphone stabilizer that holds your smartphone steady while you record videos on iPhone or Android.
The stabilizer instantly upgrades your mobile video quality. The stabilizer can also follow you around a scene, zoom in, take huge panoramas and record awesome motionlapse videos.
The DJI Osmo Mobile 2 is $129 and available at Apple stores soon.
Wemo Bridge
Belkin's new Wemo Bridge adds HomeKit support to all your existing Wemo Smart Home accessories. This allows you to use HomeKit to control anything with the Apple Home app on iPhone or your Apple Watch. Additionally, it unlocks voice controls with Siri.
The Wemo Bridge is available right now for just $40.
Tile Intergrations
Tile trackers help you avoid losing your stuff, but it's not always practical to put a Tile on something. With new Tile integrations you will soon be able to buy Bose headphones with a Tile built-in or find your Samsonite luggage or Boosted Board. You'll even be able to get inhalers with a Tile built-in so you don't have to worry about where your inhaler is.
The products are coming later this year and some may include a small price premium.
Root Coding Robot
Root is a coding robot app designed to teach kids as young as four how to code. Unlike almost every other coding toy, robot or app we've seen, Root is designed to grow with kids from pre-school through middle school and beyond. Kids can get start using it without the Root app at all by simply tapping it to move it around a playmat, to being able to code in Swift.
While Root is designed to prep your kids to code their own apps and gain coding literacy, the beauty of the robot and app offers a true STEAM (Science, Technology, Engineering, Arts and Math) education experience.
Pre-orders are available for $199 and will ship in June.
Coravin Model Eleven
The Coravin Model Eleven is the best gadget we've ever seen for wine collectors. It solves the ultimate First World problem of not being able to drink just a glass of expensive wine without having to finish it.
The Model Eleven is a huge improvement over Coravin's $299 wine preserver, which requires owners to manually operate a clamp, push a lever and eyeball the volume of each pour.
The Model Eleven will cost about $1,000, but get rid of the indignities of using a little manual labor to drink your collectible wines.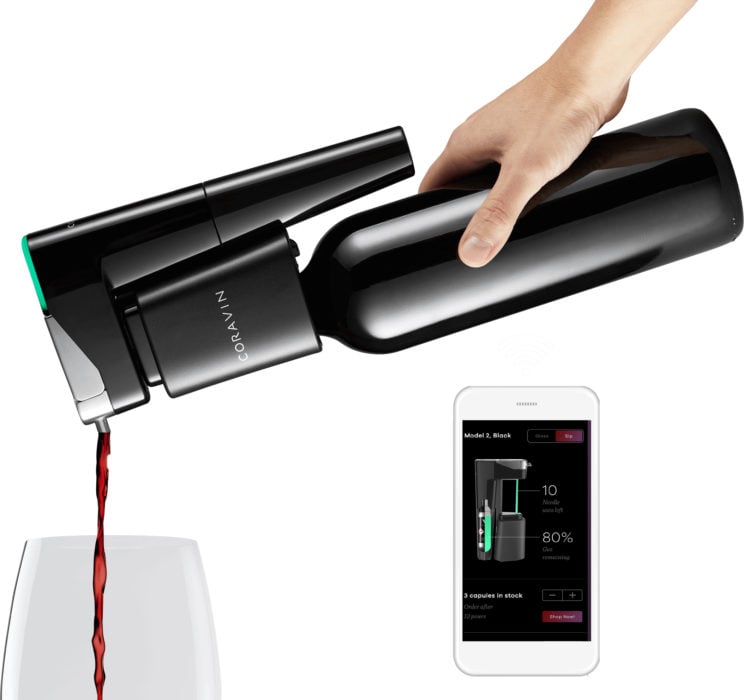 Simply place the Model Eleven over the bottle and it pierces the cork with a needle and it injects Argon gas as it pours the exact volume of wine you've preset into the device. The device automatically injects inert Argon gas as you pour to preserves the wine for years.
When it's all done, the device retracts the needle and the cork is completely sealed.
Nanoleaf Square Light Panels & Remote
Nanoleaf's modern, WiFi-controlled color-changing smart lights will soon come in a new square shape for more design options, Each individual panel is touch sensitive allowing you to turn them on and off, dim, or change colors with a tap.
NanoLeaf also lets you connect up to 1000 panels at a time, instead of 30 like its previous lights.
The base station has a music sync microphone and motion sensor capable of lighting the panels up whenever you walk by. Additionally, the new NanoLeaf 12-sided HomeKit remote gives you more control over your lights and other HomeKit accessories.
The Nanoleaf will be $50 starting this spring and there's no pricing yet on the new panels.
Peloton Tread
The Peloton Tread is a connected treadmill that takes the Peloton Bike and builds on it with a full body workout that includes running on the treadmill and workouts next to the treadmill.
The Peloton Tread is $4,000 (and there's also 0% financing) and then you pay $39 a month for live classes or on demand classes. If you already have a Peloton Bike, the same subscription carries over. There are over 7,000 on demand classes and the 32-inch display immerses you into the workout.
The Peleton Tread is available to order now and ships this fall.