5 Best Quick Chargers for the Galaxy S8
In this buying guide we'll explain the benefits of getting a quick charger for the Samsung Galaxy S8 and share a list of the best options available. Buying the right charger will make a big difference in terms of how fast your Galaxy S8 will recharge.
Samsung's Galaxy S8 and S8+ have a feature called Quick Charge technology thanks to the Qualcomm processor inside. This enables the phones to recharge faster than older devices or your previous phone.
Read: Galaxy S8 Fast Wireless Charging: What to Know
There are several manufacturers that offer these types of chargers, but getting one from a reputable brand is what we recommend. Some in our list are as low as $9.99, while others from Samsung cost more but ensure the safest charging levels. Below we'll explain also explain what quick charging is and how it works.
How Quick Charge Technology Works
A technology called "Qualcomm Quick Charge" was announced a few years ago, and allows smartphones to recharge faster than ever before. Rather than taking 3 hours to recharge, phones can fill up in around 80-100 minutes. Additionally, the Galaxy S8 can go from 0-50% in just 15-20 minutes.
When the battery is below 10%, it charges at an incredibly fast rate and gets nearly 50% battery capacity in under 25 minutes. Enough battery for a night out or to finish a busy work day, instead of being tethered to a wall for hours. After 30 minutes it goes back to regular speeds (but still fast) to preserve the life of the battery cells. Below is a preview of how it works on an old Motorola phone, which works nearly identical to Samsung's Adaptive Fast Charging on the Galaxy S8 and S8+.
The device on the far end got to 50% in the same amount of time a regular old charger delivered only 22% battery life. That's a huge increase, and something worth using every day. However, users MUST use a Quick Charge 2.0 or 3.0 certified charger to get those speeds. Old or cheap gas station chargers won't do the trick and will end up being very slow.
When users plug in the Galaxy S8 it will say "fast charging" on the bottom of the screen. If you're using an old cable it will say slow charging, and a pop-up may even recommend using the charger that comes in the box.
Now that you understand what Quick Charging is on the Galaxy S8 and why it's important, you'll want to pick one from our list below. These will deliver a safe and fast charge to your phone.
Samsung Adaptive Fast Charger (USB Type-C)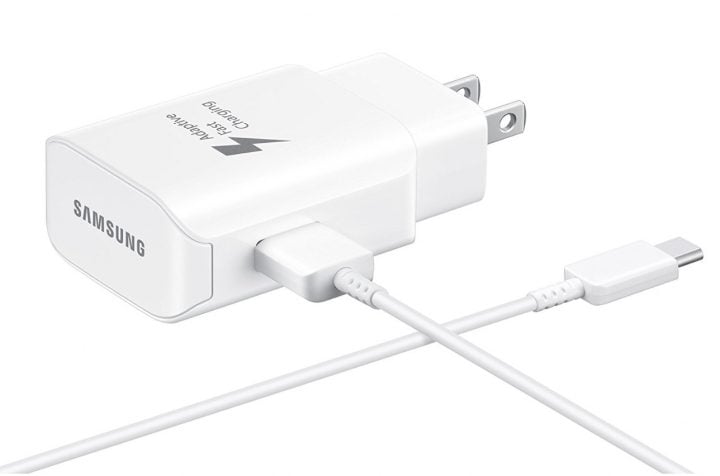 Our first and main recommendation would be to simply buy a spare right from Samsung themselves. To be specific, the Samsung Adaptive Fast Charger. This is the exact charger that comes with the phone, made by Samsung. The company sells these on its own website, but they're currently on sale at Amazon for only $17. It also comes with an extra USB Type-C charging cable.


As an Amazon Associate I earn from qualifying purchases.