10 Best Racing Games for Android [January, 2015]
These days more and more mobile using are gaming on their Android smartphones and tablets, and with nearly 1.4 million apps available from the Google Play Store its hard to weed through and find the best apps worth downloading. If you're like us and have the need for speed, here we round up a list of the best racing games for Android.
Hundreds of racing games are available on the Google Play Store, and more are added all the time, but finding great apps worth downloading can sometimes be a challenge. Here we want to highlight some of the better looking games that are fun, mostly free (some with in-app purchases) and are worth spending your money on, or waiting for big 1.5GB downloads to finish.
Whether you're looking for ultra realistic racing, casual arcade fun, or want to be ripping through water with NOS turbo boosts and more, we have it all covered below. Some are paid while others are free, but all of these racing games are worth trying at least once.
Air down those tires for better traction and rev your engines, these games will surely keep you busy for hours and on the edge of your seat. For starters we're going to highlight Asphalt 8: Airborne, as it's still my favorite all-around game on Android, period. Then check out the slideshow for the others that made our list.
As we said above, there are sadly hundreds and hundreds of games available from the Google Play Store. And while some are decent, many of them are simply copies of others and not worth the time it'll take to download. So instead of wasting time, data for downloads, or your hard-earned money, check out our list of some of the most popular racing games around.
Asphalt 8: Airborne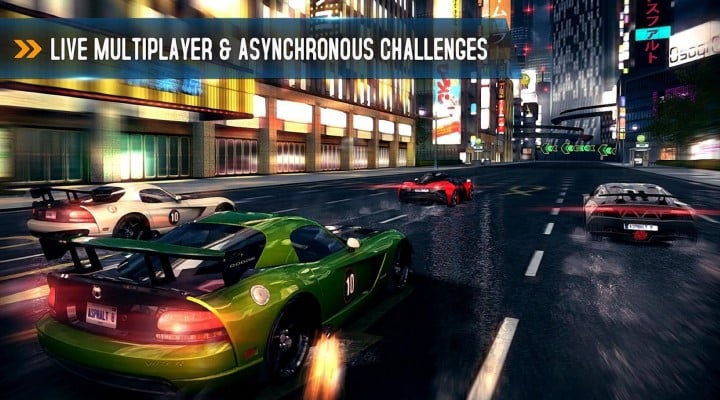 Our first pick comes from Gameloft, who has now released eight versions of their flagship Asphalt racing game for Android. Asphalt 8: Airborne does away with all the simulator realism and goes for high speeds, octane boosters, and getting airborne as you race through realistic streets. All while having some of the best graphics around. 
Asphalt 8 offers life-like crashes and vehicle damage, arcade and multiplayer modes, and of course a career mode to become the best driver around and unlock tons of new cars. This has been my favorite game since the release, and Asphalt 7 was my favorite before that. It's my go-to mobile game to show off how far mobile gaming has come, and will continue to be one of my favorites that is on every tablet or smartphone I own.