Best Samsung Galaxy S7 Deals
The Samsung Galaxy S7 and Galaxy S7 Edge are still two extremely popular smartphones, even with a new Galaxy S8 coming soon. As a result, lots of deals are available. With that in mind below is a continuously updated list of the best Galaxy S7 deals on the web. From buy one get one to free micro-SD cards and more.
Samsung's phones were released on March 11th in the United States at all major carriers. Not to mention retailers like Target, Best Buy and others. If you're looking to get the best Galaxy S7 deal or price around, or some free accessories, read on for more details.
Read: Samsung Galaxy S7 Edge Review
Samsung continues to push the Galaxy S7 deals hard. We saw it half-priced at T-Mobile in February, and now as the Galaxy S8 release nears more are arriving by the day. As 2017 more deals like the ones mentioned below will continue to surface. If you want to get the Galaxy S7, read on for more details.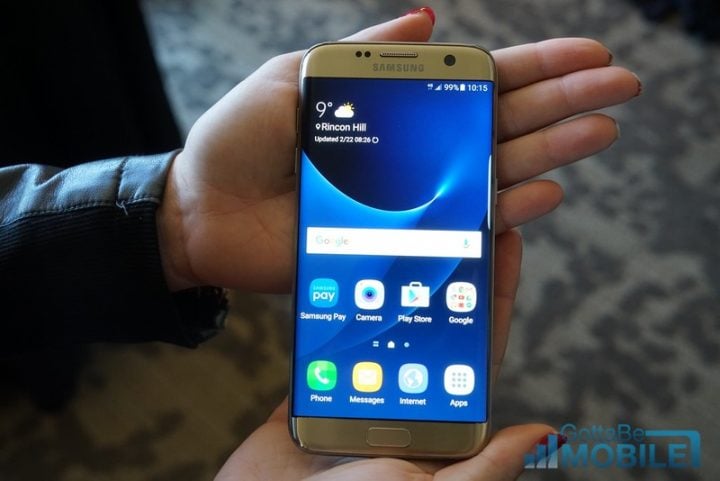 The latest Galaxy has a stunning metal and glass design, and its even water-resistant. It has a more powerful processor with 4GB of RAM, 32GB of internal storage, and a microSD slot for storage expansion. It's one of the best phones on the market. Well, until the Galaxy S8 arrives.
Additionally the 12 Dual Pixel camera sensor is extremely impressive and battery life is better than any Samsung smartphone to date. Coming in with a 3,000 mAh battery in the Galaxy S7, and 3,600 mAh in the Edge. To top things off it runs Google's latest Android 7.0 Nougat software update. Or will soon.
We've been continuously updating this list with deals since the release, and removing ones that have expired. As a result, the free Gear VR headsets or buy one get one free deals are all gone. Don't worry though, savings are still available for millions. Check out the Best Buy offer below.
For example, the regular S7 is on eBay for the impressively low price of only $369. Before this it was $409. That's the lowest price you'll find. This model won't work on Verizon, but most other carriers are supported. Alternatively the Galaxy S7 Edge (dual-sim) for only $469 is another option. It retails for $798.
Carriers around the globe are still asking over $600 for the Galaxy S7, and more for the Edge variant. So eBay could be the cheapest route for right now. However, Best Buy just announced a steal that some may want to seriously consider. A brand new Galaxy S7 or S7 Edge and over $300 worth of savings.
Best Buy Galaxy S7 Deals
By far the best Galaxy S7 deal we've seen since the release date was just announced by Best Buy. Starting March 3rd for a limited time, get hundreds of dollars back and some accessories completely free.
To be more specific, go buy the S7 or S7 Edge from Best Buy. The retailer is asking $100 less than retail and will also give you a $100 gift card. Additionally, Best Buy is handing out a 256GB micro-SD card and a Samsung Fast Wireless Charger completely free. Combine the $100 gift card and two accessories and that's over $300 in savings.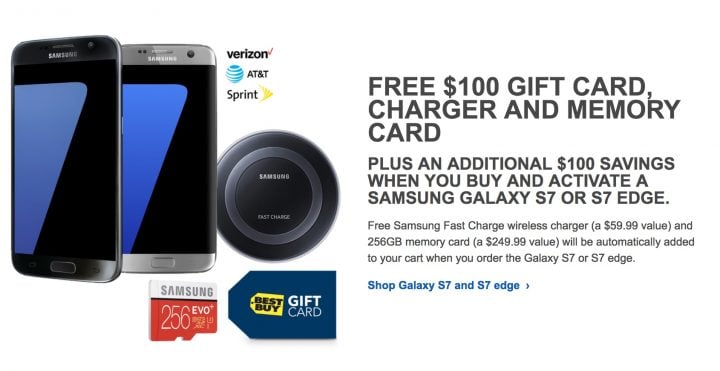 Additionally, Best Buy has the Galaxy S7 for multiple carriers refurbished for only $479, and the S7 Edge for a little more. In the past these were under $400, but that was a limited time promo. Still, $479 is a decent price to pay. Although I'd buy a new one with the deal above with the free accessories first.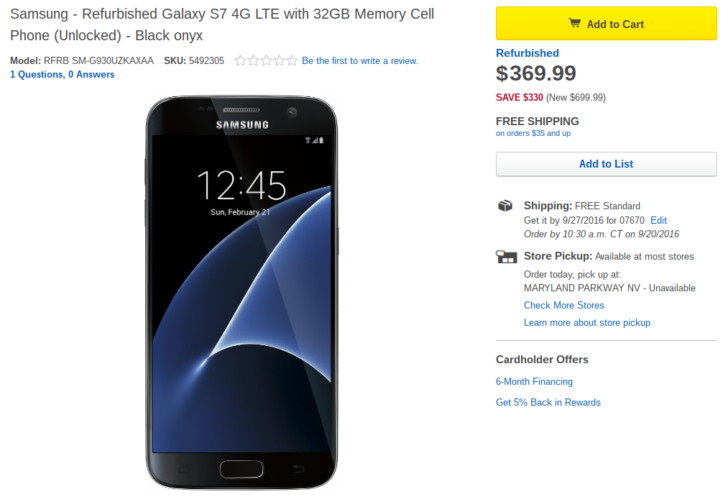 Another route is online retailer B&H. If you want a Galaxy S7 this site is selling it for just $529. It isn't the lowest price around but that's a brand new model, not refurbished.
On June 30th last year Samsung announced and released "Unlocked" models of the Galaxy S7 and Galaxy S7 Edge. Meaning these phones work with any and all carriers, overseas, and don't have carrier apps and bloatware wasting space. Get unlocked models now at Amazon, Best Buy, Samsung and more. They are priced at $669 and $769.
Buying the unlocked model at Best Buy is the best route, as they're offering a $75 gift card for a limited time. Not to mention it's $100 off too, and applies to the deal above.  Click here to get one today for only $569.
Galaxy S7 Pricing & Other Deals
Out of all four major carriers in the United States, Sprint is asking the least amount for the Galaxy S7 and S7 Edge. All carriers have monthly payment plans, but Sprint is charging the lowest overall price. Here is a breakdown of carrier pricing, with Sprint beating everyone else once all said and done. AT&T is cheaper per month, but Sprint has the lowest price. These have since changed now that we're in September, and most carriers have taken at least $100 off the price. The S7 is $594 from AT&T, for example.
AT&T: Galaxy S7 is $23.17 per month for 30 months = $695.10
Verizon: Galaxy S7 is $28 per month for 24 months = $672
T-Mobile: Galaxy S7 is $27.91 per month for 24 months = $669.84
Sprint: Galaxy S7 is $27.09 per month for 24 months = $650.16 *
US Cellular: Galaxy S7 is $28 per month for 24 months = $672
The Galaxy S7 Edge is roughly $100 more on all carriers
However, the deals don't end there either. Sprint is offering a buy one get one 1/2 off promotion for the Galaxy S7. Allowing users to get one (and the free Gear VR) and a second Galaxy S7 will be 50% off, costing just $375. With another line, of course. Sprint will also offer a new "Galaxy Forever" plan similar to the iPhone forever deal. Allowing users to trade it in every 12 (or so) months for the newest model. While this is nice, buyers don't get to keep the Galaxy S7, essentially paying for nothing. That said, the monthly payments drop to $25.99 for the S7 and $30.50 for the S7 Edge with Sprint.
Verizon Galaxy S7 Deal
As of right now all of the past deals have since expired on Verizon. And all carriers for that matter. However, stay tuned because more are coming and we'll be sure to add them to our list.
Following the Galaxy S7 release Verizon announced the "Verizon Annual Upgrade" program. Allowing those on payment plans to upgrade to a new Samsung Galaxy every year, for free. Similar to T-Mobile Jump or Sprint's iPhone and Galaxy Forever deals. Verizon offered something similar for the iPhone 6, but it has been expanded to the Samsung Galaxy. Meaning you'll be able to easily upgrade to the Galaxy S8 or Note 8 later this year.
Buy a Galaxy S7 or S7 Edge and you're automatically enrolled. Then, as early as 30 days after you get a new phone (as long as 50% is paid off) Verizon customers can upgrade to a new phone rather than switching carriers or signing another contract. Just trade in an old phone and get the next Galaxy. Meaning buyers can trade in the Galaxy S7 for a new Galaxy S8 without buying it outright or paying a premium to upgrade early. The Galaxy S8 will be announced on March 29th, so this won't apply to anyone buying today.
Additional Deals
All of the other deals that were available when these phones were first released have ended. For now the best options appear to be eBay or from Best Buy. After the Galaxy S8 release these prices will continue to drop even further, then the phone will eventually no longer be available in carrier stores.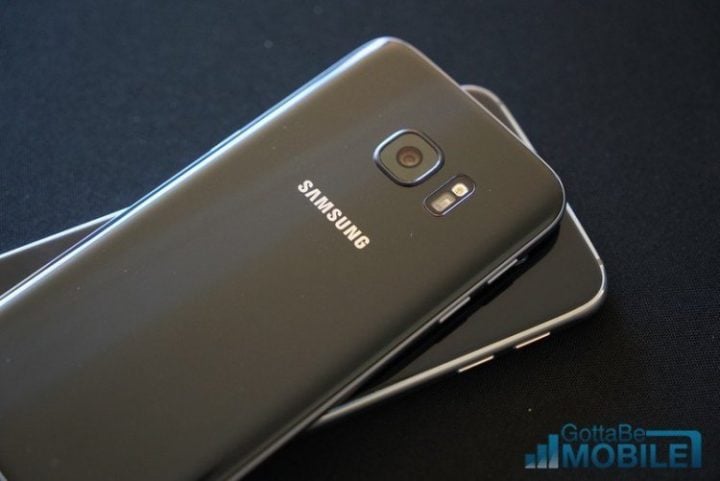 Verizon just ended their buy one get one deal, and T-Mobile was offering over $300 off at the end of February. In the coming weeks expect at least one or two other carriers to make announcements. So either get the Best Buy deal today, or wait for the next discount.

As an Amazon Associate I earn from qualifying purchases.