8 Best Samsung Galaxy S7 Wireless Chargers
Samsung's Galaxy S7 and bigger Galaxy S7 Edge are still extremely popular, even as 2017 kicks off. Both phones have wireless charging capabilities, in addition to supporting Fast Wireless Charging. It's an awesome feature many don't know about. Now that you know, below we've round up some great wireless charging pads all owners should consider.
Phones like Samsung's Galaxy S6 or the Nexus 6 had wireless charging, but it wasn't until August of 2015 with the Galaxy Note 5 did "Fast Wireless Charging" arrive. Allowing phones to recharge wirelessly at nearly the same speed as quick wired chargers plugged into a wall.
Read: 5 Quick Car Chargers for the Galaxy S7, S7 Edge
There are two different methods of wireless charging, PMA like at some coffee shops, and Qi which is the most popular method. Thankfully the Galaxy S7 works with both. As a result owners can quickly drop their phone on a dock or wireless charging mat and have a full battery in no time, anywhere. Which is why you'll want to buy one of the chargers mentioned below.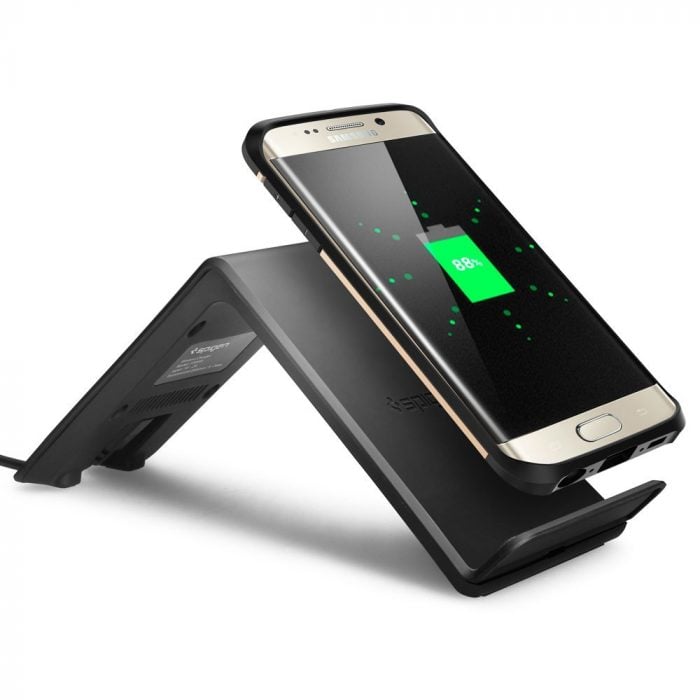 Wireless Charging used to be slower than traditional wired wall chargers making it convenient, but also impractical. The Galaxy S7 an S7 Edge though, feature the new fast wireless standard. Samsung makes a few great Fast Wireless Chargers, as do other companies, and we have a list for you to choose from.
Fast Wireless Charging increased the speed of wireless charging by 1.4x and improved Qi Wireless charging pad output power. This makes wireless charging a feature owners will actually want to use. Not just a convenience. Because it's easy, fast and effective.
With the Galaxy S7 and a charger listed below owners won't have to choose between charging their smartphone quick with the wired charging that came in the box, or the easy wireless charging that takes forever. Fast Wireless charging will recharge the Galaxy S7 and S7 Edge 50 minutes faster than typical wireless charging. Here's our quick hands-on video showing the Note 5 and the Fast Wireless Charger in action, along with the neat animation and on-screen effect Samsung's added. The same system applies to the Galaxy S7 and S7 Edge.
It's extremely fast, easy, and just works. Of course the pad is still plugged into a wire, but the phone is wireless, so users don't have to search for and plug in a cable. With this method the Galaxy S7 can fully recharge in about 120 minutes, or around 80 minutes with the Adaptive Fast wired charger that comes in the box.
Samsung's own Fast Wireless charger is the first one in our list below, and the rest are some great options from trusted brands we've used in the past. These are great items for all owners and make the perfect gift. At least until the Galaxy S8 arrives now that 2017 is in full swing. That's rumored for April.
Samsung Fast Wireless Charger Pad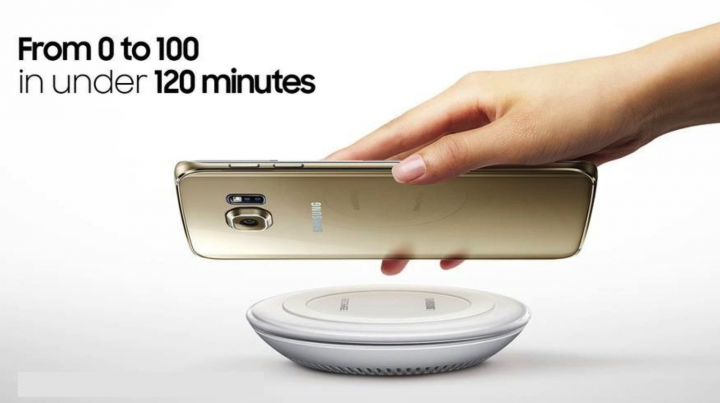 The official Samsung "Fast Wireless Charger" is the best option, but it costs a little more than their regular wireless charger. Simply because it's made by Samsung, and supports the new fast wireless charging standard. Available in black or white. It's a bit expensive compared to the rest on our list, but it's worth it for many to get an official accessory.
Samsung released this with the Note 5, and has another model available that doubles as a stand. However, we've heard the lip isn't very big, and many users phones have fell off the charger, so we're recommending this one instead.
Buy it Now from Samsung for $59.99 (or $46 on Amazon)

As an Amazon Associate I earn from qualifying purchases.