5 Best Selfie Sticks for Android Smartphones
Selfie sticks to hold our cameras have been around for a long time, but recently they've taken off and received an entirely different meaning with smartphone users snapping photos. The "selfie" and selfie sticks are now a popular device that's here to stay, so here we've rundown five or so awesome selfie sticks for Android users.
Call it a monopod or a selfie stick, but these are essentially poles that can telescope out to adjustable lengths for the perfect photo. Many are just standard poles to hold your smartphone, but others have wired remote shutter options, handheld remotes to snap photos via bluetooth, or some of the better ones even have the shutter button built into the sticks handle.
Over the past year or so the selfie stick has really taken off, but finding one that works and works well, not to mention fits many large Android devices like the Galaxy Note 4 or Nexus 6, isn't quite as easy. With that, below are five good options for those seeking out a selfie stick.
These ridiculous little poles are actually extremely convenient for snapping photos in a crowd, and can often be found at sporting events if they aren't banned from the venue. They're distracting and rude to the other patrons, but to each his own.
Selfie sticks are getting so popular these days that it even made the TIME Magazine list of best inventions of 2014. They're getting more and more popular, and tons of cheap options are all over Amazon. With that, we wanted to hand select a few we've used ourselves, and suggest a few for prospective buyers that hopefully won't get let down from their purchase.
Below you will find five selfie sticks that range from the cheapest option that isn't terrible, to some mid-range prices and one expensive option that's worth it for the dedicated selfie photographer. Give them a try today and don't feel funny when you're out in public using it, all the cool kids are doing it.
CamKix 40-inch with Remote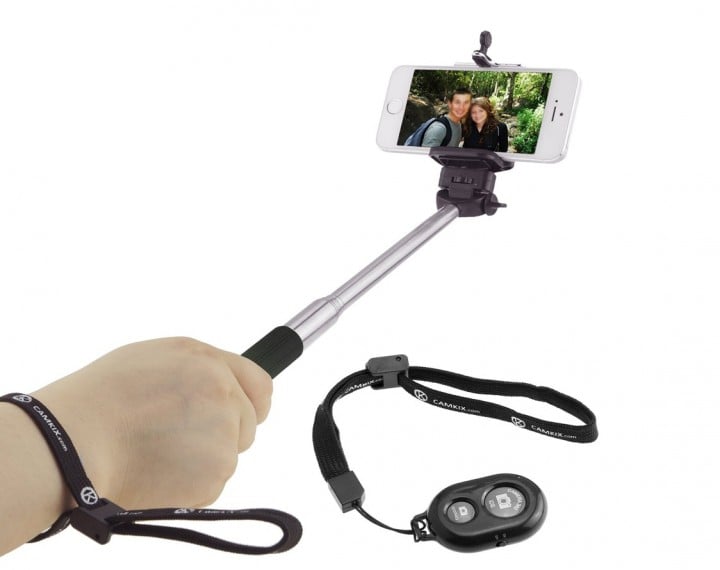 To start we're suggesting one of the better selfie sticks available, one that I can sadly admit to using personally. The CamKix adjustable selfie stick is small being just 11-inches in size, but can extent to 40-inches while still being durable enough to hold the heaviest of phones. It can fit devices up to 3.25-inches wide, so the Nexus 6 is barely too big.
That being said, almost all other Android smartphones will fit the CamKix with ease. It features an adjustable telescope p to 40-inches, it's light and compact, and has a quality remote control for the shutter. Simply pair over bluetooth, and snap away. Many comes with remotes, but this one is a quality product coming in at a hefty $29.99. You can also get it for $19.99 without the remote.

As an Amazon Associate I earn from qualifying purchases.