Best T-Mobile REVVL 2 Cases
These are the best T-Mobile REVVL 2 cases you can buy right now. The REVVL is a budget phone made by Alcatel that's very popular in T-Mobile stores, but finding accessories can be a challenge. Just because it's affordable doesn't mean you don't want to use a case.
Whether you're looking for a rugged Revvl 2 case that can handle life's daily hazards or just something slim and sleek, we have you covered. We found a few great thin cases, rugged kickstand cases, or even some with military-grade protection and a built-in screen protector. Here are your options.
Best Cases for the T-Mobile REVVL 2
NageBee Dual-Layer Shockproof Defender – $8
IDEA Line Hybrid Hard Shell w/ Screen Protection – $8
T-Mobile Rubber Bumper Case – $5
Androgate Armor Series Kickstand Case – $8
Astronoot Dual Layer Hybrid Bumper Shell – $6
ZeKing Crystal Clear Case – $7
Caseland Brushed Shockproof Case – $8
1. NageBee Dual-Layer Shockproof Defender
The best case for any phone is something that's not too thin, not too thick, yet strong and stylish. That's exactly what you'll get from the NageBee shockproof defender series. This dual-layer hybrid case has a soft and flexible TPU inner core that absorbs impacts from drops or accidents. Then, they added a strong hard polycarbonate plastic to the sides for extra protection.
We like that NageBee added textured sides to the case for additional grip, and appreciate the extra attention to detail and styling. The case has a faux brushed aluminum finish on the back with carbon fiber accents and oversized buttons that are easy to press. It's everything you'd want for a case, and it's cheap.
2. IDEA Line Hybrid Hard Shell w/ Screen Protection
Next up is the popular IDEA Line hybrid shell case. We've used these before with great success, and love that they include a durable tempered glass screen protector with the case. It actually snaps in, along with the case, for an all-in-one solution to keep your entire phone safe.
This case is a dual-layer hybrid case like many on our list. That means they're using a soft TPU shell and a hard polycarbonate plastic frame for extra strength. We like the angled edge for the fingerprint scanner, raised lips around the screen, and the big easy to press buttons.
3. T-Mobile Rubber Bumper Case
If you're looking for a case that has a little more durability than most without the additional bulk of something like an Otterbox, this is a good choice. This case has a big oversized design, dual-layer corners, easy to press buttons, and a textured finish throughout. That way it's easy to hold and use, no matter what.
This case is made from a soft yet flexible impact-resistant TPU material. It will absorb any forces from a drop. Plus, the texture on the back makes it extremely easy to hold so you'll never drop it. It's only $5 and comes in three colors.
4. Androgate Armor Series Kickstand Case
This next case has a lot going on in terms of lines, bumps, and design, but for a reason. You're getting oversized edges with a soft TPU frame that has reinforced areas everywhere, not to mention a big fold-out kickstand so you can watch endless amounts of Netflix hands-free.
Keep in mind that the blue areas and sides are hard polycarbonate plastic, while the back and corners are soft impact resistant TPU. They raised the edges around the screen and camera lens too, ensuring they'll never get scratched while the phone is sitting on a table. Give this case a try.
5. Astronoot Dual Layer Hybrid Bumper Shell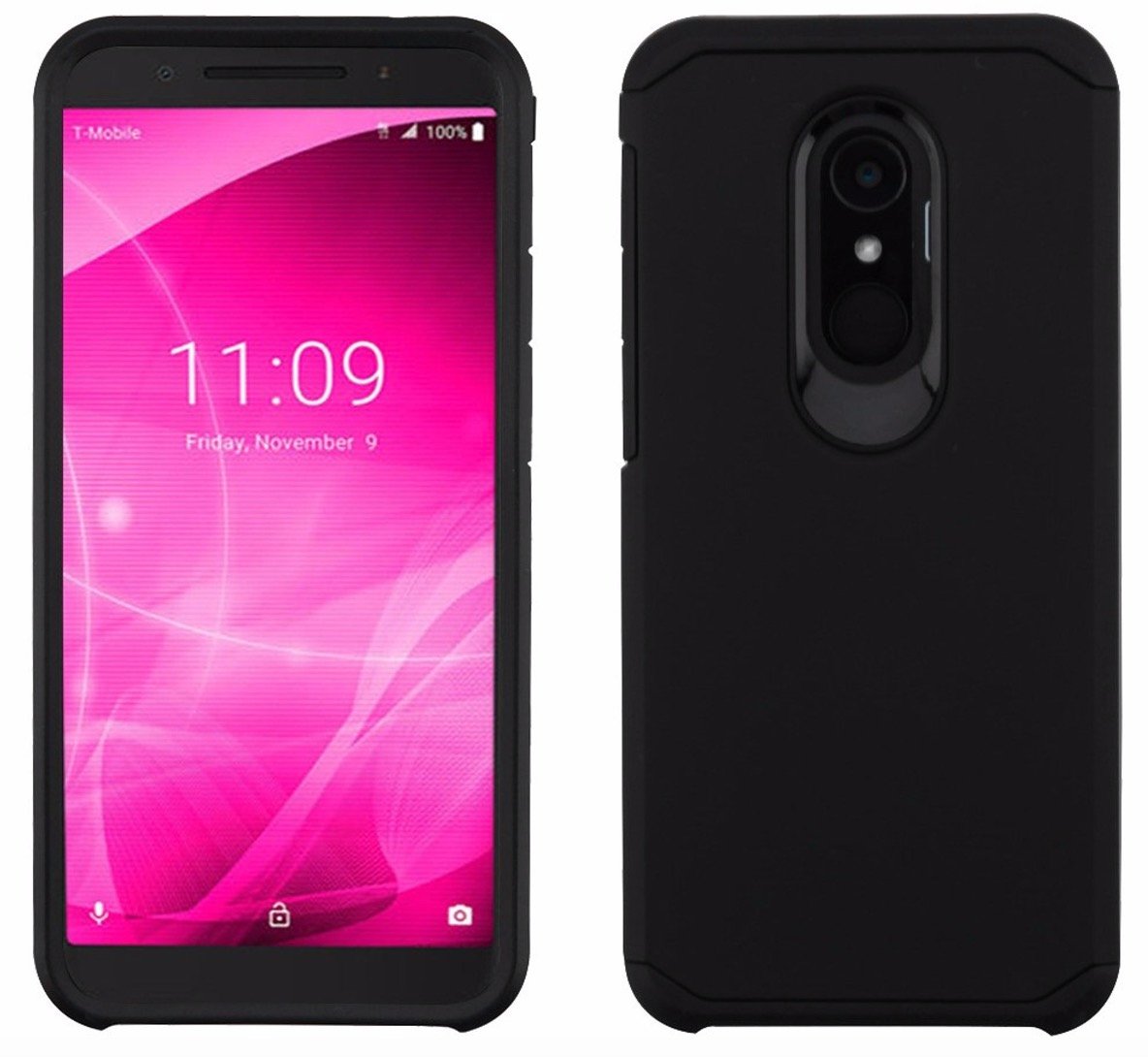 Buy it Now from Walmart for $6
If you need a case immediately and can't wait for shipping, most Walmart stores should have this Astronoot dual-layer case. This sleek REVVL 2 case has a soft TPU frame that hugs the entire phone and keeps it safe. Then, they've added a hard polycarbonate plastic to the edges and back for extra durability.
The corners are still covered in soft TPU, though, which means it'll absorb the impact from any drops or accidents. It's a decent little case for those on a budget.
6. ZeKing Crystal Clear Case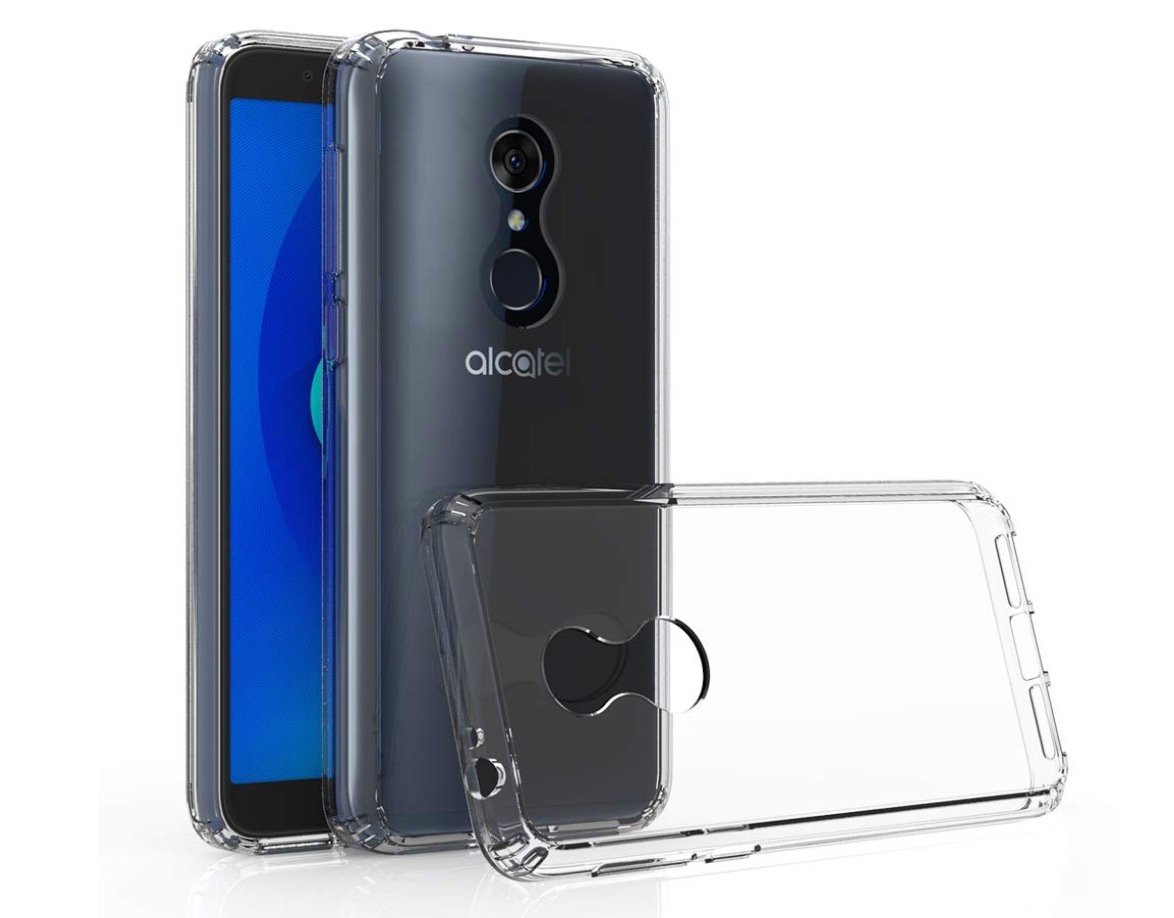 T-Mobile's REVVL 2 phone is actually made by Alcatel, a popular smartphone manufacturer that makes phones for almost every major carrier. So don't be alarmed by the image above showing this T-Mobile REVVL 2 case with the Alcatel branding, as they sell the phone too.
If you want to show off the fancy Magenta purple colors of your T-Mobile REVVL 2 this is the case for you. The entire case is a soft, flexible, rugged, and durable clear TPU material. These are typically my favorite cases, so buy one today and keep your REVVL safe.
7. Caseland Brushed Shockproof Case
Last but not least, for now, is the Caseland shockproof series with a brushed aluminum finish. This case doesn't actually have aluminum or metal on the back, but it sure looks that way. They're combining a soft TPU inner shell with a hard polycarbonate plastic for added durability, then making it look fancy.
You're basically getting a slim rugged case with good look, without paying the high price of a brushed metal case. Caseland uses oversized easy to press buttons, and we like that they raise the edges of the case around the screen so it'll stay safe even if you lay it face-down on a table. This is a good all-around case that comes in over 10 different colors. We like the Gunmetal grey color option. So, choose what fits your style or personality and you're all set.

As an Amazon Associate I earn from qualifying purchases.