15 Best Cheap Smartphones: From Best to Worst
These are the best cheap smartphone available in 2019 that will fit any budget. We found affordable devices from anywhere to get you the best option. Whether that's just a cheap Android phone, unlocked and at a discount or even a cheap iPhones. Devices that are affordable and easy to find like the Moto G7, iPhone SE, Pixel 3a and many more.
Read: Best Android Phones Under $300
If you don't need the latest and greatest, don't want to sign a 2-year contract or can't pay over $800 for a smartphone you have other options. These days, budget phones rival the best of the best and typically have the same features as expensive models. If you're looking for budget-friendly phones under $100, $200 or even $300 we've gathered a good list from all the popular brands. Our list includes refurbished and used devices too, in an effort to deliver you the absolute best cheap smartphones you can buy right now.
Types of Cheap Phones to Consider
Budget Smartphones
Buying Used
Refurbished Deals
Motorola makes some of the best budget Android phones on the market. Plus, every brand is offering some sort of budget device these days. Honestly, the best phone for your money is probably the Galaxy S10e, but at $750 we wouldn't really consider that a "cheap" phone.
You can also get a good deal on used phones from sites like Swappa or Gazelle, usually with a warranty. Or, find a refurbished phone that's a year old and get a high-end experience without breaking the bank. Basically, don't settle for the cheapest phone you find at Verizon. Get one we recommend instead.
The devices outlined below are cheap, but they're good cheap phones, and that's what's important. They're actually worth your hard-earned money instead of junk devices that'll never get an update.
Best Cheap Smartphones for Any Budget
1. Google Pixel 3a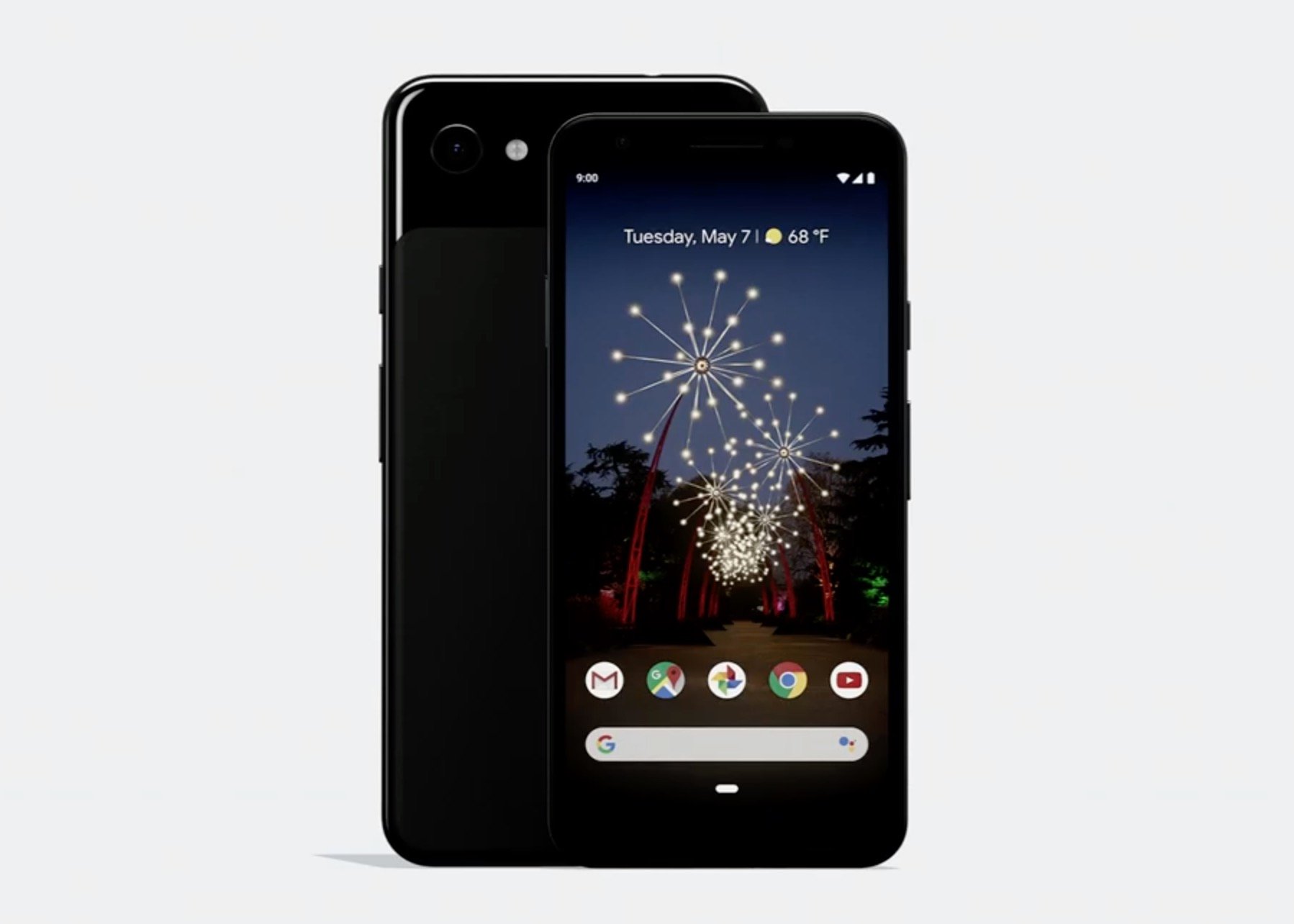 The new Google Pixel 3a came out in May of 2019, and it's one of the best phones you can buy for under $400. Google took the same formula from the Pixel line, the same great rear-camera and put it into an affordable phone that everyone can appreciate. Plus, it already has Android 10.
Google's Pixel 3a has a 5.6-inch 1080p HD screen while the Pixel 3a XL has a 6-inch screen for a few more dollars. You're getting an 8-core Qualcomm processor, 4GB of RAM, 64GB of storage, a big 3,000 or 3,700 mAh battery and the same 12MP camera as the regular phones from Google — only on a budget. We knew Google was going to offer a budget phone but no one expected it to be this cheap. This device competes directly with the $750 iPhone Xr and Galaxy S10e.
Buy it Now from Google for $399 or from T-Mobile
2. Moto G6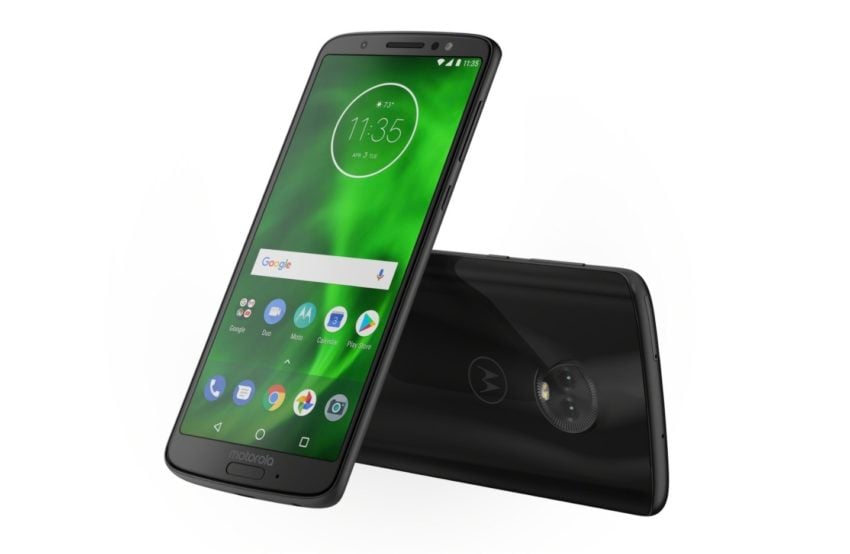 Motorola's most popular and successful smartphone was the Moto G from 2013. It's what started the high-end budget smartphone trend and they haven't slowed down since. Every year Motorola makes our best cheap phones list and the Moto G6 tops it.
Packing a fancy 5.7-inch Full HD display inside a premium all metal and glass phone, the Moto G6 is the best cheap phone for the money. Small bezels around the screen, dual rear cameras, a fingerprint scanner, and good performance. Don't forget 3GB of RAM, 32GB of storage, and microSD. You also get Turbocharging, all-day battery life, up-to-date software, and support for every major carrier. It's unlocked and works on Verizon, AT&T, T-Mobile, Sprint and more. They do have a newer Moto G7 and G7 Power for 2019, but they're a little more expensive.
3. Samsung Galaxy A20 (2019)
Samsung's Galaxy A20 is perhaps the best looking phone on this list. You're getting a beautiful device that looks like it should cost $700, yet comes in at under $200. Samsung delivers impressive specs and all the essentials here, which is all you can really ask for. Right? It's not the best phone, but it delivers everything you need, realistically. Samsung throws in a good screen and camera, too, which most cheap phones skimp out on.
You get a 6.4-inch Full HD Infinity-V display that covers almost the entire front of the device. I mean, just look at it, it's beautiful. It comes with an 8-core Samsung processor, 3GB of RAM, 32GB of storage, dual-rear cameras and a microSD slot all for a low price. My favorite part of this phone, aside from the screen and price is the massive 4,000 mAh battery. It's a good little device that I wish all US carriers offered.
4. iPhone SE
Loyal iOS fans can get an unrivaled smartphone experience for under $150 if they know where to look. The iPhone SE is a return to the old iPhone days, with squared edges and a 4-inch screen. That said, it packs a serious punch, runs iOS, has a fingerprint scanner and takes great photos for the price you're paying. It's a great replacement for someone in a pinch. It doesn't have all the bells and whistles of the latest iPhone Xs, but it does have all the essentials and costs a lot less than the iPhone Xr.
Buy it Now for $139 at Walmart
5. Nokia 6.1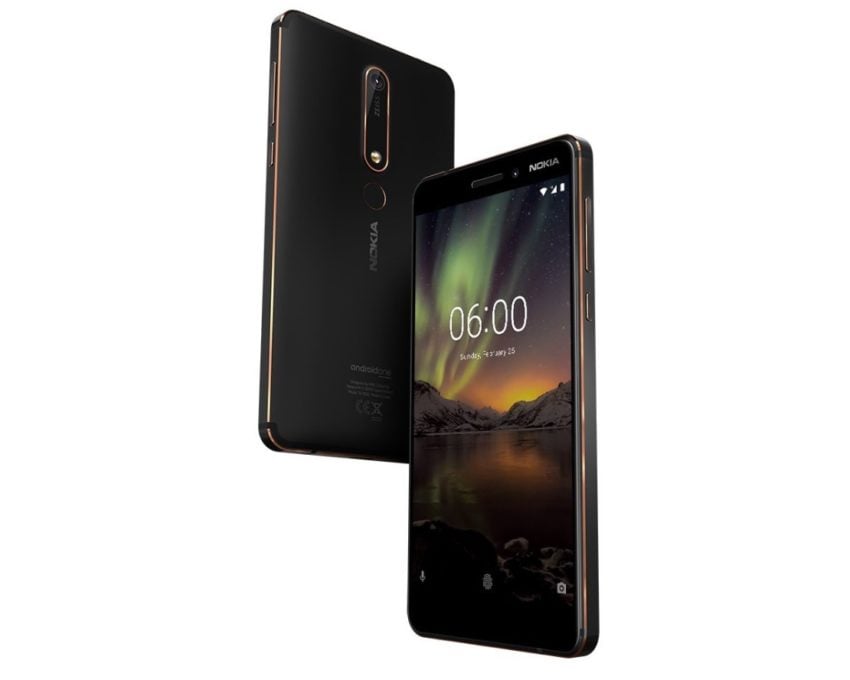 Believe it or not, Nokia actually makes some pretty excellent Android phones. Their latest Nokia 6.1 is one of the best phones for the money. You get a premium, durable, attractive design with a big 5.5-inch screen at an affordable price.
The Nokia 6.1 has a 5.5-inch 1080p HD display, runs Android 9 Pie (Android One) and will see Android 10 soon. It has 16 and 8MP cameras, a powerful Snapdragon 630 processor with 4GB of RAM and 64GB of storage, and a microSD slot for storage expansion. Nokia packed in a big 3,000 mAh battery for all-day usage too. This gives the Moto G6 a serious run for its money. Multiple Nokia phones are actually worth buying.
6. Huawei Honor 7X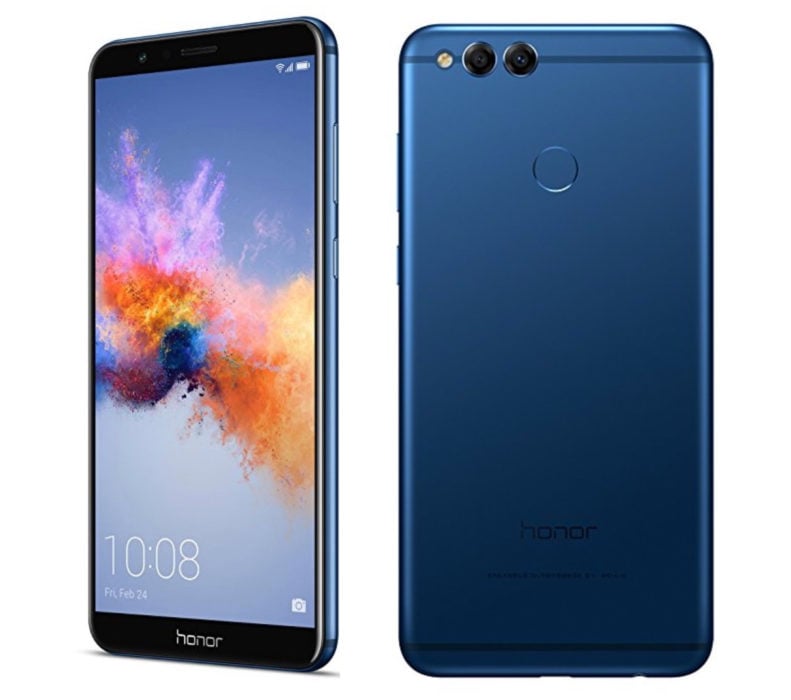 Honor is a sub-brand of Huawei, one of the largest smartphone manufacturers in the world. We're big fans of the Honor 7X and the 8X. In fact, it's on our list for the best phones under $200, because it's only $199. However, it's better than most more expensive phones and a lot of older devices that are starting to go on sale.
Honor's phone has a beautiful all-metal design that feels like it should cost a lot more. You'll enjoy a large 5.93-inch edge-to-edge screen with tiny bezels, similar to the Galaxy S9. Honor gives you dual rear cameras, 16 and 6MP, a fingerprint scanner, Android 9 Pie and more. This phone packs an 8-core processor, 3GB of RAM, and 32GB of storage. Plus, you can add a microSD card to expand storage. This looks and feels like a more expensive phone.
7. Moto G7 Play
In 2019 Motorola released several versions of the G7, but they're a little more expensive than previous generations. That said, the Moto G7 Play is a great option at $199, and often it's on sale for even less.
This phone packs a big edge-to-edge display like the iPhone X, has splash-resistance and sports a big battery with a capable camera considering its price.
You're getting a 5.7-inch HD display, a rear-mounted fingerprint scanner hiding inside the Motorola logo — finally – and a pretty solid 13MP rear and 8MP front camera setup. Perhaps the best part though, aside from running a fast Qualcomm Snapdragon processor, is the large 3,000 mAh battery for all-day usage. It's not the best phone around, obviously, but for $179 you'll enjoy a good experience that runs Android 9 Pie and will get Android 10 soon.
Buy the Moto G7 Play from Motorola for $179
8. Xiaomi Poco F1 (PocoFone)
Near the end of 2018, a new phone emerged as the king of budget phones. That's the Xiaomi-made Poco-F1, also known as the PocoFone.
For just $300, you get a device that rivals the Galaxy S10, OnePlus 6T, iPhone Xr, and any other phone released in late 2018. Yes, for only $300. Some of its specs match $1,000 devices like the Galaxy Note 9 or iPhone Xs Max, too.
The PocoFone packs a 6.2-inch 1080p HD display, a powerful Snapdragon 845 processor (Same as Note 9, Pixel 3) along with 8GB of RAM and 128GB of storage. Yes, there is a notch in the screen, but that's ok. Perhaps the best part is the massive 4,000 mAh battery inside. Then, you get a decent dual 12 and 5MP camera setup on the back. Not to mention the 20MP front camera. Obviously, you're not getting a Galaxy S10 or iPhone Xs experience, but for $300, it sure looks, feels, and performs close enough.
Buy it Now for $300 or from here
9. iPhone 6s (Pre-owned)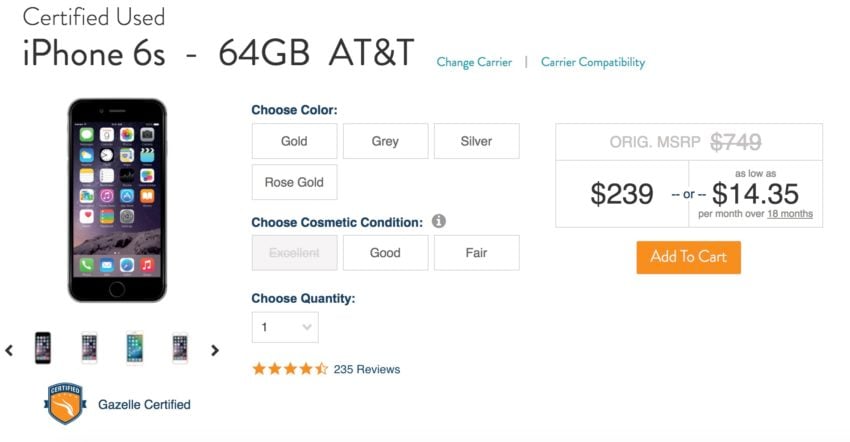 This list is the best cheap smartphones you can buy, regardless of brand, operating system, or how you get it. A lot of people on a budget think a cheap Android is the only option. It's not. In fact, there's no reason to pass up an excellent certified pre-owned iPhone 6s from popular sites like Gazelle, your carrier, or Swappa.
Did you know you can get an iPhone 6s with a 4.7-inch Retina display, a highly capable camera, iOS and everything else you love about Apple phones for under $220? Whether you find refurbished, pre-owned, or buy it used from Swappa, some of the 16GB models cost less than $190.
Being 2018 though, you want at least 64GB for apps, games, movies, and Netflix offline downloads. That's why we found a 64GB iPhone 6s with a warranty and a 30-point inspection certification from Gazelle for only $239. Again, it's not the latest iPhone Xs but you get an extremely similar experience for a lot less money.
Buy it Now for $215 at Gazelle (or $14 a month if you're on a tight budget)
10. LG Q6 and Q7
If you love the LG G6 or LG G7 ThinQ but can't afford the high price tag, consider LG's affordable choices. The LG Q6 is one of the best bezel-free cheap smartphones. It's basically the best LG phone from late 2017 turned into a more affordable brother.
With the Q6 you'll get a big 5.5-inch edge-to-edge 1080p HD display, a Snapdragon 435 with 3GB of RAM and 32GB of storage, microSD support and a decent 13MP camera on the back. You don't get dual rear cameras or a fingerprint scanner, but it looks like a modern high-end phone and that's what a lot of people want.
You can get this phone for around $200, or even less if you're ok with some ads from Amazon built-in. There's also a new LG Q7 from mid-2018 with an upgraded experience, fingerprint scanner and dual cameras for just a few dollars more. You can find it at Metro by T-Mobile for $99.
Buy the LG Q6 on Amazon for $159
11. Moto G6 Play
If you liked what you saw from the Moto G6 but want something a little more affordable, consider the Moto G6 Play. It takes the same idea as the G6 and makes a few subtle changes to the battery and features.
The Moto G6 Play has the same big 5.7-inch screen but it's only 720p HD. You get a single 13MP camera on the back, a 5MP front camera, a fingerprint sensor, and a slightly slower processor than the Moto G6. However, they add in a huge 4,000 mAh battery which lets you "Play" with the phone more. The lower specs and screen resolution paired with a big battery means this phone will last all day, and then some.
It's a great well-rounded phone for someone looking to spend around $200. Just know that others have a better screen or improved performance for a similar price.
12. Samsung Galaxy S8 (Pre-Owned)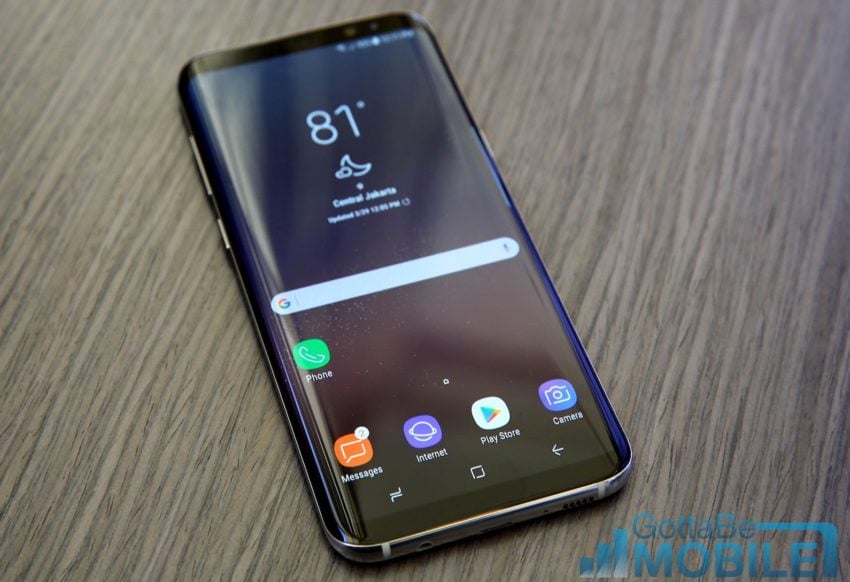 Honestly, if we're comparing these phones from best to worst the Galaxy S8 deserves to be near the top of the list. It's a little older now, but still more powerful and capable than almost every affordable phone on the market. The Galaxy S8 delivers a stunning design with a curved 5.8-inch AMOLED display, water-resistance, wireless charging, mobile payments and more. It's almost identical to the Galaxy S9.
Everyone knows what to expect from the Galaxy S8. It's fast, pretty, powerful and takes great photos with Samsung's award-winning 12 DualPixel camera on the back. If you know where to look, you can find a used or refurbished Galaxy S8 for the same price as these "budget phones" that don't offer nearly as good of an experience.
That's why we're recommending the pre-owned Galaxy S8 from BoostMobile. Obviously, this deal doesn't apply to someone on AT&T or Verizon, but if you're willing to switch, you'll get a great phone.
Buy the Galaxy S8 for $179 at Boost
13. Moto E6
Motorola knows how to make great affordable phones, even if the value proposition isn't as strong as it was a few years ago. The all-new Moto E6 for 2019 is no exception, and worth considering. The E6 looks and feels like a much more expensive phone, but it's not quite as nice as the Moto G series. You get a big 5.5-inch 720p HD display, a capable Snapdragon 435 processor with 2-3GB of RAM, and only 16GB of space. There is a microSD card for expansion though, which is nice.
Considering how cheap it is, you can't expect everything to be good. That's why you'll only get a 13MP camera on the back, 8MP front shooter, and a 3,000 mAh battery. However, it looks good, works good, runs updated Android 9 Pie and costs only $149. It's a truly cheap phone for someone who really can't afford anything else at the moment.
Look, there are better phones on our list, for sure. That said, if you're only spending $150 this is one of the better options without signing a contract or getting on a monthly payment plan.
Buy it Now for $150 from Motorola or get the Moto E5 from Amazon for $70
14. Moto G7 Play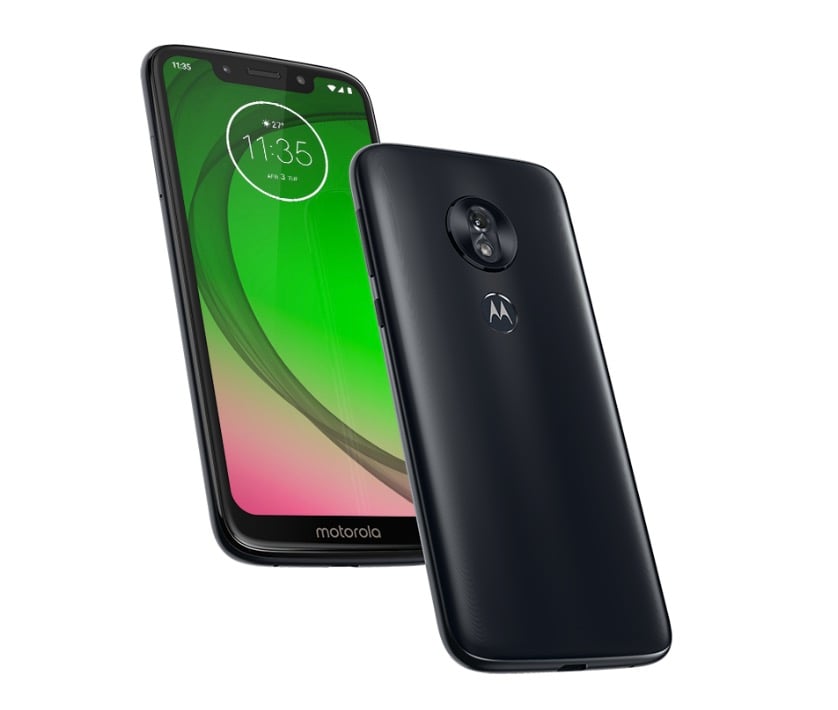 We have a few Motorola phones on this list, mainly because they're one of the best device manufacturers in the budget phone category. While the Moto G6 from 2018 is still probably your best bet at under $140, if you're looking for something newer and more stylish, the Moto G7 Play is a great choice.
This phone delivers a device that looks like it's made for 2019, with a small iPhone style notch, bezel-free screen, and updated Android 9 Pie software. You're only getting a single rear camera, but for the price, this phone is hard to beat. It comes with a 5.7-inch HD display, 8-core Qualcomm Snapdragon processor, 4GB of RAM, but only 32GB of storage. However, it's often on sale for a crazy low price.
Buy it Now for $199 from Motorola or for $99 at Best Buy
15. LG Stylo 5
While the LG K30/40 is a great cheap phone, we think more people will enjoy the LG Stylo 5. It's a big-screen phone for those that want the Galaxy Note 10 but can't afford it. This could be LG's best budget phone offered by carriers. You get a big screen, a premium design, a stylus, and it's only about $200.
The LG Stylo 5 is a cheaper version of the Galaxy Note 9. You'll get a big 6.2-inch full 1080p HD display, which is the best part. The bezels are tiny like an iPhone Xs Max or Galaxy Note. It also has a fast Snapdragon processor with 32GB of storage, 4GB of RAM and a microSD slot. For the price, it comes equipped with decent cameras. The main shooter is a 13MP rear camera with a flash. Then there's a 5MP front camera for selfies or Snapchat. It runs Android 9 Pie, has a fast fingerprint scanner, a super-loud speaker, and there's a built-in stylus.
You can get this phone from T-Mobile, Cricket, Virgin and others, along with a low price from Boost Mobile.
Buy it Now for $229 from Cricket Wireless
Or, you can get the older LG Stylo 4 for only $149
Honorable Mentions & More Details
While we limit this list to only 15 devices, there are tons of cheap phones that deliver a good experience, or even an ok experience. Obviously, every buyer will have different wants, needs, and preferences, so take that into consideration.
Another good choice is the BLU Vivo XL4. It's basically an iPhone Xr knockoff with dual rear cameras for $139, or even the G9 Pro. Just know you'll probably never get a software update. Don't forget to look at the LG Stylo 3, Xiaomi MI A1, and even the Xiaomi MI A2.
We'll continuously monitor the market for exciting new phones and update this list as more options arrive throughout the second half of 2019.