Beta Build of Honeycomb for Google TV Leaked – Here's What To Expect
Hot on the heels of the Logitech Revue's price drop to $99 comes more good news. The promised update of the Google TV OS (based on Android) may be available very soon.
We got a taste of the new OS at Google I/O back in May. The new build is based on  Honeycomb, which was pretty evident when they showed off a limited preview to the crowd of developers there to learn how to make apps for the platform. Now a beta version of the update is running free on the Internet for all brave enough to download and install it.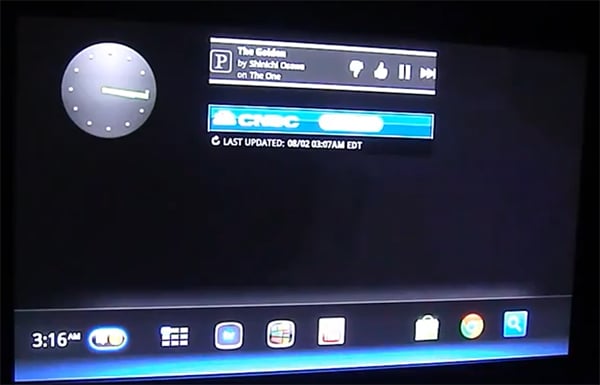 Before you rush to add the Honeycombified Google TV 2.0 to your Logitech Revue, be aware of a few things: First, this update is unofficial, and may render your Revue unable to receive official updates in the future. You're going to want that ability, trust me. Second, while there is a sort of working Market included, one major app is missing: Netflix. Third, since the release hasn't rolled out yet, there won't be much you can do but look at how things might work in the future.
Lucky for all of us the folks over at Channel Android did a hands on with the beta so you don't have to. Check out the video below.
The first thing to notice is that the user interface underwent a big overhaul and now resembles the tablet version of Android more than a set-top box OS. I'm particularly intrigued by the widgets for the Home screen – other than Pandora and CNBC headlines, I hope to see things like alerts when the newest episode of your favorite show is available on Amazon VOD, or maybe a pre-load of the latest podcast in your queue. There are several great possibilities here.
The apps along the bottom can be customized, another good thing. I'm a Netflix user, and I want quick access to my favorite app right from Home. The app drawer/list of all apps is more like Android than the previous UI, giving more space to icons. This was probably necessary to keep users from having to do too much scrolling now that the Android Market is on board.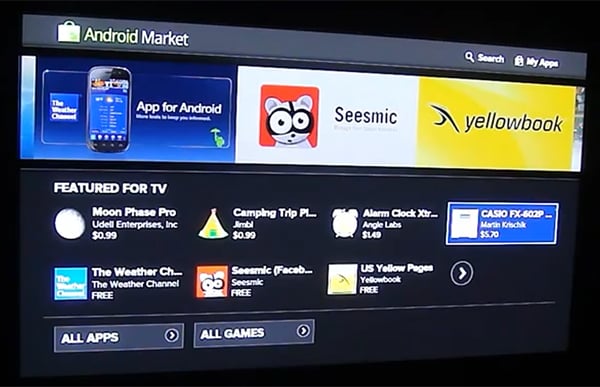 Speaking of the Market, I wouldn't be too disheartened by the small number of Apps for TV you see in the video. Since this is a beta build there are probably apps that just aren't ready yet but will be. However, I hope Google makes it so TV users won't see apps that won't work on their devices. That can be confusing and frustrating for the less tech-savvy. Blake (the guy in the video) tried to install several apps, only to have the system tell him that they weren't compatible.
The app buying/installing procedure looks simple enough. I wonder what will happen when users try to buy something and haven't set up a Google Checkout account. If not handled well, that could be a big barrier to the purchase of apps.
I like the Notifications feature – again, I hope to see alerts relating to media I want to watch. It would also be nice if I could get a notification when I miss a call on the webcam. My father is forever getting on me about not returning these calls.
Overall, the thing I'm most excited about is the ability to install apps. Crossing my fingers that the selection will be good. What aspect of Google TV 2.0 excites you the most?