Big Nexus 9 Deal Cuts Price by $120
As we push deeper into 2015 and Google's latest tablet gets older, we're starting to see a couple of impressive Nexus 9 deals surface. Earlier this year a few Nexus 9 deals delivered the tablet for a low price, but this week the biggest deal yet has arrived. Those still debating on getting the Nexus 9, especially one with 4G LTE, will want to check out the latest from Expansys.
Google's Nexus 9 was released on November 3rd, and we've seen a few good deals since then. And one of the better deals was Best buy offering it for $100 off. This week though, even bigger savings arrived for the Nexus 9 4G LTE variant saving buyers a little over $120 on Google's latest tablet.
Read: Nexus 9 Android M Hands-on & Impressions
Almost every deal since the early November release date has been on the WiFi Nexus 9, and we've yet to see any discounts for the 4G LTE version. Letting users get internet access anywhere, even without a WiFi connection. However, one is now here, and we have all the details below.
Lately the popular online retailer Expansys has been offering the 32GB 4G LTE Nexus 9 for only $379. We're claiming this is about $120 in savings because before this Expansys was charging $499 for the tablet, but it actually debuted for $599, and still costs the same massive $600 price point at Google's Store.
Which means this is technically over $200 in savings over getting the tablet from Google themselves, but we've seen similar $499 prices on Amazon and in recent months from Expansys. That said, getting Google's latest tablet with 32GB of storage and 4G LTE for only $379 is quite the steal.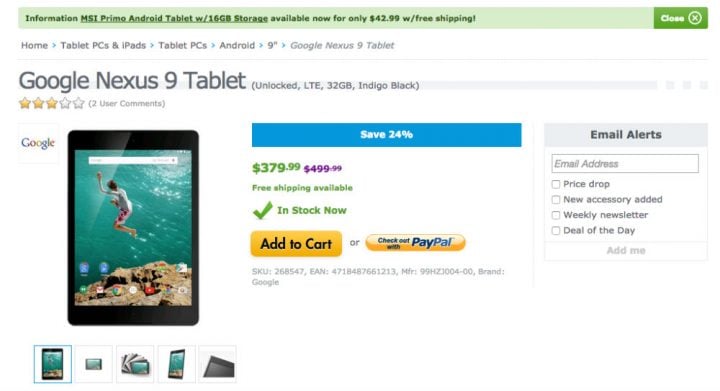 It's worth noting that this is for the international version of the 4G LTE Nexus 9, not the US model. This means it won't work on Verizon at all, and won't have 4G LTE speeds from AT&T, but still receive fast HSPA+ 4G internet access and more. So keep that in mind before jumping on this impressive Nexus 9 deal.
Read: Best Nexus 9 Accessories
Google's Nexus 9 is the first tablet from HTC in years, offering a wide 4:3 aspect ratio similar to iPad's vs the long and skinny look of all previous Android tablets, and is one of the better Android tablets available today. Here's a detailed breakdown of the specs for those considering this recent discount.
Nexus 9 Specs
8.9-inch 2048×1536 Full HD display (4:3 aspect ratio, and Gorilla Glass 3)
NVIDIA Tegra K1 processor with 2GB of RAM (64-bit)
16/32GB storage configurations, 4G LTE
Android 5.1 Lollipop
8 Megapixel Rear and 1.6 MP front camera
Brushed Aluminum frame, soft touch matte design
Dual HTC Boomsound front facing speakers
6,700 mAh battery
White, Black, and Sand color options
228.25mm x 153.68mm x 7.95mm and 425 grams
The Nexus 9 has plenty to offer, especially at this low of a price. This is hands down the best Nexus 9 deal we've seen yet, but only for those who want 4G LTE.
After digging around it looks like the online retailer has actually had this price up for more than a few days, but it was just now spotted by most users. They sold out of WiFi models, and now the 4G LTE Nexus 9 is available with huge savings of over $120. We're not sure how long this deal will last, or how many are available, so if this is something buyers are interested they better get it now before they're all gone. The Nexus 9 will be one of the first devices to see the official update to Android M later this fall.