Black Ops 3 Juggernog Release: 5 Things to Expect
The Call of Duty: Black Ops 3 Juggernog Edition is one of the most anticipated collectors editions of 2015. While it may not compare in interest to the insane interest in the Fallout 4 Pip Boy, it is right up there for gamers who want a beautiful collectible to go with the new Call of Duty game.
At Comic-Con in early July Activision and Treyarch announced the new Call of Duty: Black Ops 3 Juggernog Edition with a working fridge that includes lights and Call of Duty sounds. The Juggernog appears in the popular Zombies mode of Call of Duty Black Ops and this small refrigerator is a faithful recreation of the in-game model, at a smaller size that can hold 12 cans of your favorite beverage.
The Call of Duty: Black Ops 3 release already garnered a lot of hype before the Black Ops 3 fridge announcement thanks to the long delay since the last Black Ops game. The Call of Duty: Black Ops 3 release date is set for late 2015 on Friday November 6th for the regular and Juggernog Edition.
[contextly_sidebar id="N0GpjAnu5sNW7CBiBhIs7EBODMS5cwS6″]At $199, the Call of Duty: Black Ops 3 Juggernog Edition isn't for everyone, and users who want to buy it have been scrambling to find the Juggernog in stock for the last few weeks.
We have new information about where to find the Black Ops 3 Juggernog Edition in stock, what Activision has to say about a possible Juggernog restock and other details that buyers can expect.
Find the Juggernog Edition in Stock
It is still very hard to find the Call of Duty: Black Ops 3 Juggernog edition in stock, but not impossible just yet. Walmart is the last retailer to add the Juggernog edition to online store shelves, and in the last two days we've seen multiple restocks.
You can use a website like NowInStock to track the stock and get an alert whenever the site detects that there is a Black Ops 3 Juggernog Edition in stock somewhere. If you get an alert you need to move fast or you will lose out.
There is no confirmation that Walmart will re-stock the online store, but based on the short releases it is possible.
We may also see Walmart and other stores sell the Black Ops 3 fridge as they cancel orders placed for multiple items and as users cancel their own orders.
Activision Black Ops 3 Juggernog Edition Update
We don't expect to hear a lot from Activision about the Juggernog Edition stock, but we finally received confirmation that they will not make any more of the special edition. In an update posted to the Activision support page the company confirms that this is a truly limited edition.
"Question: Is the Juggernog Edition sold out?

Answer: Yes, this was a limited edition version that, due to extremely high demand, sold out quickly. Additional Collector's Editions such as the Hardened and Digital Deluxe Edition areavailable for pre-order at select retailers."
This is not great news for users who hoped that the long lead time would allow for Activision to increase the number of Juggernog fridges available to buy.
Import the Juggernog Edition
There are still some places outside the U.S. taking Call of Duty: Black Ops 3 Juggernog pre-orders and this may be a way that you want to go to import the Juggernog edition, but there are things to keep in mind.
If you go this route you will likely pay more than the face value in the U.S. You may also need to pay higher fees for shipping and for importing it into the U.S.
This also means you will not likely get the game on release day. If you want to go this route, make sure you confirm that the retailer is legit and will ship to the U.S. EB Games Canada is still taking Juggernog edition pre-orders.
High Prices and Scams on eBay
There are many sellers on eBay who are offering a Call of Duty: Black Ops 3 Juggernog Edition for $500 and up to $3,000 in some cases. if you absolutely want to buy this special edition, you should consider these, but be on the lookout for scams.
Due to eBay policies most of the auctions are for a receipt, not the actual Juggernog Edition. Sellers often include in the description that they will ship you the receipt when the auction closes and the Juggernog Edition on the Call of Duty: Black Ops 3 release date, but make sure you are buying from a legit seller who will send you more than just a piece of paper.
Few Call of Duty: Black Ops 3 Juggernog Deals
At this stage in the game it is very unlikely that you will find any Call of Duty: Black Ops 3 Juggernog deals. The short supply and fact that it is already out of stock at major retailers mean you will be at the least paying full price.
The only chance for a Juggernog Edition deal is if Best Buy re-stocks with cancelled orders or finds some held in reserve and you are a Gamers Club Unlocked member with 20% off. This is unlikely and not something you should wait for if you happen across any Juggernog Edition in stock elsewhere.
Black Ops 3 Fridge: 5 Things to Know About the Juggernog Edition
What Comes with the Black Ops 3 Juggernog Edition?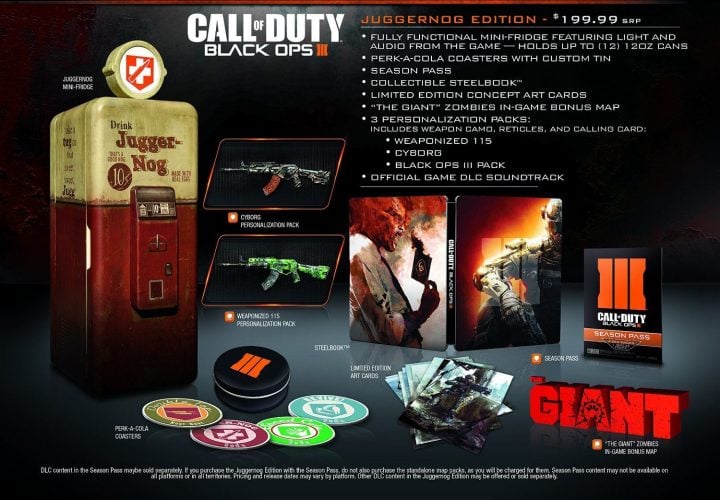 The most recognizable item in the Call of Duty: Black Ops 3 Juggernog edition is a Black Ops 3 fridge that can hold 12 cans of pop or beer. The call of Duty Fridge features a Juggernog logo and Call fo Duty lights and sound effects.
For the $199 price tag fans also get plenty of other items in this Black Ops 3 Collector's Edition. This includes Perk a Cola coasters in a Black Ops 3 tin, the Black Ops 3 Season Pass, a collectible Steelbook, concept art cards, an in-game bonus map shown in the video below.
There are also three personalization packs including Weapon Camo, Reticles and a Calling Card. The packs are Weaponized 115, Cyborg and Black Ops 3 Pack. This special edition also includes a Call of Duty: Black Ops 3 soundtrack as DLC.