Black Ops 3 Lag, SBMM & Updates: What to Know Now
Gamers are frustrated with increased Black Ops 3 lag and connectivity problems as a recent update introduced new Black Ops 3 problems and led to speculation that Treyarch changed matchmaking in the latest Call of Duty game to SBMM (Skill Based Matchmaking).
This is what you need to know about an increase in Black Ops 3 lag and the truth about Black Ops 3 Skill Based matchmaking.
On Friday Treyarch rolled out a hotfix to the December Black Ops 3 update that included Matchmaking tweaks. This is where things quickly went downhill.
Soon after this update went live we saw increased chatter from gamers who had trouble playing without Black Ops 3 lag ruining a game and shortly after we saw a video from TmarTn outline his claim that Skill Based matchmaking is back in Black Ops 3.
This led to Treyarch Studio Design Director David Vonderhaar explaining on Twitter and Reddit what is going on with Black Ops 3 lag and the truth behind skill based matchmaking in Black Ops 3.
Black Ops 3 Lag, Servers and Problems
After the Black Ops 3 update delivered changes to matchmaking on Friday users reported Black Ops 3 lag on Twitter and complained on Reddit and other places.
Black Ops 3 lag on the Xbox One has been crazy today, what's going on?

— Maukaveli (@Maukaveli) December 20, 2015
@Treyarch Why can't Black ops 3 just be connection based and not skilled .. I lag too much now

— IroNicAcholius (@IroNicAcholius) December 20, 2015
@ATVIAssist the black ops 3 servers are horrible every match I lag and I see other people are too you guys gonna fix this I'm going insane ?

— Cyrus Brioso (@CyrusRazor) December 20, 2015
@DavidVonderhaar black ops 3 has officially been ruined, every game today has had some kind of lag due the new match making. #BO3sold

— 100%Crazy (@mitchfield1) December 20, 2015
One reason that some gamers assumed Black Ops 3 Lag was worse than normal was due to the matchmaking tweaks.
Black Ops 3 Skill Based Match Making Claims
After the change users on Reddit and Twitter quickly jumped to the conclusion that Treyarch added Skill Based Matchmaking to Black Ops 3. TmarTn produced this video that outlines his claims and explains why SBMM is not something many players want.
Ultimately there are two reasons some players don't want Black Ops 3 Skill Based Matchmaking. One is very important, and the other may not resonate with every player.
To paraphrase the video, really good Call of Duty: Black Ops 3 players don't want Skill Based Matchmaking because they don't want to play against players with the same skill level. TmarTn explains that if you are playing against another player of the same skill you cannot run up streaks and rack up kills like you can if you are playing against a gamer with little Call of Duty skills.
Now, the real reason Skill Based Matchmaking is frustrating, and the reason people jumped to the conclusion that this was happening is because it puts skill over connection in terms of building a lobby of players to join a game.
When connectivity is the primary factor it in theory means less lag and a better experience for players with good Internet connections.
The Truth About Black Ops 3 Lag and SBMM
Here is what happened this weekend and what you need to know about claims that Black Ops 3 Skill Based Matchmaking arrived with a recent patch and what Treyarch is doing now.
David Vonderhaar responded to the claims stating, "Connection is king and continues to be so. Period. End of conversation."
Treyarch performed a change to matchmaking on Friday and, "It did come with consequences we didn't understand in totality. We also un-tweaked it the following day, until we can investigate."
The company pulled the hotfix, and is investigating the issue. Vonderhaar assured gamers,"What we didn't do is "turn on" or implement anything new that would deliberately prioritize any criteria over connection. And we won't."
On Reddit David Vonderhaar offered more detailed responses to users asking about the lag, SBMM and the update, writing "This is a great question that needs to be answered and hasn't been fully vetted. It's not "the introduction of SBMM." That doesn't make a game laggy."
We expect to see additional Black Ops 3 December updates coming to tweak small things, but no major changes until January.
Black Ops 3: 5 Things to Know After 43 Days
Tons of Black Ops 3 Deals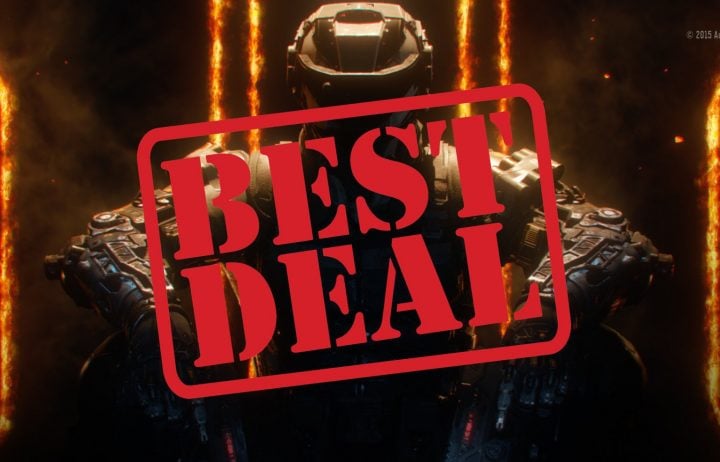 There are a lot of Call of Duty: Black Ops 3 deals available in late December. Almost every retailer is offering $20 off the game for the Xbox One and PS4. We routinely see PC Black Ops 3 deals for almost 50% off.
You can buy the game for $39.99 at GameStop and Amazon for the time being. This includes a special Steelbook edition at Amazon for the time being.
If you want the special edition, GameStop also offers $20 off the Hardened Edition, which is now $59.99 for PS4 and Xbox One. This includes bonus items, but no Season Pass.
Use the links above to find the Call of Duty: Black Ops 3 deals available now, and check out the best Black Ops 3 deals that we will update as new deals come to life.

As an Amazon Associate I earn from qualifying purchases.