Black Ops 3 Problems: 5 Things to Know
The Call of Duty: Black Ops 3 release date is here and gamers are already stressing the Black Ops 3 servers and discovering that despite a lot of hard work there are some Call of Duty: Black Ops 3 problems. In the first several hours of the game coming online we've seen a collection of Black Ops 3 server problems and issues that gamers need to be aware of.
Keep in mind, every new game that arrives with an online component for the PS4 or Xbox One these days launches to some kind of issue with connectivity, or with a bug that the company needs to update.
Read: How to Fix Black Ops 3 Problems
We already shared early Black Ops 3 reviews today that painted an overall positive image of the game, but as millions of players go hands on with the new Call of Duty game new issues appear.
We've heard from users who cannot preload Call of Duty: Black Ops 3, problems with redeeming the Black Ops 3 code on PS4, people complaining about how long it takes to level up and issues with Nuk3town — and more.
Here is a look at the current state of Call of Duty: Black Ops 3 problems and what you need to know about them.
Black Ops 3 Server Problems
Although Call of Duty: Black Ops 3 is live in only a few countries there are some reports of Black Ops 3 server problems. Some users report that the servers are down in some countries.
.@CallofDuty Black Ops 3 released in the UK!!! Oh… servers are down – FAIL!! @Treyarch @Activision @ATVIAssist pic.twitter.com/1gjsIY62IM

— Chris Atterbury (@CaptnSpaulding_) November 6, 2015
Is any one having problems connecting to the UK or Irish servers in Black Ops 3?

— Jordan Suggitt (@JordanSuggitt) November 6, 2015
You can check the status of the Call of Duty: Black Ops 3 servers to see if they are up for your specific console or PC on the Black Ops 3 server status page. Although some users report errors, the current status is listed as good.
So apparently if Black Ops 3 servers are down you can't access your single player campaign progress….that's kinda silly.

— Nic (Tetra Ninja) (@TetraNinja) November 5, 2015
One interesting note from a user is that when the servers are down, they cannot play single player campaign. We've seen this in other games, but it may prove frustrating to gamers who want to play offline.
Black Ops 3 Lag Problems
Along with server complaints, we are already seeing gamers complain about Black Ops 3 lag.
It's not clear at this point if it is an issue with Black Ops 3 severs, with individual connections or with users maliciously exploiting lag.
@Treyarch ive installed the black ops 3 update file but my whole game is lagging both on and offline cant even play campaign without lag?

— Jack lovett (@jacklovett2297) November 6, 2015
@Activision Black Ops 3 on Xbox One, is almost unplayable because of the lag… UK servers

— Fred Fredburger (@The_Greggs_Man) November 6, 2015
https://twitter.com/ltsDusty/status/662456339168260096
Black Ops 3 Installation Problems
If you have any Black Ops 3 installation problems, Activision is ready with a guide for a smooth experience.
The first step is to make sure you are on the latest version of software for your Xbox One, PS4, PS3 or Xbox 360.
If you run into slow Call of Duty: Black Ops 3 downloads, due to the file size you may need to pause and restart the download. There are also specific guides for each console and for the PC.
Activision recommends waiting for the entire game to install before attempting to play. The support document warns, "Starting the game before the installation completes can cause corrupt installations that can lead to crashes, freezes, and lost data. Your console should be connected to the Internet before the installation begins and remain connected during the entire installation process."
Black Ops 3 Stats Problems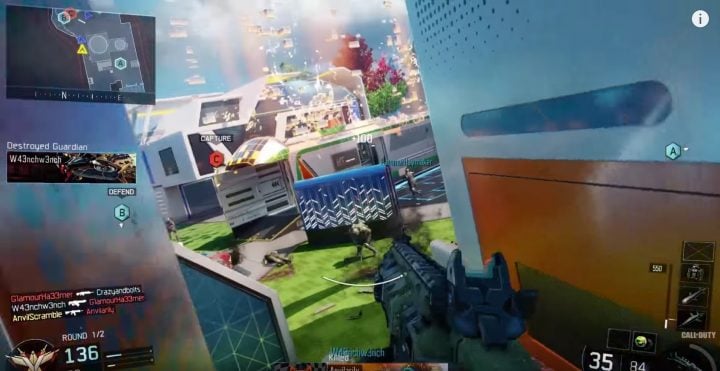 The Black Ops 3 release is still fresh, but Activision is already prepared to address Black Ops 3 stats problems.
If you see that your Call of Duty: Black Ops 3 stats and rank are reset, check out this guide which covers why it may happen and how to avoid it happening again. You can also ask for your Call of Duty: Black Ops 3 stats to be restored using this online form.
If you play in a private match, watch out for hackers who may use this as an opportunity to inflate your stats, causing problems. Check out this important warning.
Fixes for Some Black Ops 3 Problems
There is a problem with mouse lag on the PC Black Ops 3 release. If you have this problem, you can try the solutions in the link above and in the tweet below
If you're playing Black Ops 3 put FPS to 58 to remove the mouse lag! I just found out and ya boy is reking kids!!!

— Mlab (@OfficialMlab) November 6, 2015
There are also fixes for Black Ops 3 FPS drops on PC and a solution for Intel Core i5 processors suffering poor performance and frame rate drops.
Where to Report Call of Duty: Black Ops 3 Problems
If you run into Call of Duty: Black Ops 3 problems, you can report them to the following places.
Report PC Black Ops 3 problems to @pcdev on Twitter.
Report broader issues to @ATVIAssist on Twitter.Reach out to @XboxSupport or @AskPlayStation on Twitter.
You can also check in with the Activision Call of Duty: Black Ops 3 support page.
Black Ops 3 Release Date: 10 Things Buyers Need to Know
Call of Duty: Black Ops 3 Release Date
The Call of Duty: Black Ops 3 release date is November 6th on disk and on digital. When this date arrives, you can walk into any video game store and buy the basic version of the game without a pre-order.
You will not likely find a Call of Duty: Black Ops 3 Juggernog edition available at this point in time, but the basic game will not be in short supply at stores -- and if there are any issues you can always buy it digitally.
The Black Ops 3 release date comes to all consoles and to the PC at the same time. There are a lot of options to get the game as soon as it goes on sale.