BlackBerry A10: Massive BlackBerry 10 Smartphone Leaks
New photos and video show off the 5-inch screen of the upcoming BlackBerry A10, the company's rumored BlackBerry 10 powerhouse smartphone.
The leaked photo of the BlackBerry A10 comes from BGR, and it shows a new BlackBerry smartphone that takes a few design cues from the HTC One and Samsung Galaxy S4. The top half of the phone looks relatively similar to the Galaxy S4 with a black bezel that extends to the edge of the phone, while the bottom half has a metal strip below the bezel like the HTC One.
The image shows what looked like a test lock screen for BlackBerry 10.
https://youtu.be/gWoDJEUGwbg
A YouTube video of the BlackBerry A10 shows the same device running BlackBerry 10, swiping through apps and launching the Settings app. The phone looks bigger than the BlackBerry Z10 in the hand, which supports the idea that it will have a 5-inch display. The display would make it the largest device yet to run BlackBerry 10.
Unfortunately, while the BlackBerry A10 will likely use a 5-inch display, it will only have a 720p resolution (1280×720). Other phones of its size including the Galaxy S4 and Sony Xperia Z have 1080p displays (1920×1080). Those other phones have a much higher pixel density than the BlackBerry A10 will likely have, making the displays sharper.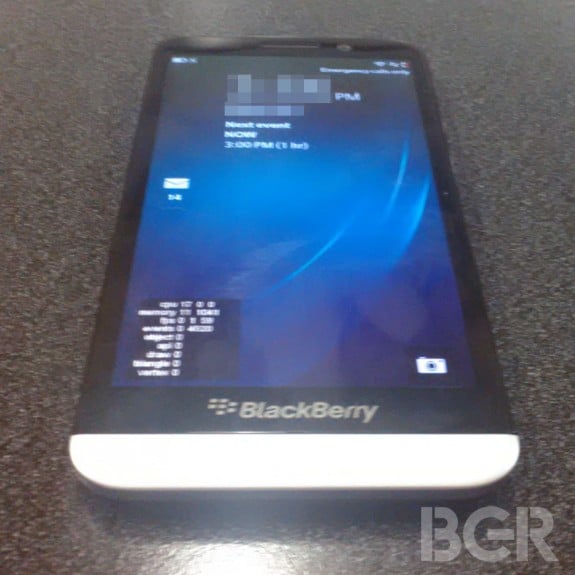 The rumored BlackBerry A10 is also likely to appeal to gamers with a dual-core ARM processor and a separate graphics processor. The only problem is there are very few games available for BlackBerry 10 at the moment. Without graphically intense apps and games, the specs won't matter much.
The BlackBerry A10 will likely come to market sometime later this year. There are no rumors about pricing or carrier support for the phone yet. If it does come out later this year it will compete with the next iPhone and the next generation of Android phones such as the rumored LG Optimus G2.

This article may contain affiliate links. Click here for more details.