BlackBerry Bold 9790, WhiteBerry 9900 Seen in Rogers Ad
Several new BlackBerry smartphones were seen in a leaked advertisement for Canadian carrier Rogers, including the un-announced BlackBerry Bold 9790 along with the white version of the Blackberry Bold 9900 and BlackBerry Curve 9360.
Though RIM has yet to announced the BlackBerry Bold 9790, that smartphone has appeared in a number of leaks. Combining the smaller Bold form factor of the BlackBerry Bold 9700 series along with the touchscreen and BlackBerry 7 OS of the newer, larger BlackBerry Bold 9900 series, the Bold 9790 will be a more compact device with the latest enhancements from RIM's flagship Bold series.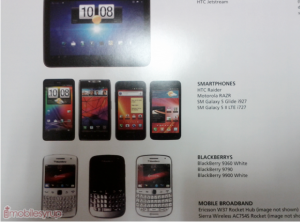 Additionally, the Bold 9900 and Curve 9360 will also be available in a paler shade. Both devices were initially released in black, but following RIM's tradition of offering a complementary white shade, these two new BlackBerry 7 OS devices will be getting a color makeover as well. More colloquially referred to as a 'WhiteBerry,' the white editions will be coming soon, but it's unclear when the timeline for release will be. It's unclear if any of the U.S. carriers which are sporting the new Bold and Curve will also be offering the white models Stateside.
Via: MobileSyrup