BlackBerry Knight: A Collaboration Between RIM and Porsche Design
The BlackBerry Knight has been leaked before, revealing an angular shaped BlackBerry smartphone with specs matching those of Research in Motion's latest flagship Bold 9900 series. In what was previously dubbed by some as 'the ugliest BlackBerry,' we now know that the device is a collaboration between RIM from the technology perspective and Porsche Design's industrial design. The phone will be formally introduced in Dubai on October 27th, according to a press invitation that's been sent out.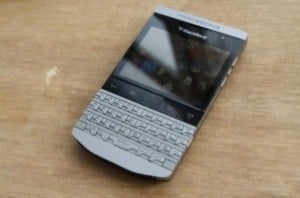 The BlackBerry Knight shows a design with sharp angular design, a modified keyboard, and a more rectangular body than the curved design of RIM's BlackBerry Bold 9900 series. Like its Bold 9900 series counterpart, the Porsche Design designed Knight will feature the same 2.8-inch VGA resolution touchscreen, which is sharp and bright, a single-core 1.2 GHz CPU, 78 MB RAM, 5-megapixel rear camera, and storage card slot that can support a micro SDHC card up to 32 GB capacity. The on-board storage of the Knight has been increased from 4 GB on the Bold 9900 to 8 GB.
The Knight will also run on the new BlackBerry 7 operating system and will come with NFC support.
It's unclear if the change in keyboard to complement the Knight's angular styling would impact the Knight's usability as the Bold's keyboard is among the best keyboard on a mobile design.
Via: PhoneArena

As an Amazon Associate I earn from qualifying purchases.