BlackBerry PlayBook OS 2.0 Rolling Out February 21st?
This isn't the first time that we've seen a BlackBerry PlayBook OS 2.0 release date tossed out into the wild. In fact, this isn't even the first time that we've heard February 21st as a possible release date for the upcoming software. That's right. Evidence has popped up today suggesting that February 21st is indeed the roll out date for BlackBerry's latest and greatest operating system.
As it stands, RIM has not confirmed a release date for BlackBerry PlayBook OS 2.0 only to say that the software is still on track for the promised February roll out.
There was some talk about RIM potentially seeding the update during the upcoming Mobile World Congress but the evidence today suggests a different plan entirely.
(Read: RIM: BlackBerry PlayBook OS 2.0 Coming in February.)
Instead, this little spy shot of a document courtesy of Engadget points to a February 21st release with 4:01am being the time at which RIM will unleash the update to the PlayBook masses.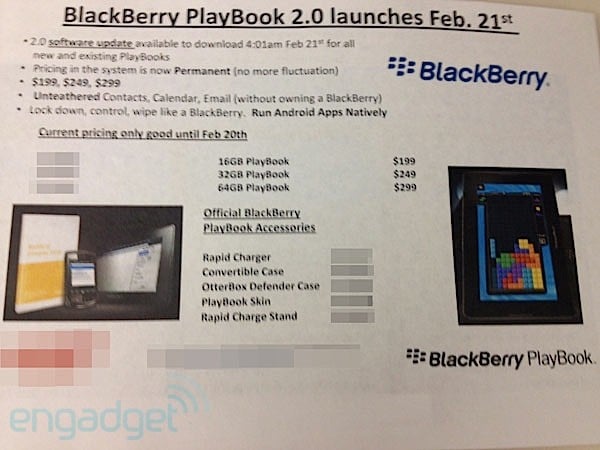 It's unclear if that time is PST, EST, or something else entirely.
This is an update that PlayBook owners have been looking forward to for a number of months. Strike that. It's an update that PlayBook owners have been anxiously waiting for since the release of RIM's PlayBook back in April of 2011.
Why is that exactly?
Simple.
It's because the update is going to bring a ton of applications along with it, applications that should have been on board the software when the device first launched.
(Read: Lack of Vision To Blame For BlackBerry PlayBook's Email Issues.)
BlackBerry OS 2.0 will be bringing essential features like integrated email, calendar, and contacts apps along with the ability to download and run Android apps found on BlackBerry App World.
While the Android bit is nice, it's those other apps that PlayBook owners are after and luckily, it should only be a couple of days before the waiting game ends.
Oh, and for those of you in IT, it appears that BlackBerry Fusion – a way to manage all of your BlackBerry devices using just one interface will launching on the 21st as well so be on the look out.

As an Amazon Associate I earn from qualifying purchases.