BlackBerry Priv Release: What You Need to Know
Late last month the once popular Canadian smartphone manufacturer BlackBerry finally confirmed its plans to release an Android smartphone. It's called the BlackBerry Priv, which stands for Privacy, and here we'll be going over a few things all potential buyers need to know.
With 2015 coming to a close we've seen smartphones from all major manufacturers. There are plenty of excellent options from Samsung, LG, Motorola, Google, Apple and more, but now one more is coming. No one expected a top-tier premium flagship smartphone from BlackBerry, but that's exactly what's coming starting November 6th on AT&T.
For months leaked photos suggested a powerhouse flagship smartphone with a slide-out keyboard was coming that would run Android, and be made by BlackBerry. At first no one believed the rumors, but as more evidence piled up it became clear. Then on October 29th BlackBerry released an official video, and we have it and more details after the break.
The video above is BlackBerry's official video teasing the new Android-powered PRIV. This smartphone has a lot to offer, and is aiming at multiple manufacturers at once. The PRIV has dual curves on both sides of the screen, similar to the Samsung Galaxy S6 Edge+, it's a big 5.4-inch screen, and is also has what appears to be an excellent camera, a huge battery, tons of security, and much much more. It's as well rounded as it gets, and the first real "change" in terms of an Android smartphone.
For years people have considered BlackBerry dead, but this could be exactly what they need to get back into the fold. These days all manufacturers are simply making bigger and bigger Android phones, adding more pixels, crazy curved screens, but that's about it. BlackBerry is offering something completely different, unique, and it could actually be somewhat impressive.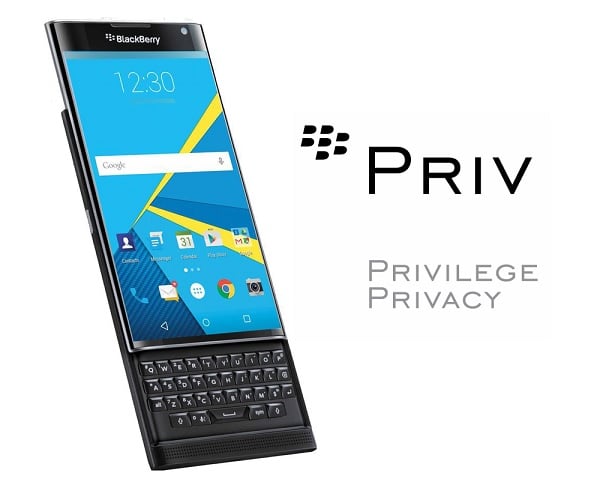 Below are a few details regarding the BlackBerry Priv including the release date, specs, price, features and more for those considering a more privacy-oriented Android device.
Release Date
While BlackBerry already opened up pre-orders in the US, Canada, and the UK, we didn't have any details regarding when it would come to the United States, or who would offer it first. Today though, AT&T confirmed the BlackBerry running Android would officially hit shelves on November 6th, and start at $249 along with multiple different payment options. Here's another video released by AT&T themselves.
AT&T will be offering the phone for $249 with a new 2-year contract, as well as an array of payment options for those who'd like a different approach.
Buyers can also get the Priv for $24.67 a month for 30 months, $30.84 a month for 24 months or $37 a month for 20 months with AT&T Next. We've yet to hear from other US carriers, but know others will offer it. For now it looks like AT&T will have a short exclusive before T-Mobile and more release the BlackBerry Priv.
Specs
In case buyers didn't watch the entire video above by BlackBerry or AT&T, the Priv is actually a rather impressive well-rounded flagship Android smartphone. So powerful in fact, it could give the Galaxy Note 5, iPhone 6s, Moto X and more all a run for their money. That is, if customers dare trust BlackBerry and want a physical keyboard. Here's all the info for potential buyers.
BlackBerry Priv Specs
5.4-inch 2560 x 1440 Quad-HD Curved Display (Both sides are curved)
6-core Snapdragon 808 processor with 3GB of RAM
32GB of storage with a micro-SD slot for storage expansion
18 Megapixel Rear camera with LED flash, 4k video, more, 2MP front camera
3,410 mAh battery with Quick & Wireless Charging
Android 5.1.1 Lollipop (could see Android 6.0 Marshmallow)
Slide-up design to reveal a physical QWERTY keyboard
Front-facing speaker
more
The Priv has a curved screen similar to the recent Samsung Galaxy S6 Edge, one that's a P-OLED display. It features both wireless charging standards, similar to the new Galaxy Note 5, has a huge battery bigger than almost every other flagship Android device (aside from the Nexus 6P) and what looks to be a pretty decent camera.
It's an all around impressive looking and sounding phone. Of course it will have BBM pre-installed and plenty other BlackBerry services, not to mention their world-class protection for business users that need privacy.
Other Carriers
The unlocked model being offered by BlackBerry works with both AT&T and T-Mobile, but so far AT&T is the only carrier to make a formal announcement. There doesn't appear to be a model that will work with Verizon, Sprint, or US Cellular yet, but we're expecting Verizon to offer it as well, but when is anyone's guess.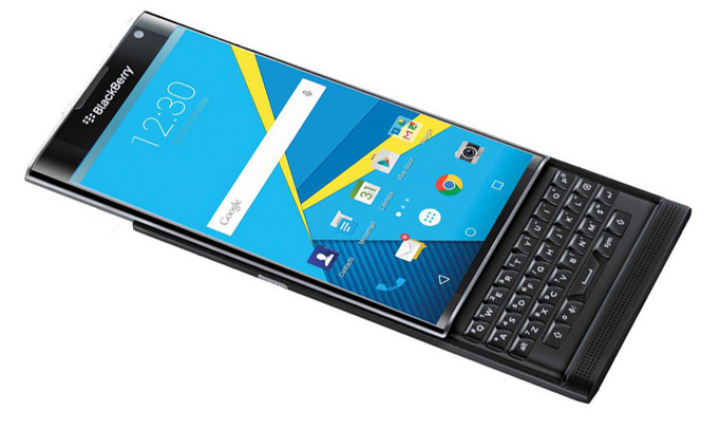 Most likely other carriers will offer the Priv, but for now AT&T is the only one on board, and we'll update as soon as we learn more.
BlackBerry Priv Price
The BlackBerry Priv is an impressive smartphone with a lot to offer. It's specs match or exceed the Galaxy S6 (except the processor) or the LG G4, it has a big curved display, a beautiful design, and a slide-out keyboard. BlackBerry managed to pack a lot into this smartphone, and along with it is a pretty steep price point.
While AT&T is asking $249 with a new 2-year contract, BlackBerry is accepting pre-orders as we speak for $699, or $899 for Canadians. That's a pretty expensive smartphone, but also similar to what we saw from the Galaxy S6 or Galaxy Note 5 when they first launched, which are honestly two phones that can be compared to the new BlackBerry running Android.
It looks like $699 will be the initial price for the phone, but over the first few months if sales aren't as good as the company expects, we could see a lower asking price from other carriers. That is, if other make announcements to carry this unique smartphone. It's worth noting the AT&T monthly payments puts it $40 more than the unlocked $699 price, but will be easier on users wallets vs one outright price.
All those original DROID or even DROID 3 slider fans should be excited about the Priv, especially if Verizon ends up releasing this phone as well. We're hearing it will come to other carriers eventually, the question is when. Stay tuned for more details. Are you willing to give BlackBerry a try? Let us know in the comment section below.