Blackberry Users Have the Most 'Klout' So Why Can't They Influence Their Friends?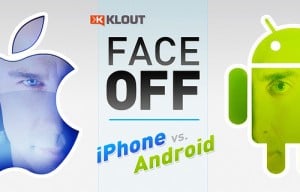 In a new survey by Klout–which is an online service that measures your influence and dominance in your social networks such as Facebook, Twitter, MySpace, and LinkedIn–BlackBerry users seem to have the most clout, or influence, compared with owners of other operating systems. The Klout blog shows that Blackberry owners have more clout than iPhone owners, which have more clout than Android owners.
Interestingly, despite social features like BlackBerry Messenger (BBM), which has been a beloved functionality for BlackBerry aficionados, it seems that BlackBerry owners still don't have enough clout to get their friends to either stick with the platform, or woo friends from other platforms to switch to a BlackBerry.
Given that RIM has been in the mind share of consumers, celebrities, and pop culture in the past, it's unsurprising that there is some 'klout' behind the brand. BlackBerry devices have been a mainstay in the enterprise sector, is a trusted ally behind government workers and agencies, and have gained prominence in the more elite celebrity circles as highlighted by celebrity BlackBerry blog Celebrity BlackBerry Sightings. RIM, which had thrown launch parties in the past, were keen to have a very VIP list with a number of high profile celebrities in attendance to support the brand, hoping that this would translate into consumer sales.
Perhaps, this is one reason for why BlackBerry owners may have more clout as Klout tracks influencers. Given that there are enough celebrities out there using BlackBerry devices, as well as those from news, entertainment, and politics, those public figures already have a high Klout score. Now, what RIM really needs to figure out is how to leverage high scoring Klout users' clout to promote BlackBerry.
Via: The Droid Guy