BlackBerry Will Bring BBM To iPhone and Android This Summer
Today at BlackBerry Live BlackBerry announced that BlackBerry Messenger (BBM) will come to iPhone and Android as a free app sometime this summer.
In its press release BlackBerry notes that, pending approval from Apple and Google, the BBM chat service will arrive in the App Store and Google Play Store this summer. The initial release will bring text chat, photos and voice memos to iOS and Android users. The app will also include BBM Groups, which lets users create chat groups of up to 30 people.
Eventually the free BBM app for iPhone and Android will support more features including voice chat, video chat, screen sharing and the new BBM Channels which lets users connect to brands and businesses. For now, however, those features will remain exclusive to BlackBerry devices.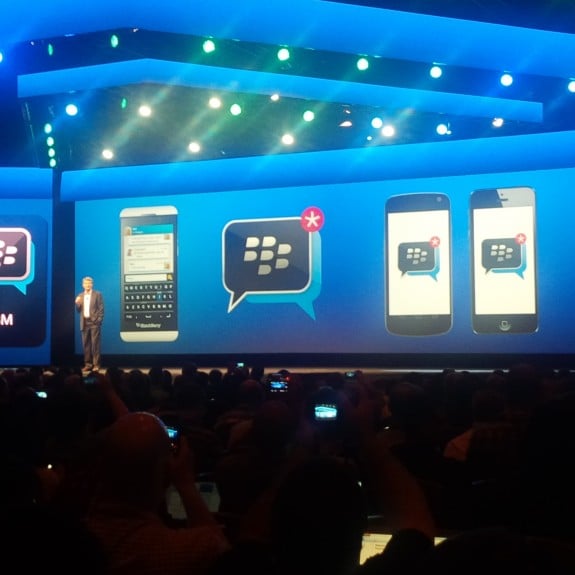 BBM offers free, secure messaging like iMessage on iOS. Unlike iMessage, however, users have to approve every user that can send them a message through BBM, which adds more privacy to the service. Users can add friends to BBM through their unique PIN, email, SMS or QR codes. The Android version of the app will also let users add contacts through NFC.
For a long time BBM was one of the best ways to communicate on smartphones, but it was always exclusive to BlackBerry devices. Now the service is coming to the two most popular mobile platforms, but has to compete with other services like WhatsApp and Facebook.
WhatsApp alone handles over 20 billion messages each day. BlackBerry may find it difficult to take attention away from the popular service, though it does claim to have more than 10 billion messages a day. Better privacy might not mean much to users who just want to send virtual stickers back and forth for free. But perhaps it can trade on the nostalgia of the BBM brand to attract those who just want a reliable chat app.

As an Amazon Associate I earn from qualifying purchases.