Blue Samsung Galaxy S5 Emerges for Verizon Wireless
Back in February Samsung finally announced the all new Galaxy S5 flagship smartphone after months of rumors and anticipation. While showing off its latest smartphone Samsung was quick to tease four color options. However, only two were available at launch.
The Galaxy S5 was announced with four color options having the device be available in Black, White, Gold, and an impressive Electric Blue option that was instantly popular amongst buyers. Sadly that blue model has been missing in action since February, but is finally about to arrive.
Read: 5 Best Wallet Cases for the Samsung Galaxy S5
Recently we've been hearing more and more regarding additional Galaxy S5 variants and colors, and even the gold model was finally released earlier this month from various carriers in the United States. However, for those wanting that gorgeous Blue Galaxy S5, it is headed to Verizon Wireless soon.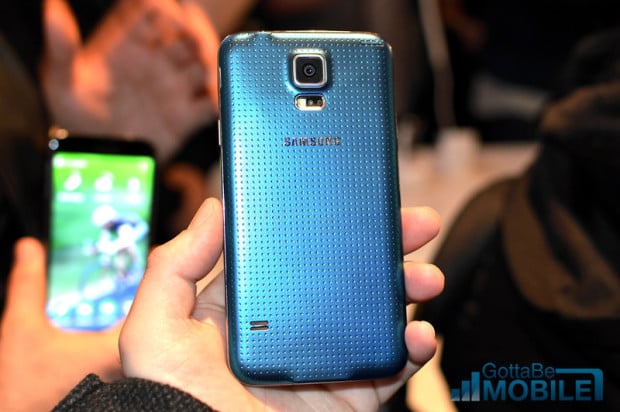 Verizon started offering the Gold Samsung Galaxy S5 earlier this month, which had the carrier offering the impressive and popular smartphone in three main colors, but blue was still missing. However this week the device leaked more than a few times, including by @evleaks who confirms Verizon will carry it shortly.
The device shown above was the main model teased on stage by Samsung back in February, but has been missing since. There's multiple different removable backs available on eBay trying to deliver the same blue color, but the device is officially headed to Verizon, with 4G LTE's and all in tow, just as you see below.
As expected, the Electric Blue Samsung Galaxy S5 for Verizon Wireless will be exactly like the model currently available today in Black and White. That being a 5.1-inch flagship smartphone with a vivid and clear 1080p HD display, and running the absolute latest Android 4.4.2 KitKat.
The Galaxy S5 sports a 2.5 Ghz Quad-core Snapdragon 801 processor with 2GB of RAM, and comes with 16GB of internal storage. There were also talks of a 32 and 64GB variant in February, but those too are missing here in the United States. Other specs include a micro-SD slot, a removable and user-replaceable 2,800 mAh battery, and a pretty impressive 16 megapixel camera on the rear.
Read: How to Take a Screenshot with the Galaxy S5
All the fingerprint scanner features under the home button and health and fitness heart rate monitors are included. This is the same Samsung Galaxy S5 that's been available since early April around the globe, only it's finally going to be available in the neat Blue color option first shown.
So far we're hearing a few reports that the Electric Blue Galaxy S5 could end up being an exclusive in the United States on Verizon Wireless only, but last year the Galaxy S4 arrived in a blue option at Best Buy stores available for multiple networks.
While we know the color doesn't make a smartphone a must buy, and many will just cover it up with a case, the blue Galaxy S5 sure did turn a lot of heads and has users excited. That or you can spring for the upcoming Titanium-colored LG G3 which is rumored to rival the Galaxy S5 later this month.
We also keep hearing more and more reports of a Samsung Galaxy S5 Prime coming later this year with a bigger Quad HD 2560 x 1440 HD display, and a new aluminum unibody design, so stay tuned for more details. The blue model may have a few potential customers pulling the trigger, but if there's an improved model in the works for later this summer you may want to wait a few weeks and hope additional details arrive.