Bluetooth Listing Confirms New Samsung Galaxy Tab 3 Plus With 4G LTE
Though Samsung was rumored to be announcing its third-generation Galaxy Tab tablets at Mobile World Congress late last month, the company skipped the Galaxy Tab 3 announcement in favor of focusing on the new Galaxy Note 8.0. However, it looks like Samsung is still working on the Galaxy Tab 3, and a new listing at the Bluetooth Special Interest Group (Bluetooth SIG) confirms that the South Korean Galaxy-maker is in fact developing a model with 4G LTE mobile broadband integration.
As posted on Unwired View, the listing is for the Galaxy Tab 3 Plus model with LTE. A non-LTE version of the Galaxy Tab 3 Plus with WiFi was seen early last month getting approval from the Bluetooth SIG. It's believed that Samsung would offer a lower cost Galaxy Tab 3 10.1 model along with a Galaxy Tab 3 Plus model that offers the same 10.1-inch display real estate with a higher resolution display.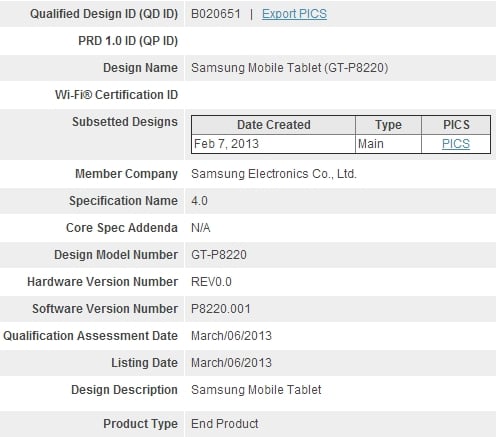 In fact, the Plus model would have the same 2560 X 1600-pixel display that's found on the Google-branded Nexus 10 if rumors are to be believed.
The WiFi-only model has the model number of GT-P8200 while the one with 4G LTE integration bears the model number of GT-P8220.
According to the Bluetooth SIG, the model that's being approved currently is designed for Europe. It's unclear if that model will also support 4G LTE bands used in the U.S. or if Samsung will design a separate U.S.-specific model of the Galaxy Tab 3 Plus.
It's unclear when Samsung would announce its new Galaxy Tab line. The company is slated to be announcing its next-generation Galaxy S4 flagship smartphone this month, so it could also introduce the new tablets at that venue or announce it at the CTIA show in May or choose a separate venue all together.
Samsung is also rumored to be abandoning the 7-inch form factor of the Galaxy Tab as it may not want to compete on price. It's still not certain if this will be the case at this point.

This article may contain affiliate links. Click here for more details.