BMW Integrates Further with iPhones, More Apps Available
Apple and BMW have a long-standing relationship, with BMW being one of the first vehicles to offer iPod integration through its iPod Your BMW system. At the New York International Auto Show, BMW has now announced that the iPhone-connected BMW will be able to use a slew of new apps, including apps from TuneIn, Rhapsody, Audible and Glympse.
Glympse integration will allow the driver to be able to utilize practical Glympse controls through the iDrive interface. A driver can keep his contacts up to date on his location on his way to a meeting, or post that information to social media sites like Facebook and Twitter. The true beauty of Glympse integration is not the posting of a location on Facebook, but the ability to tell a friend or colleague that you are on your way and letting them see where you are (useful if you are running late).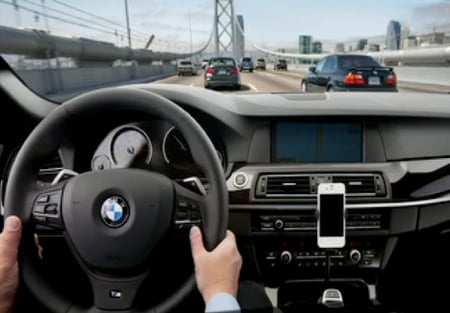 Audible integration is a natural application for in the vehicle. For those who have long commutes, music can get boring. Audible allows the driver to listen to thousands of audio books and spoken-word content. With the new Audible app the system can even use whispersync to remember your furthest read point in a digital Kindle version of a book and match that to the Audible audio book version. With this vehicle integration a person could be reading a book on his or her Kindle on the sofa at home, climb into the BMW to go somewhere and be able to listen to the audio version right where he or she left off in the Kindle version.
Rhapsody is an online music subscription service, and is a obvious addition to a vehicle's infotainment system. Spotify and Pandora clients are probably in the pipeline, especially since Spotify recently announced Ford and Volvo integration.
Finally, TuneIn is one of the most interesting integrated apps. Allowing access to radio stations over the Internet adds a lot more flexibility in the infotainment experience, but unlike I Heart Radio (a Clear Channel brand), local and independent radio stations like Seneca County Radio can compete on the same playing field as the major stations.
If you head to the New York International Auto Show (running until April 7th), be sure to check out the live demos in the BMW booth. Otherwise, expect the integration very soon.