Boom Beach Dr. T Event: 5 Exciting Details
The Boom Beach Dr. T event is coming on January 15th, but it looks like this will not be in the form of a Boom Beach update.
When the massive ad campaign kicked off for the Boom Beach Dr. Terror event, we assumed that it meant a January Boom Beach update was coming to deliver the major changes, but new information suggests that is not the case.
Even as Supercell relies on massive updates to Clash of Clans to deliver changes, a new interview outlines what is happening and why this will not be part of a Boom Beach Update.
We are already seeing a number of Boom Beach TV ads teasing the update, in-game notifications and hints at what is to come. Many users are also seeing a mysterious dark spot on the map with ??? on it when you tap, leaving many users wondering what is coming in just over a week.
Right after Christmas Supercell started to tease the January Boom Beach update on the website and in the app, and since then we've seen a ton of Boom Beach TV ads telling users that something big is coming very soon.
This is what you need to know about the Boom Beach Dr. T event for iPhone and Android.
Read: Boom Beach Tips & Tricks
While Boom Beach is not as popular as Clash of Clans, it is one of the top grossing iPhone games and very popular on Android as well. Supercell makes both of these games and recently added a new Clash Royale game to the mix.
There are still a lot of details that we need to unearth about the new Boom Beach update, but we do know that it is a massive update that could very well change the way you play the game.
The last major Boom Beach update was in October 2015 with new achievements, updates to the Hammerman Strikes Back event, changes to Victory Points and other tweaks including new prototype weapons and prototype defenses.
We continue to see new sneak peaks at what is coming with Dr. T ads and animations on YouTube, but over the next 10 days we will likely see more — including a look at some of the secrets to this update.
For the last update the Boom Beach developers took to Reddit to discuss what was coming about a week before the announcement. That account has not posted on Reddit in two months, and there is a lot of secrecy around the Boom Beach Dr. T event.
This is what you can expect from the Dr. T Boom Beach event based on sneak peeks, leaks, rumors and speculation.
Dr. T Boom Beach Release Date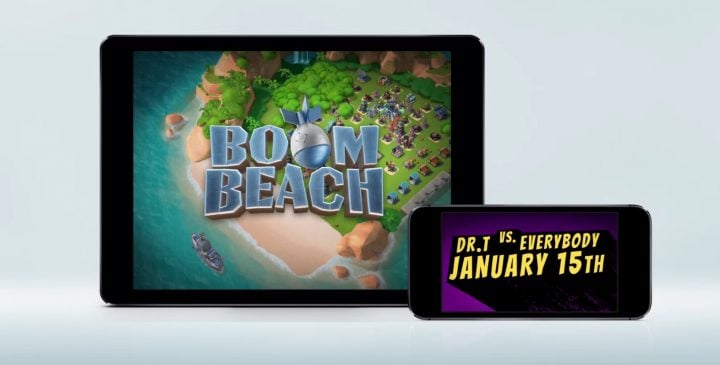 There is no January Boom Beach update required to unlock the special Dr. T event. In an interview with AdAge, the company coordinating the massive ad burst for the Boom Beach Dr. T event, outlines why this is the case.
Barton F. Graf 9000 is the company responsible for this massive ad blitz on TV and in real life with ad campaigns that took over more of CES in Las Vegas than some tech companies.
Barton Creative Director Matty Smith tells AdAge, "For me what's most exciting about this campaign is that we actually integrated the idea with their gameplay for 'Boom Beach' so that the campaign ends in-game."
iDigitalTimes postulates that because of the way the Apple Store approval process works the Dr. T event on Janaury 15th will launch with items already in the latest Boom Beach Update.
In the Dr. T intro commercial we get a teaser about the new update and at the end we see that Dr. T vs everybody arrives on January 15th.

As an Amazon Associate I earn from qualifying purchases.