Brydge+ Review: iPad Ultrathin Aluminum Keyboard Cover
Finding the perfect keyboard for iPad took an interesting turn when we discovered Brydge+, an anodized aluminum Bluetooth keyboard that competes with Logitech's Ultrathin Keyboard Cover while using far better quality material.
The Brydge+ keyboard ($199 with speaker) gives iPad users a MacBook look, but with a slightly smaller size. The keyboard cover dimensions mirror that of the larger iPad.
Insert the iPad into two hinges spaced wide enough to not cover any of the screen. Rubber shims protect the iPad from the aluminum used to make the keyboard. These hinges grab hold of the iPad with enough tension to keep it in place. The Brydge comes with three pairs of shims to fit the last three generations of iPad. The hinges rotate nearly 90 degrees to allow any angle a person might need.
Pair the keyboard using Bluetooth. The included speaker makes a separate Bluetooth connection, so users can choose to keep it off to save battery life in the keyboard and keep one of the two Bluetooth channels of the iPad open for other Bluetooth accessories.
With one exception, the keyboard feels good while typing because textured keys have decent travel. At first we had to press harder than we like, but adjusted quickly. The textured aluminum around the keys offer a nice tactile experience. A iPad-sized keyboards will always feel cramped compared to full-sized keyboards, but we adjusted.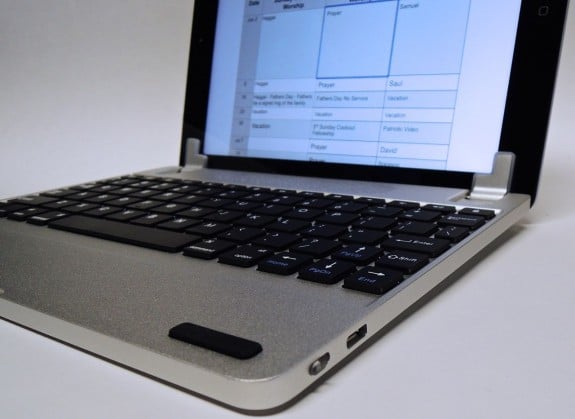 While the keyboard feels great while typing, the right shift key sits to the right of the up arrow key. We kept hitting the arrow key instead of the shift key. It's incredibly annoying. The video on their home page shows a different design with the shift key in the normal place.
Hunt and peck won't notice the problem as much as fast touch typists.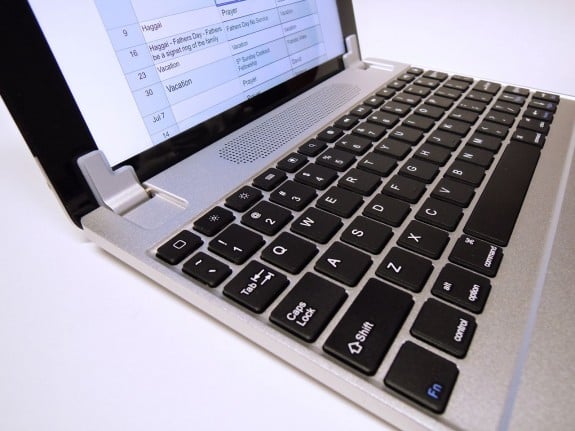 The keyboard comes with a speaker above the function keys that sounded tinny, with little bass. They're louder than the iPad's built-in speakers, but the iPad's speakers sound clearer. Buyers should get the version without the speaker and save $30.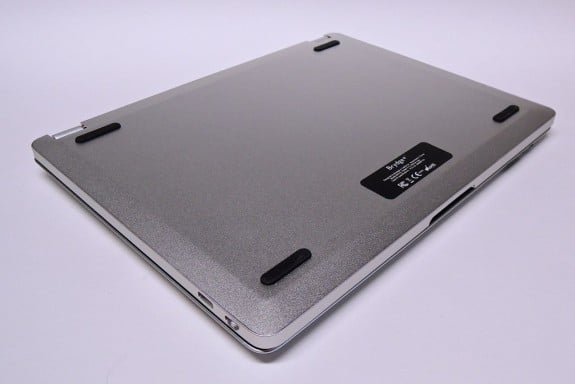 The maker sells a $20 neoprene sleeve to carry around the iPad plus the Brydge+. Tight fitting sleeve cases might not handle the double width with the Brydge+ installed on iPad, so buyers may want to give the company's sleeve a look.
Should iPad typists get the Brydge+? Avoid the $200 model with the speakers. If the right shift key placement frustrates a user's typing style, they should avoid the Brydge+ altogether. The $170 reflects the excellent quality of the materials, but price conscious buyers should consider the Logitech Ultrathin Keyboard Cover even though it's not made with the same high-quality material as the Brydge+.