Burner Brings Disposable Numbers To Android
Burner, the app that gives users disposable phone numbers for the smartphones, arrives on Android today alongside a new version of the iPhone app.
The new Android app lets users place and receive phone calls from temporary phone numbers that they can "burn" at any time. Sometimes you just don't want to give out your real phone number, with this app you can get a burner number that you can easily ditch if needed.
One useful example of when to use Burner is when selling things on Craigslist. Nobody wants to put their real phone number online, so one can just use a Burner that's only used for selling particular items on the service.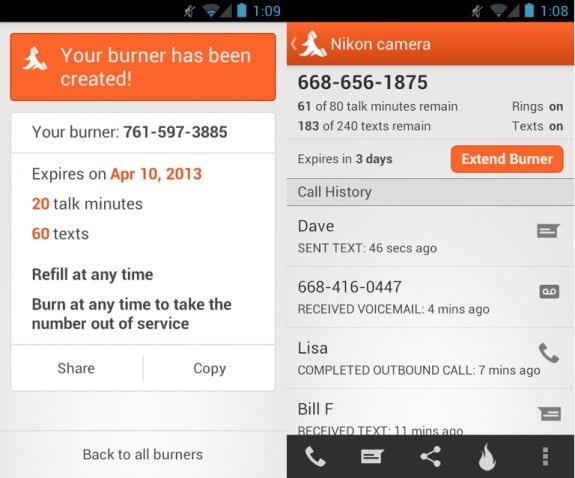 The Burner app is also useful for dating sites, when the user might not want to share their real phone number until they get to know the other person better.
While the original Burner app made users pay upfront, the Android app and new iPhone app are free to download. Each app comes with a free sample Burner number. Each number comes with a limited number of minutes, but users can buy extensions via in-app purchases. Users can also buy new numbers from within the app.
There's also a chance for users to get free credit added to their Burner account with the new app by referring friends. Each time a user gets a friend to sign up for the service, they get credit they can use towards extensions, or new Burners.
The new apps also have a few added features. With the new iOS and Android apps users can record customized voicemail messages for their numbers, which they couldn't do before. The new app also lets users star, rename and hide conversations, giving them more control over the call history within the app.
The new Burner also has improved notifications for in-bound calls, voicemails and missed calls.

As an Amazon Associate I earn from qualifying purchases.