Buy the Galaxy S5 or Wait for the Galaxy S6?
As Samsung Galaxy S6 rumors come to a head, we continue to get hounded with questions from friends, family and readers. While we've received a ton of questions, one of the more prominent ones is: "Should I buy the Galaxy S5 or wait for the Galaxy S6?" Here, we attempt to answer that question for as many people as possible.
Throughout the year, we get peppered with questions about devices to buy. It's an extremely difficult question to answer because everyone's situation is a little bit different. Some people hate Apple and iOS. Some people have more money to spend than others. Some people are stuck on AT&T and limited to its smartphone lineup. Some people really value design. The list goes on.
We try to intelligently answer as many of these questions as possible but there comes a point in time where we feel the need to speak up and answer the question for the masses. Today is that day for those looking to buy the Galaxy S5 or wait for the Samsung Galaxy S6, the rumored successor to last year's Galaxy S5 flagship.
Samsung Galaxy S6 rumors continue to leak and we continue to get questions about it in the build up to launch. This isn't surprising given that the Samsung Galaxy S series is always one of the biggest smartphone launches of the year. It also helps that Galaxy S6 rumors paint it out to be an extremely powerful challenger to devices like the iPhone 6, iPhone 6 Plus, LG G3, and yes, the Samsung Galaxy S5.
In the past three weeks alone, we've been asked to draw comparisons between the Galaxy S5 and the Galaxy S6. People want to know if the device is worth waiting for. We aren't armed with inside information but this is a process that we've been through many times before so we do have a pretty strong opinion on the subject.
"Should I Buy the Galaxy S5 or Wait for the Galaxy S6?"
Today, we're going to take the bait and try and answer the "Buy the Galaxy S5 or wait for the Galaxy S6" question for as many people as we possibly can. Remember, this is just one opinion and we encourage you to seek out the opinion of other experts as we push towards the Samsung Galaxy S6 release date later this year.
Galaxy S5 & Software
Before we get to our final advice, we want to rundown a few things you prospective Galaxy S5 and Galaxy S6 buyers need to know about. The first thing we want to call to your attention is software support.
Samsung typically keeps devices updated for 18-24 months before kicking them to the curb. It's an unwritten rule at Samsung but Google itself recommends 18 months. The Galaxy S5 is nearly a year into its lifespan and its currently receiving its first major Android update, Android 5.0 Lollipop. It won't be the device's last but with a year and a major update gone, there's only one way to go from here.
The Samsung Galaxy S6 will almost certainly come with Android 5.0 Lollipop on board and enjoy longer software support from Samsung and Google. It's also important to note that it should also come with a full set of TouchWiz improvements. The Galaxy S5 will probably get at least a few of those this year or next but it will probably never get the full set.
Having the latest software, and lengthy software support, isn't going to be important to all of you but it will be to many. Especially those that intend on keeping their device around for a long time. This is one reason you might want to think about waiting for the Galaxy S6. Weighing software and software support will be vital to the success of your purchase.
Cheaper Galaxy S5
The second vital piece of information we want to arm you with is the fact that the Galaxy S5 will be cheaper than the Galaxy S6. We don't know how much the Galaxy S6 will cost just yet but the Galaxy S5 is still $199 at most carriers and around $100 on-contract and lower through retailers like Amazon. And its price tag will almost certainly go down once the flagship Galaxy S6 arrives on shelves. That's another reason to wait for the Galaxy S6.
Galaxy S5 is Good But…
The Samsung Galaxy S5 is a solid Android smartphone and one of the most marketed phones on the planet. The Galaxy S series is trusted and the Galaxy S5 is certainly a device that we recommend taking a look at. Read our review for more.
Still, with nearly a year under its belt and a ton of top notch Android smartphones on the market, it has lost some of its luster. The LG G3 and Moto X are, in our opinion, better all-around smartphones. The Galaxy Note 4, Samsung's brand new flagship, is also, in our opinion, better than the Samsung Galaxy S5 at this point. Google also recently released the Nexus 6.
And then you have competitors like the HTC One M8 that are just as good and just as cheap. You also can't discount top Windows Phones or the iPhone 6, iPhone 6 Plus or the extremely cheap iPhone 5s.
The point is that the Galaxy S5, cheap price tag and all, isn't a no-brainer. It may not even be the best smartphone that Samsung has in its lineup. And with the Galaxy S6 rumored to be taking a big step up, there is some incentive to hold off and wait for the Next Big Thing.
Samsung Galaxy S6 specs will supposedly blow the Galaxy S5's out of the water. Here is what you can expect, right now, from the Galaxy S6 spec sheet when it arrives:
Better display
Improved design
Improved front-facing and rear-facing cameras
Tons of storage
Similar carriers
Galaxy S6 launch date rumors put it in early March so you may have only a few more weeks to wait to see these improvements in the flesh. So unless your phone is about to break, it's probably worth waiting around to see what the Galaxy S6 is all about. Even if you don't like what you see, you have a ton of options to fall back on including devices that we think are better than the Galaxy S5.
Other Launches
If that's not enough convincing, consider the fact that HTC is scheduled to launch its HTC One M8 successor in early March, right around the time Samsung's expected to debut the Samsung Galaxy S6.
By waiting a few weeks, you will probably gain access to two of the best smartphones of the entire year. That, to us, is a ton of incentive, enough to consider waiting.
Bottom Line
The bottom line is that this decision ultimately rests in your hands. However, in our opinion, it's probably time to start waiting for whatever Samsung is cooking up behind the scenes.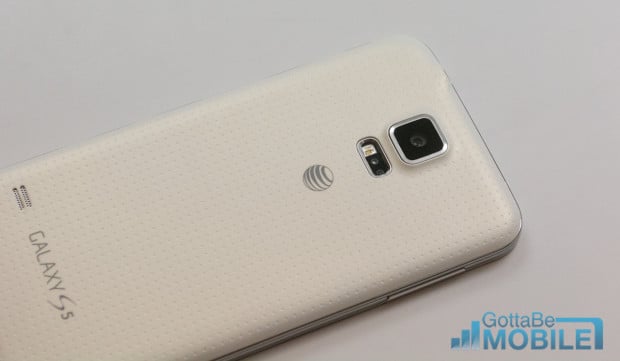 We don't always recommend waiting but right now, we're right in the midst of the Galaxy S6 rumor cycle and it looks like a launch is just over the horizon. That's not a typical thing. So if you aren't in any hurry to buy, we suggest waiting it out, if only to take advantage of the Galaxy S5 price drops that will accompany the Galaxy S6's arrival.
You may not love the Galaxy S6. You may not even like it. But that won't matter when you're able to buy the Galaxy S5, or another top Android flagship, for a fraction of the cost.

This article may contain affiliate links. Click here for more details.