Call of Duty Endowment: New Black Ops 3 DLC Helps Vets
The gaming community has a love-hate relationship with DLC and in-game purchases, but there is one set of Call of Duty DLC that does an amazing amount of good.
You might not be excited about how Supply Drops work, but after learning more about the Call of Duty Endowment (C.O.D.E.) you'll see that this is must have Black Ops 3 DLC.
The new C.O.D.E. Valor Calling Card Set picks up where the Personalization pack left off, raising money to help veterans find good jobs. The new Black Ops 3 animated calling cards are available exclusively through an in-game purchase of $3.99.
Inside the new C.O.D.E. Valor Calling Card Set you will find three animated calling cards; Air, Land and Sea to represent the branches of the military.
After spending an afternoon talking to the Call of Duty Endowment's Executive Director Dan Goldenberg, it's clear that this money is helping organizations across America do great work that directly impacts veterans. 
Last year it cost the Endowment $596 to place a veteran in a job with an average salary of $5o,000. For comparison the federal government spends about $3,000 to place a veteran in a job.
Goldenberg told us that there is a, "disproportionate number of unemployed veterans and definitely underemployed veterans." That is the reason behind a new White House Initiative designed to show companies that hiring veterans is not something you do just to be patriotic, but a smart business decision.
Here's what you need to know about how your Black Ops 3 DLC purchase of the C.O.D.E. Valor Calling Card Set helps veterans find jobs and improve their lives.
C.O.D.E Black Ops 3 DLC Impact on Vets
All that money, minus credit card fees, goes to helping veterans find jobs. Activision covers the operating costs of the Call of Duty Endowment, so any money you spend on this pack has a direct impact on helping veterans find good jobs.
Through the Personalization pack and other in-game purchases, gamers helped raise over $1 million to help veterans find jobs. The money raised through in-game purchases in Call of Duty helps the Endowment place 1,800 veterans into jobs with an average salary of $50,000. At last count grants made by the endowment helped place over 22,000 veterans in new jobs.
Like many veterans Daryl Eli thought that his experience in the military would lead to multiple job offers, but that didn't happen. With the help of Veteran's Incorporated, Eli was able to get a job as a Peer Leadership Coordinator with Job Corps.
How the Call of Duty Endowment Helps Vets Find Jobs
When you buy C.O.D.E Valor calling cards or the C.O.D.E personalization pack, that money goes to the Endowment, who then finds the right organizations to fund through partnerships.
Instead of directly using that on starting a new organization that helps veterans find jobs, the Endowment partners with the best equipped organizations it can find. Goldenberg explains, "We have a model for finding and funding the most efficient and effective non profits that put vets in jobs."
Veterans who come to the endowment to help are then directed to one of the partner organizations that specializes in helping a veteran in that position. 40 veterans a week on average contact C.O.D.E. directly, and many more work directly with the organizations the receive funding.
There are at least 42,000 non profits with a mission to help veterans, but not every organization can deliver real results. This is a challenge that the Endowment ran into when starting in 2009.
This kicked off search to find high-impact organizations and then, "help those high-performing organizations get bigger and have more of an impact," according to Goldberg, who used the analogy of finding the needle in the haystack and then turning that needle into a spear.
Organizations can submit an application to be a part of this process, and the Call of Duty Endowment researches the applicants and then partners with Deloitte, who goes on site for 2-5 days to make sure the organizations deliver the impact they promise and spend money wisely.
One of the organizations that the Endowment partnered with, Hire Heroes USA, had a staff of three and an average cost to place a veteran of $2,500. Now they have 92 employees and the average cost is about $600. The benefits of scale allow the organization to serve more veterans more efficiently and have a bigger impact. That's what the Endowment does with many partners.
If you want to connect it back to the Call of Duty game, the Endowment's role is similar to a perk or a weapon attachment that connects to something that is already performing well — and turns it into a force to be reckoned with.
How You Can Help
There are several ways you can help veterans through the Call of Duty Endowment. You can buy the C.O.D.E. personalization packs in Black Ops 3 and in future Call of Duty games. Microsoft and Sony help the endowment with support for these and all the funds after credit card processing fees go directly to helping veterans.
You can also watch and donate during events like the Race to Prestige. Last year the event took place in Treyarch studios and raised more than $228,000 in donations and sponsorships.
Another option is donating directly to the Call of Duty Endowment through an online gift.
Call of Duty: Infinite Warfare Release Date Details & Videos
Call of Duty: Infinite Warfare Release Date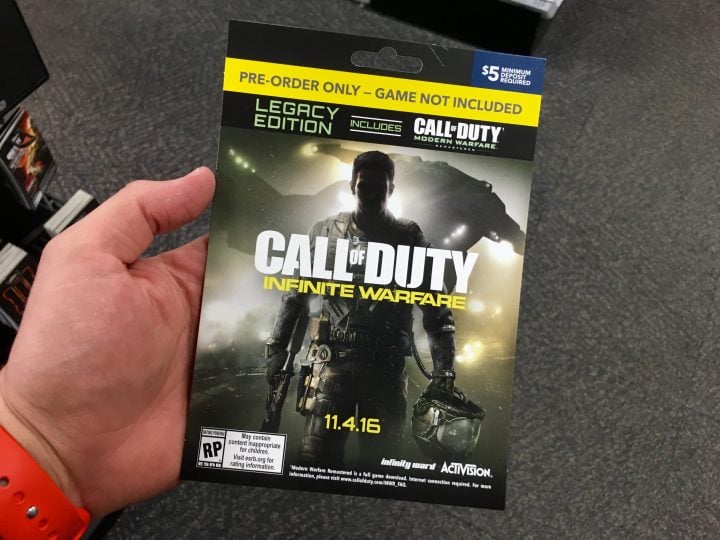 The official Call of Duty: Infinite Warfare release date is November 4th. This is a Friday, but the game actually comes out on Thursday in many places, timed to a midnight Eastern release.
You can pre-order Call of Duty: Infinite Warfare at Amazon, GameStop, Best Buy, Target and other retailers for release date pickup in store and still for release date delivery.
There is no early Call of Duty: Infinite Warfare release date, like we saw with Battelfield 1 and with many EA games.
If you already have early Call of Duty: Modern Warfare Remastered access on PS4 you can play online sporadically as the servers are up for testing.

This article may contain affiliate links. Click here for more details.