Can Amazon Make Android Tablets More Accessible with Ad-Supported Kindle Tablets?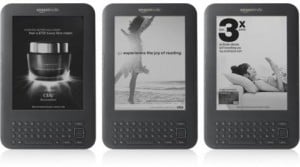 Amazon has recently announced that its lowest price Kindle, with subsidies through minimal displays of ads, is its best selling Kindle, beating out the WiFi and 3G-enabled e-reader models. This serves to suggest that consumers interested in e-readers, and perhaps as an extension also the tablet space, are still price-sensitive to this emerging category of electronic devices with utility somewhere between a smartphone and a full-powered laptop. Also, while critics may bemoan ad impressions on websites and other Internet portals, Amazon's strategic display of ads on a Kindle, making them valuable yet unobtrusive, may be serving the company's purpose in creating a lower priced model that's subsidized through promotions and advertisements. These lessons learned from the ad-supported Kindle e-reader can serve Amazon well as it is exploring its options into developing and selling a branded tablet in the future, perhaps based on the Android ecosystem.
Ad-Supported Kindle:
As Amazon will be slowly learning its lessons through the cheaper ad-subsidized model, priced at $114 compared to the $140 WiFi model, perhaps the company will explore similar options and business models as it looks to enter the tablet market. In recent weeks, an Amazon tablet has been making the rumor mills and the most recent interview given by company CEO Jeff Bezos to Consumer Reports urging media and consumers to "stay tuned" to a Kindle tablet does little to quench hunger for a potential tablet release from the Kindle-maker.
Right now, Amazon is delivering an ad-supported e-ink Kindle reader to users through placement of limited ads, like a small, unobtrusive banner on the device's home screen or ads on the screensavers of the device. The company is being careful to deliver value to both its readers and its advertisers, and Amazon doesn't want to dilute the reading experience. As it stands, many people are already 'immuned' to ads that don't have relevance or don't interest them due to the over-placement of ads on websites.
Tablet Market:
Outside the iPad, the tablet space has been a difficult market for many companies who are struggling not only to match Apple's hype and marketing, but also to deliver a profitable yet inexpensive product to compete effectively with the iPad while matching Apple's features, functionality, design, and build quality. Apple does benefit from its early and aggressive push into the flash storage space, allowing it to secure many components at lower prices due to efficiencies and scales, and its early foray into the capacitive touchscreen market does give it an economy of scale advantage over competing devices. The iPad is beating both Microsoft's Windows-based tablet PCs and also Google's Android-based tablets in sales and demand.
To read more about Hugo Ortego's commentary on a potential for an Amazon Android tablet, click here.
Potential for Amazon:
Amazon is rumored to be entering the tablet market by utilizing Google's Android operating system, much like what rival Barnes & Noble has done with its Nook Color tablet. Though designed as a curated, walled garden approach, the Nook Color did receive a software update recently giving it support for Flash in the browser, access to third-party apps, and other features while still retaining a very unique reader-centric experience that hides much of Android's geekiness from the end-user. A tablet by Amazon, perhaps a Kindle tablet, may offer the same features, and if Amazon plays its cards right, it could be an edgy device that brings Android tablets mainstream as Amazon has the cloud-based services and scale to deliver a fully featured product that's inexpensive to own.
Amazon already offers many services that compete with Google's native services, and those cloud-based services can give an Amazon-branded Kindle an advantage over competing hardware. Amazon, which is already offering Flash-based movie rentals through the browser, can port that experience to an Android device as devices running Android 2.2 or higher can support Flash content in the browser. Additionally, the company is already making its rentals free to those with an Amazon Prime membership. For music, Amazon can leverage its Amazon MP3 a la carte purchase system. Many Android devices already rely on Amazon MP3 as a rival to Apple's iOS iTunes service, and the beautiful thing about Amazon MP3 is the unique Cloud Drive and Cloud Player service, which allows users to store their content in the cloud and stream to their devices. The company already has a market-leading e-book ecosystem with Kindle, and it could potentially offer Kindle with unique value–perhaps by making Amazon Prime a free feature for tablet owners so they can shop in the Amazon e-commerce ecosystem and get free 2-day shipping. Additionally, the company already is developing a very competitive app store to compete with the official Android Market app store from Google.
To read Warner Crocker's musings on the potential of an Amazon tablet, click on.
Where to Focus?
As Amazon is one of the leaders in e-commerce, the company can potentially rival Google in advertising on the mobile platform as users who visit an Amazon e-commerce app or through the Amazon.com web portal in the browser can have ads and promotions pushed to them. Ads can either provide Amazon as a way to either leverage the Kindle tablet as a lower-cost device, competing on price, or provide the company with a revenue stream.
Competing on Price, Rather than Features:
So far, few companies can deliver a device as inexpensively as the iPad while still retaining a healthy profit margin as Apple does. However, Amazon, with its scale in e-commerce, can potentially deliver a device, if done right, with enough mind share and hype to capture enough market share. For a lot of early Android tablet hopefuls, they were competing on features with the iPad, and that may not be the right approach as the $800 4G-capable Motorola Xoom has failed to make a dent on the iPad's impact on the tablet market despite leading in technical specs.
Amazon already knows how to curate a device to deliver on experience–making things seamless, simple, and easy. It entered the cloud with the Kindle and through Amazon Whispersync Technology, users can download a book in under a minute and not have to worry about recurring wireless charges or a mobile broadband plan. With ads, it was able to deliver the Kindle experience to a lower-price demographics, and I believe it can repeat that with an ad-supported Amazon Kindle Tablet utilizing Google's Android OS.
The Nook Color's success as an Android tablet in the space may give Amazon another indication that consumers are still price conscious. Despite being more under-powered than the competing Xoom and being more limited in capabilities, the hackable Nook Color is one of the best selling Android tablets on the market due to its more modest $250 asking price. By leveraging ads on its own tablet, Amazon can potentially use revenues through ads and its scale as a retailer to offer an even lower priced tablet.
Conclusion:
As companies are discovering new potentials to advertise to consumers, an Amazon tablet can open additional opportunities for mobile commerce, shopping comparison, and other uses. With Amazon being a leader in books and digital commerce, it'd be interesting to see how the company leverages the mobile experience–will it be more shopping geared or will it replicate the rival Nook Color in being a reading-centric device? There will definitely be a lot of options available to Amazon as it tries to capitalize on this emerging computing category, but if it can leverage its ad experience learned through the ad-supported e-ink Kindle reader, perhaps Android tablets will be more accessible to more people.