Can Android Save BlackBerry?
While BlackBerry 10.x devices can run a number of Android apps through an emulator, it looks like Google may be lending BlackBerry a lifeline. As the Canadian smartphone-maker is courting potential suitors to sell off its hardware business, it looks like Google may be a quiet and complicit partner to at least helping BlackBerry succeed. Leaked pictures of a BlackBerry Z10 smartphone running what is believed to be BlackBerry OS 10.2.1 show that the device could run the full Google Play Store.
The images were posted on CrackBerry.
This would be a huge move for Google as though Android is free to use, the suite of Google services is typically reserved to members of the Open Handset Alliance, or OHA. This would give BlackBerry access to all of the apps available to Android handsets and may help boost the appeal of BlackBerry. It's unclear if BlackBerry had to join the OHA to gain access to the full Google Play store.
It's unclear what Google's motives are, but Google may want a more competitive market for third and fourth place. Though Google dominates smartphone sales thanks to the Android OS, with Apple following second, the company may want to give Microsoft's Windows Phone platform some competition.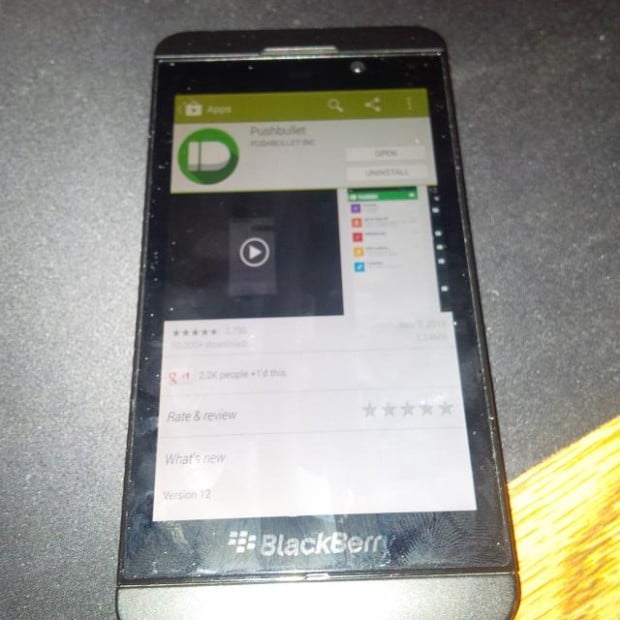 For BlackBerry users, this could give them the best of both worlds with BlackBerry OS 10.2.1. They would benefit from the security and the support of the BlackBerry operating system while gaining access to the breadth of apps that are available on the rival Android OS. One of the complaints with BlackBerry 10 is that the platform lacks the availability of apps, and this move should help to fix that, especially with Google Play services including apps, music, movies, TV shows, magazines, and other digital content.
The downside is that though Android apps will become available to BlackBerry 10 handsets if those handsets run BlackBerry 10.2.1, power users feel that the hardware may be inadequate, especially moving into 2014. To date, though BlackBerry's hardware runs great when coupled with the BlackBerry 10 OS, the hardware still lags behind flagship Android handsets on paper.