Can the AT&T HTC One X Survive a May Launch?
Back in February, HTC announced the HTC One X, it's next flagship smartphone. Soon after, AT&T revealed that it would be carrying a 4G LTE version of the device with a Snapdragon S4 dual-core processor instead of a quad-core processor. Needless to say, HTC had me and many others intrigued by this phone, a phone that is one of the best it has ever made.
But that was in February.
Now, we're in May and the HTC One X for AT&T is still waiting to launch.
The device is set to be released on May 6th but the thing is, I just don't feel as excited about the phone as I did a few months ago and that feeling has led me to continually ask myself this question:
Can AT&T's HTC One X survive a May launch?
Let's take a look at both sides. First, let's take a look at some of the factors that might hinder the success of the device, a device that HTC is hoping will make it relevant again in the Android world.
No, It Cannot Survive a May Launch
AT&T and HTC have chosen a deadly month in which to launch their latest Android flagship smartphone. Outside of that, there are also some other factors that could harm the success of the One X.
February to May
First things first. AT&T and HTC have waited an extremely long time to launch this phone. They first announced it back in February and then revealed that it wouldn't be coming until May. That's a long wait and one that many consumers likely chose not to endure.
How many people chose to buy another smartphone instead of waiting three months for the phone to arrive? I can't be sure but I am willing to bet that a lot of average consumers that would have bought the phone months ago, probably moved on to something else.
Thing is, AT&T and HTC really haven't done a good job at trying to keep people in the mix to buy the HTC One X.
Where is the Marketing?
I am on the internet a lot and I have yet to see a single advertisement for the AT&T version of this phone. I've seen a trailer for the One Series, but that's it. Nothing specific about the AT&T One X.
https://www.youtube.com/watch?feature=player_embedded&v=8yMuu2QG9ss
So, neither company is helping the cause here.
In order to succeed, you need to get the phone's branding and capabilities into the minds of consumers, especially everyday consumers. Thus far, the companies have failed to do that.
AT&T 4G LTE is Still Limited
And let's not forget that AT&T's 4G LTE network, the network on which the HTC One X runs, is still in its relative infancy. It's available in just a shade over 30 markets which pales in comparison to Verizon's 4G LTE footprint which covers over 200 markets across the U.S.
I wouldn't buy the HTC One X if I couldn't use it on a 4G LTE network in my hometown and I have a feeling many others feel the same.
Instead of buying a 4G LTE device that runs on 3G most of the time, I'd choose a Verizon 4G LTE phone because of the larger coverage areas.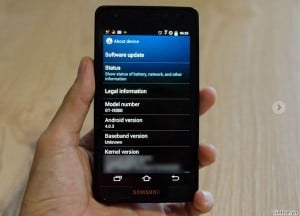 Galaxy S III Waiting in the Wings
For me though, the biggest roadblock in the HTC One X's path of success is the Samsung Galaxy S III. By waiting until May, AT&T and HTC are now launching the phone on May 6th, just three short days after Samsung unveils its next Galaxy device.
As I've said, Samsung is likely going to launch a phone that it thinks can compete with the iPhone 4S and the iPhone 5 and it will likely be made available on more carriers than just AT&T.
Read: Why the Galaxy S III is Worth Waiting For.
The HTC One X is only available on AT&T. So a Galaxy S III on Verizon's expansive 4G LTE network would be appealing. Or a Galaxy S III with an unlimited data plan on Sprint. Or a cheap data plan and a Galaxy S III from T-Mobile.
Throw in the fact that the Galaxy name is more well-known in the U.S. and you have a recipe for success and huge hurdle for HTC and AT&T.
That being said, there are some things that could save the HTC One X.
Yes, It Can Survive a May Launch
It's not all bad for AT&T and HTC. The HTC One X does have some things that will appeal to consumers. It has 4G LTE speeds. It has a thin design. It has a large screen. It has a speedy dual-core S4 processor from Qualcomm. It has all the bells and whistles expected on a flagship smartphone.
There are two items that stand out to me however.
Great Camera
The HTC One X's camera is arguably the best camera available on an Android smartphone. It was matched up against the camera on the iPhone 4S and it was able to hold its own.
AT&T and HTC could very easily lure in quite a few people that are looking for a high quality camera on their smartphone.
Trust me. There are a lot of people that value that.
Great Price
Second, and most important, the HTC One X is available for dirt cheap through places like Amazon and Radio Shack.
While AT&T is charging $199.99 on-contract, Amazon and Radio Shack are charging $149.99. That's killer price point and one that will attract lots of customers who don't want to shell out the big bucks for a high quality phone.
My Conclusion
The HTC One X has a great camera and a great price, but without marketing and the Galaxy brand recognition HTC will have trouble with a May HTC One X release date.
Don't get me wrong, the One X is a solid phone but without any sort of marketing presence and a great in-house price, I just can't see it as the device that brings HTC back into prominence here in the U.S.
What do you think?
Can the HTC One X survive a May launch?