Casio Launches New Tablets Aimed at Pen-Enabled Writers
Casio has launched four new tablets for the Japanese markets, and though these tablets run Android 4.0 Ice Cream Sandwich, Casio is aiming these tablets at enterprise users with the goal of integrating handwriting and notes into the slates. Like Samsung's Galaxy Note tablets and HTC's Flyer and Jetstream slates, the Casio models feature a stylus to enter notes directly onto the screen. However, what sets the Casio Paper Writer tablets apart from their peers is the ability to set a physical notepad to the side of the tablet and capture pen-to-paper notes manually and automatically upload and convert them to digital format for archival and reference on the Paper Writer at a later date.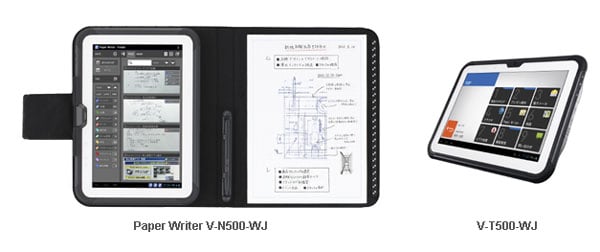 The ability to write and capture handwritten notes on paper and have them automatically converted to digital format seems to be similar to the Livescribe Echo pen, though that smart pen does not come with a tablet and handwritten notes are viewable on a PC or Mac.
The Japanese company launched four new models with a tough design: Paper Writer V-N500-WJ, Paper Writer V-N500-J, V-T500-WJ and V-T500-J.
All four models feature a TI OMAP 1.5 GHz CPU, 10.1-inch multitouch display with a resolution of 1280 X 800, 1 GB RAM, and 16 GB storage.
The tablets are planned for a September launch inside Japan. Pricing information is not known at this time according to PC Launches.