Charge Your Phone with Darth Vader's Lightsaber
With many mobile devices coming close to all day battery life, charging accessories for mobile gadgets may be something many don't consider essential anymore. Indeed, one of the popular makers for charging cases, Mophie is branching out a bit and adding storage options to its popular charging cases. A sign of the times that the market is moving on? Perhaps. But there are still those who need extra juice to get through busy days. And there are certainly many products out there to fill the need to fill up a depleted battery. Occasionally we stumble across a concept that lifts the battery charger out of the run of the mill, mundane accessory category, to a level of "that would really be fun to have" category. Why not have something unique to charge up your gadget instead of something ordinary. And this battery charger is one of those.
Brando is selling a battery charger that is designed to look like Darth Vader's lightsaber from Star Wars. It's an officially licensed Star Wars product and it sells for $49.95. According to the specs it will charge an iPhone, Android phone, or Windows phone with the 2800 mAh battery. That should handle most mobile phones but not Tablets.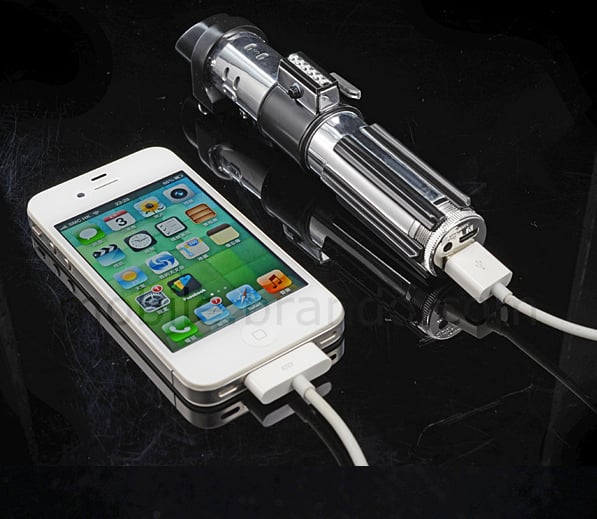 You charge up the lightsaber with the familiar microUSB cable that in included. Then when your phone needs some extras juice you use the power switch to turn it on. The lightsaber lights up at the end, but don't expect to be performing any duels with this, although that could be fun.
I'm wondering when someone will create and license a [amazon_link id="B003FHXMDC" target="_blank" container="" container_class="" ]Dr. Who Sonic Screwdriver[/amazon_link] that does the same thing? I mean that just makes sense, doesn't it?

As an Amazon Associate I earn from qualifying purchases.