ClamCase Pro for iPad: Sleek, Stylish, iPad Keyboard Case
The new ClamCase Pro, one of the most stylistic keyboard cases for the iPad we've seen, will look a lot like a MacBook Air when snapped in this beautiful aluminum case with polycarbonate outer coating. The tablet rests inside the upper part of the case. The lower part includes a Bluetooth keyboard with MacBook-like chicklet keys.
The new ClamCase Pro model helps an iPad user enjoy their iPad as a tablet, a laptop and in stand mode. The hinge on the case folds back so that the keyboard rests against the back of the iPad. It continues the styling of the previous versions.
In laptop mode the ClamCase Pro connects via Bluetooth and gives the user months of battery life. The battery-powered keyboard wakes up the moment a user begins typing. Soon after the typist finishes the keyboard goes back to sleep to preserve the rechargeable lithium-ion battery.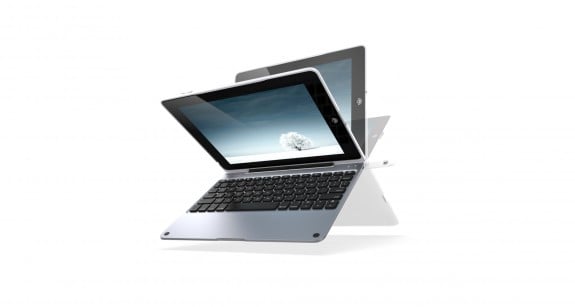 The case works like the Apple SmartCase, with magnets that wake up the iPad when opened and putting it to sleep when closed.
The makers of ClamCase Pro promise that users will work more productively on their keyboard than on competing keyboards. According to an ABC News test posted on the ClamCase site, users of this keyboard saw a rate of 76 words per minute while typing. The same test produced 73 words for Zagg and 71 for Logitech's keyboard.
ClameCam is made of aluminum casing for protection and a Polycarbonate Shell on the outside so that it won't scratch too easily. They coated the hinge in a softer material for extra grip while holding it in portrait mode as a tablet.
All iPads except the first generation will work with ClamCase Pro. It comes with the case and a micro-USB charging cable. It uses Bluetooth 3.0. A power toggle turns the case on and off with LED lights that notify the user about battery level, pairing mode and when the Caps Lock key is on.
For a limited time buyers can get the case for $20 off using the code WINTER20 at the ClamCase website. Buyers can order for $169 before the discount. That's a hefty price for a Bluetooth keyboard case; others from Logitech or Zagg cost $40 to $70 less. However, the attractive look and elegant design might make some users willing to pay the extra $50 with the discount code. We hope to get a review unit to let readers know if the case measures up to the elegant look.

As an Amazon Associate I earn from qualifying purchases.